At a packed Leeds hotel, design experts from 48.3 successfully unveiled their latest 2-Day Scaffold Design Appreciation Course – part of their 'Secrets of Scaffold Design' series.
48.3 Scaffold Design have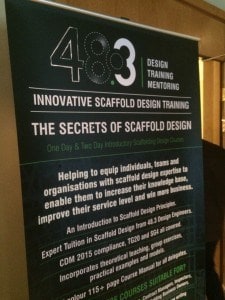 kicked off 2016 with a bang after providing myself and other delegates with a two-day bespoke scaffold design appreciation training course, that provided a comprehensive understanding of the processes involved in producing a scaffold design.
Over the two days, 48.3's Founder and Managing Director, Ben Beaumont, along with Company Director, Ivik Masek expertly educated myself and 30 other delegates ranging from Advanced Scaffolders, Supervisors and Contracts Managers, CITB Instructors and even other Scaffold Design and Consulting Engineers, all wanting to further expand their knowledge base and improve service for their clients.
The unique training course that's only available at 48.3 Training Ltd covered in detail every aspect of the design process. It incorporated theoretical examples and many brilliantly put-together practical demonstrations by the 48.3 team – including model temporary roofs with industrial fans to create 'wind', signboards, beam sections with moveable supports, and braced towers. This aided me and the other delegates to visually understand how scaffolds and their components react in different scenarios.
48.3 Training, 2-Day Scaffold Design Appreciation Course Gallery
Refreshingly, throughout the course, scaffold design experts Ben and Ivik with 25 years combined industry experience, actively encouraged classroom discussion and debate on various scaffold design issues and erection misconceptions, while openly answering many delegates questions.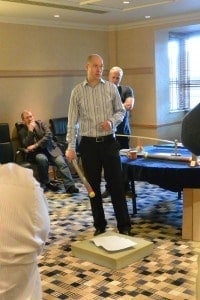 To complement the course delivery, each delegate received a 115 paged course manual, containing a wealth of design knowledge and guidance, plus example 48.3 design drawings, design calculations and design risk assessments, to take home to study and use for future reference.
48.3 Training Ltd is the training division of 48.3, that also includes 48.3 Scaffold Design Ltd, which is one of the UK's largest most successful organisations in delivering professional scaffold design. 48.3 Training has been running since November 2013, they offer various programmes of training and mentoring from 2-day design appreciation courses, to complete 2-year training and mentoring programmes for scaffolding design engineers through their 'Design Academy'.
Mark Parkin, Managing Director of Tiger Scaffolding Ltd who also attended the course along with three of his team, said: "Having attended many training courses in the last 28 years, I believe the design appreciation course delivered by 48.3 Training, the knowledge, course detail & practical involvement of the 48.3 team, are second to none. This course is a must for anyone involved in scaffolding & scaffold design."
Summary
Overall I found the course highly educational. It increased my understanding of the concepts of scaffold design and how scaffold components react with one another under loading. I especially loved the practical demonstrations that further aided my understanding.
I would, without doubt, strongly recommend 48.3's Scaffold Design Training Course to all our readers within the UK scaffolding industry,…it really is a must!
If you would like further information or to book online, visit www.483training.com
I would like to take this opportunity to thank Ben and the rest of the 48.3's team for inviting me to experience an exceptionally great course.