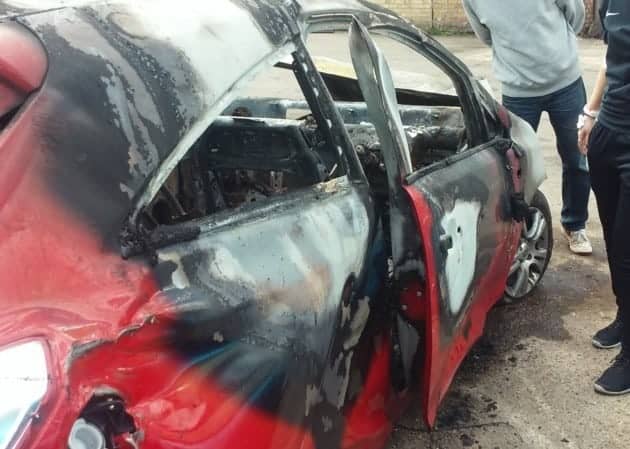 Quick-thinking scaffolders sprinted down from the A1(M)'s hard shoulder and helped a young woman from her wrecked car, just moments before it went up in flames.
Scaffolder Craig Dean, from Letchworth, stepped in to help a young gym teacher Chloë Ward last Friday morning after a motorway shunt sent her car crashing through a fence and into some trees.
She ended up needing plastic surgery to her face and lip, and has back and neck pain, but is already out of hospital – and hero Craig paid her a visit on Sunday.
"I can't thank him enough for saving her," said Chloë's mum Lisa.
"He doesn't think he is a hero, but he is mine."
Thankful dad Ian agreed: "Craig was the hero of the hour."
Chloë, 22, was on her way to work in Luton, and had only taken the A1(M) in the first place because she was early and fancied a change.
Ian said: "We've got camera footage showing a grey vehicle veering into her lane, and you can see her being knocked off the motorway.
"She went straight into a wooden fence, through an embankment and into the trees."
Craig was driving down the motorway on his way to a job in Stevenage when he saw what had happened.
"Me and two of the lads were driving from the yard to work just like every morning," he said.
"Going past I saw the red Vauxhall and a girl down there.
"I pulled up and sprinted down with my mate Gerry. She was leaning against the driver's side of the car, bloodied all over her face. She'd climbed out the window.
"I could see flames coming out of the engine so I wanted to get her away from the car as fast as I could.
"As we got back to the hard shoulder, it just went up."
Craig and his workmates from First Choice Scaffolding, Gerry Fuller and Neil Stewart, stayed with Chloë while they waited for help to come, as did another passer-by Craig could identify only as 'Cod'.
Neil called an ambulance and Gerry helped to comfort Chloë.
Chloë was discharged from hospital the same day, but returned for plastic surgery on Monday.
The Ward family is appealing for the public's help tracing the grey saloon car involved in the collision.
Ian said: "He parked underneath a sign and had a look, then drove off."
In particular they are looking for the driver of a white van that was on the hard shoulder behind where the grey car stopped.
Police yesterday appealed for the grey car's driver to come forward.
Anyone with information should call PC Philip Watts on 101, quoting ISR 67 of April 29, or Crimestoppers anonymously on 0800 555 111.
Via: www.whtimes.co.uk