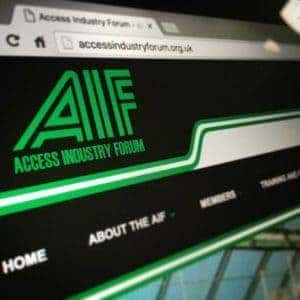 The Access Industry Forum (AIF), the forum for eleven of the leading trade associations and federations involved in work at height, has confirmed the speaker lineup for its first national, one-day conference: Implementing change and innovation in work at height.
The conference will take place at the Holywell Park Conference Centre at Loughborough University on 13 October 2016.
Dedicated exclusively to height safety, the Forum has assembled an impressive line up of expert speakers from industry, academia and the professions. They will address the issues and topics, trends and developments set to shape the work at height agenda over the coming months and years. In total, ten presenters will cover a wide range of topics from drones to designing for access.
Speakers include Philip White, head of operational policy and strategy at the Health and Safety Executive; Steffan Groch, chair of the Health and Safety Lawyers' Association; Paul Bussey, chairman of the  Designers' Initiative on Health and Safety; Prof Tim Marsh, chairman of RyderMarshSharman; and Dylan Roberts, director of health, safety and wellbeing at Skanska UK.
Also speaking will be Dr Shaun Lundy of the University of Greenwich – a member of the HSE's Myth Busters Challenge Panel – who will talk about the myths and misconceptions surrounding work at height, and John Dunne, group health, safety, environment and quality director at the Wates Group who will discuss his company's We're safer together initiative.
According to the Forum, this will be the first conference to focus entirely on the future of work at height and promises to be a landmark event in the evolution of height safety. It will examine the key issues facing professionals today in this critical area of health and safety.
More information about the conference please vist: www.accessindustryforum.org.uk/event/2016-aif-conference-latest/