GKR Scaffolding erect the UK's largest of its type Layher staircases.
The challenge for Rochester, Kent based GKR Scaffolding Ltd. (GKR), build two match day staircases for access and egress to the East and North stands for the new stadium for Tottenham Hotspur Football & Athletic club in London. The stadium is being built adjacent to the existing one and the stair cases were required for the 2016 – 2017 season because of the phase one demolition; Mace is the main contractor for the £400 million project.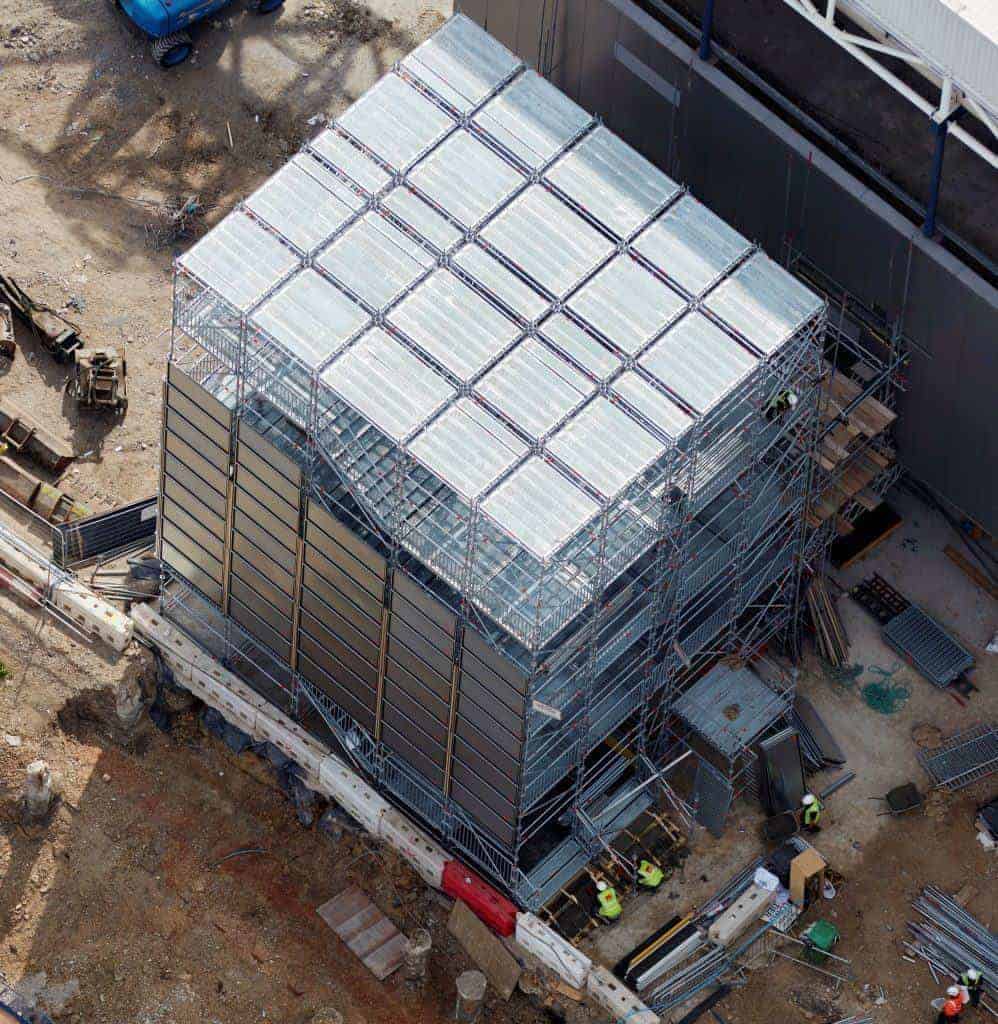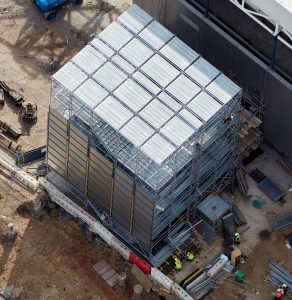 The solution, working closely with Layher Ltd. (Layher) and 48.3 Scaffold Design Ltd. (48.3) GKR to build the structures on a 14m x 13m footprint and 17m high to the roof. "A re-enforced concrete slab was installed to cover the entire base," said Tony Lane, Associate Director GKR. "The staircase had to be designed to have a loading of 5kn/m2 on every level at anyone time and had to meet the stadia green guide for clear access routes," said Lane.
The staircases had to be ready for the start of the new football season necessitating two shift working by GKR. "We had two teams of eight operatives on the structure, one team working 8.00am to 4.00pm and the other team working 4.00pm to 10.00pm, from start to finish for three weeks," said Lane. "The project was very testing due to the limited build time and this required a good working relationship with Layher and 48.3 to make it run smoothly."
Sean Pike, managing director, Layher said that the structure, "Is the largest stair of its type erected in the UK, utilising our, "integrated systems," of Allround scaffolding, Stair 750, and Protect rigid cladding wall cassette system – technically, it is a large stair because we had to make clusters of quadruple standards so that it can withstand massive loads of match day foot traffic in the tens of thousands."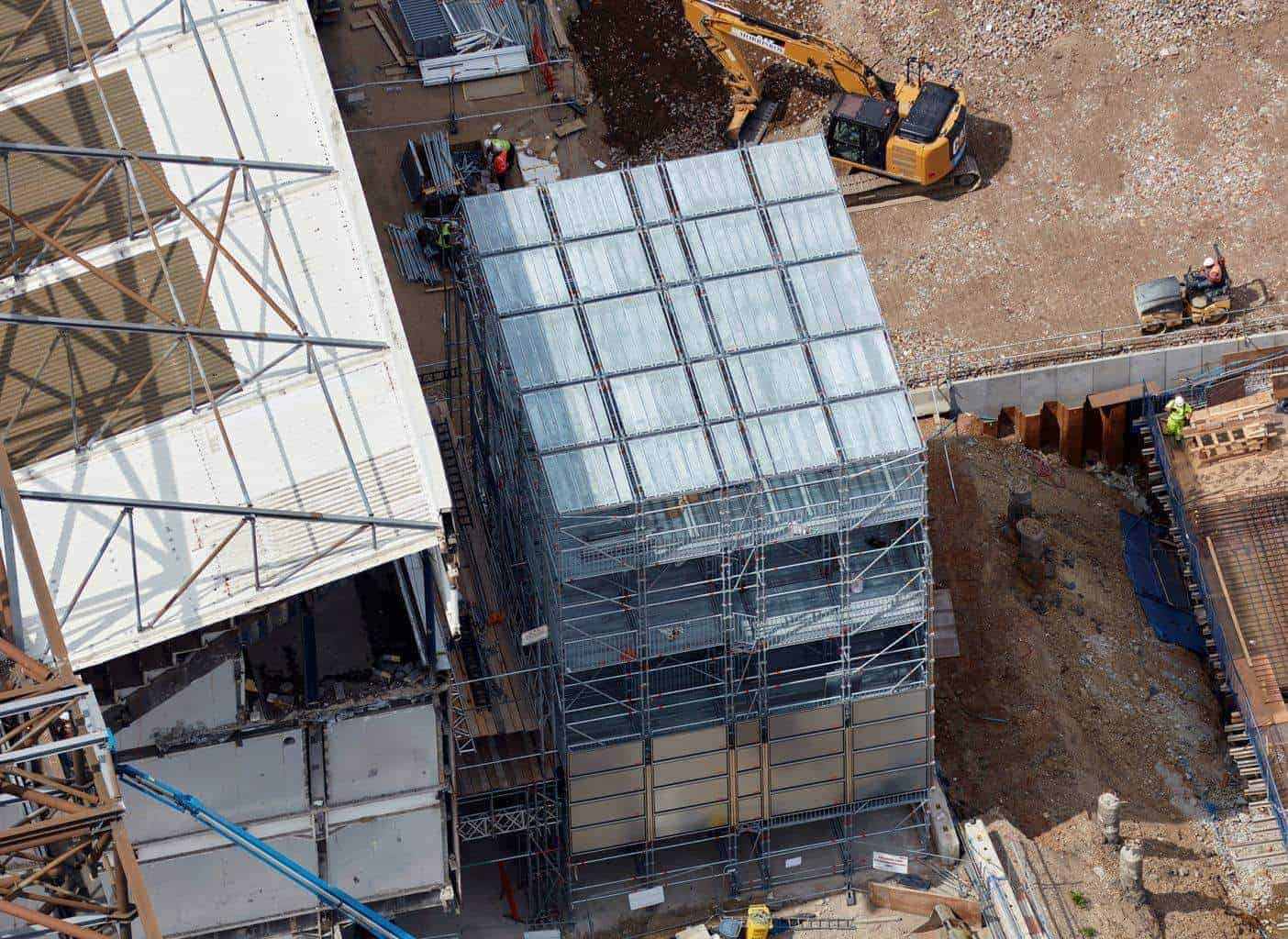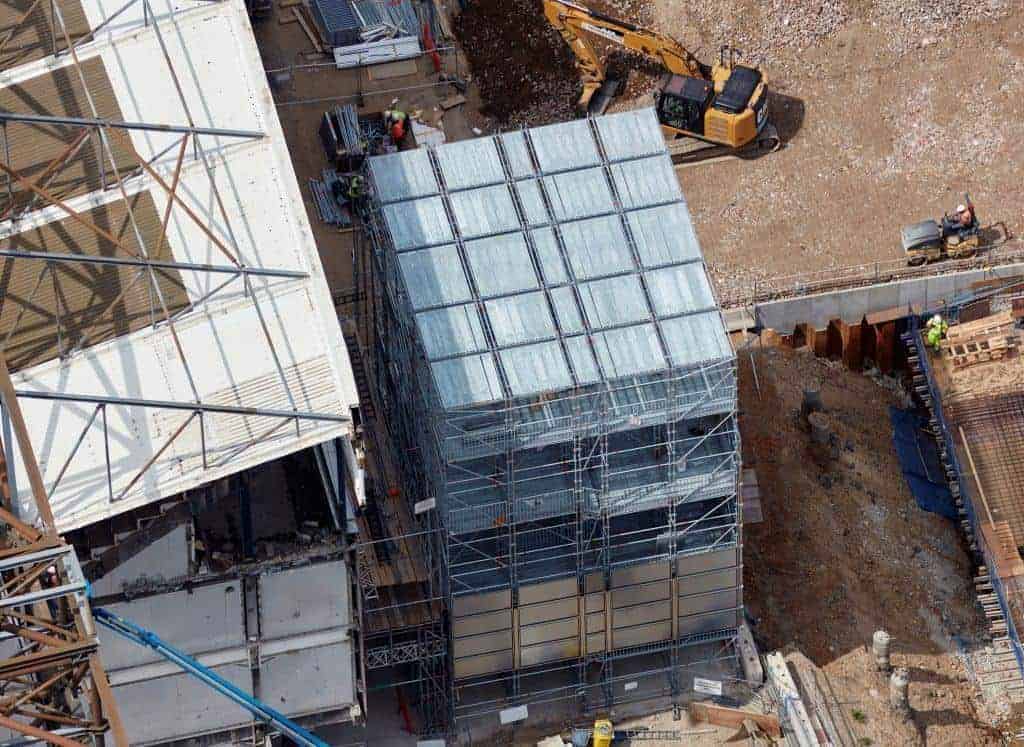 Pike said that the staircases, "Also needed to be flame proof, hence all steel construction and, as it is and will remain a working site, the public require protection at all times, hence it being fully clad in our protect wall cassette system, which additionally provided a sound reduction value from site operations of 21 decibels. The protect system also has a rubber vacuum seal all around the edges to prevent dust and small particle penetration, which is inevitable at a construction site."
Pike explained that internally, "The stair system treads and risers and landing platforms are covered in our (Layher's) GRP (Glass Reinforced Plastic) anti slip/fire proof coverings – giving the finished product a real look of a permanent structure – certainly from the outside the protect system gives the appearance of a finished building, whilst inside, the users of the stair will feel as though they are wrapped in cotton wool."
As with any scaffolding structure the base out and setting out is critical to its success and this, "Relied entirely," said Pike, "upon the expertise of GKR scaffolding's workforce," he said. "Offsite product training and mock ups were undertaken along with additional site support from Layher working with the GKR operatives to ensure the base out/drawing plans, provided by the Layher technical department, were accurately adhered to. This collaborative working and its successful results can be clearly seen by the finished product. A testament to contractor/supplier strategic partnership."
Technical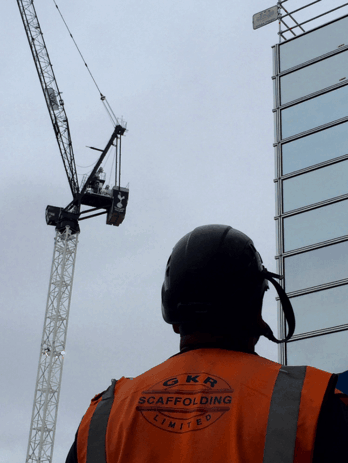 Layher said that the project overall had some high level technical challenges that required both our technical and training departments to work very intensively with GKR and the client, these challenges included:-but were not limited to:
(1) A permanent live load of 5kN/m2 over every platform level at all times was/is critical, additional complications were introduced by the main client's requirement that the overall foot print of the stair had to be kept to the absolute minimum, yet comply. This was resolved by using standards in bundles of four, secured together with original innovative Layher twin wedge coupler fittings, meaning we could transfer massive loads to the ground.
(2) This load transferral then introduced additional difficulties – our hollow jacks were over capacity, however, we solved this by utilising Layher solid steel jacks – this also enabled us to tackle a further complication with ground bearing and platform levels.
(3) Due to the non standard slab levels and therefore subsequent landing levels required of 2.4/2.5m we had an additional problem of making a systemised measurement fit into a non system dimension. This was solved, as above by utilising solid jacks, fully extended to make an exact first floor level – the over extended spindle was compensated by the addition of fitting original Layher clamp on rosettes, modified with an internal thread so as to clamp the smaller diameter of the solid jack spindle – this then allowed the fitment of an additional ring of ledgers to reinforce and brace the base jacks.
(4) The configuration of the stair flights themselves, as dictated by the client for correct foot flow posed a further problem. This was overcome by the introduction of 2 step special innovative stringers and guard rails that could be fitted between landings to provide additional flexibility.
Written By Ian McInnes