Hull based Burflex (Scaffolding) Ltd. (Burflex) has recently splashed the cash and invested around £1 million in twelve Range D26 wide 6×2 Renault trucks.
The new trucks, which were specified to Burflex's requirements, join the existing fleet of over 70 vehicles in the Burflex fleet; the company invested in 47 Renault Kangoo vans in 2015. "Investment in the company is a necessity to strengthen our position in the industry. We are constantly expanding our operating areas, so the need for the reliability to deliver the scaffolding to our customer's sites is paramount to production of the over 150 scaffolders we now employ," said Steve Cox, Burflex's managing director.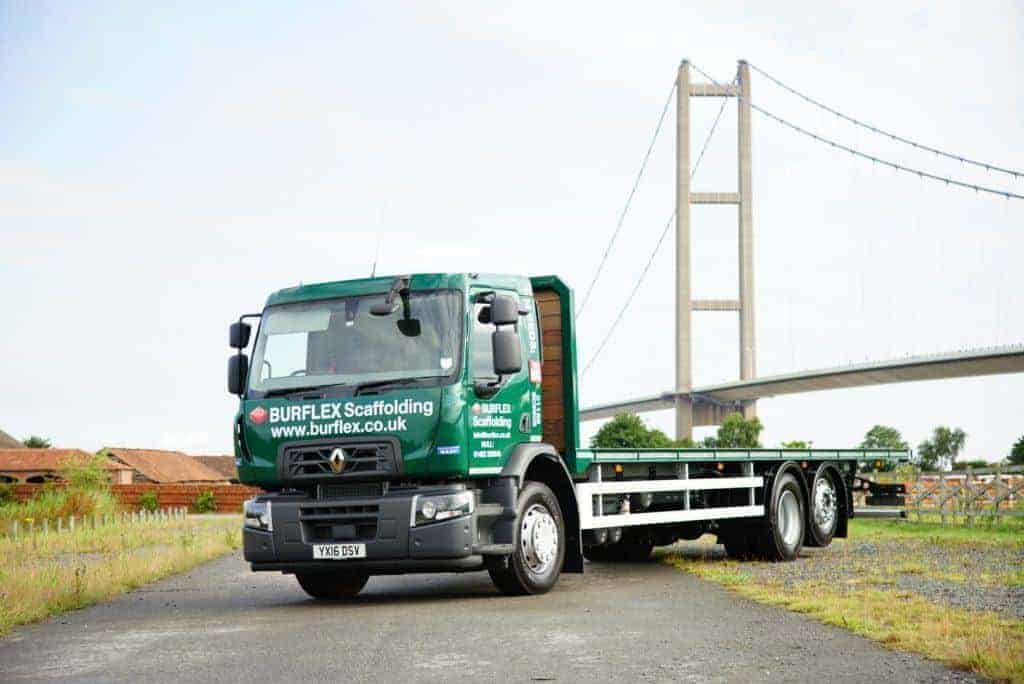 The 12 new trucks have been acquired under a four-year repair and maintenance contract with Thompson Commercials Ltd., which is also based in Hull. Burflex says that this arrangement allows the company access to maintained vehicles and enhances reliability. Martin Williams (Hull) Ltd. built the truck's bodies to Burflex's specifications enabling Burflex to maximise system and conventional scaffolding carrying capability safely and securely.
"The vehicles are running fully loaded on multiple drops and doing a significant amount of miles per day. These trucks will strengthen our capability to maintain our customer's requirements and deadlines, regardless of distance from any one of our regional depots," said Rich Fieldhouse, Burflex's operations manager.
Burflex says that the new truck deal mean that the scaffolding company has invested almost £2 million since 2015 generating 50 additional full-time jobs. Fieldhouse confirmed that all of the new jobs are driving positions. "We don't find it hard to recruit or retain," said Fieldhouse.
Fieldhouse explained Burflex's reasoning why the company decided on Renault. "We invested in a fleet of 50 Renault vans last year and wanted to keep both fleets the same. This was a good deal from a local supplier and was commercially a good deal for Burflex," he said.
Times have been tough of late but not for Burflex. "We as a company have had year on year growth through the recession and are not experiencing any decline in construction," said Fieldhouse. We asked Fieldhouse if there are any other expansion plans in the pipeline? "Yes," said Fieldhouse. "Hopefully in the future. We are currently looking for premises for a new depot."