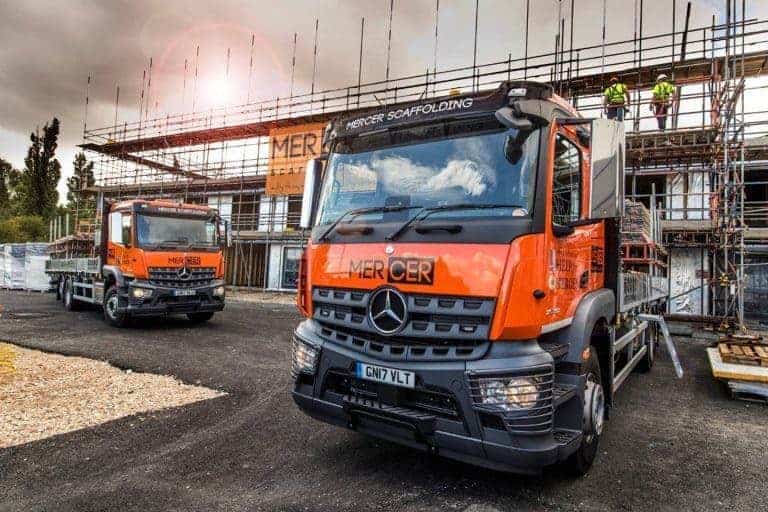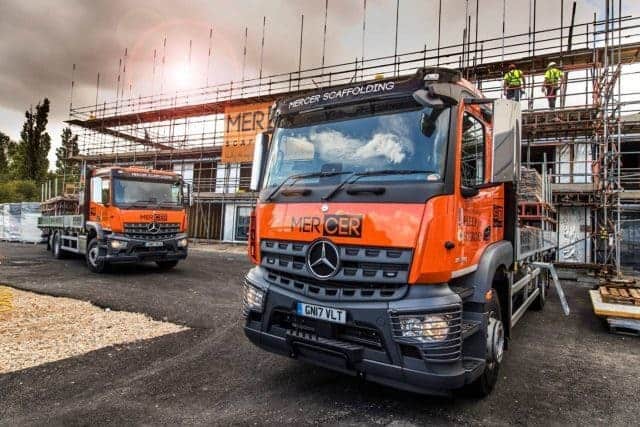 Mercer Scaffolding has continued to raise its ambitions by investing in three state of the art Mercedes-Benz trucks.
They include a 15-tonne Atego 1518, and two 26-tonne Arocs 2530 models with factory-fitted four-man benches behind the two front seats. This enables each to carry a driver and a crew of five scaffolders in safety and comfort. These new trucks are fitted with specialist dropside flat-bed bodies, used to carry scaffolding equipment such as tubes, boards and fittings. All three vehicles have Classic-space cabs – L-cab versions for the two Arocs, an S-Cab for the Atego, finished in bright orange. These feature the Mercer logo alongside that of Help for Heroes – the operator is an enthusiastic backer of the charity, supporting servicemen and women injured in the line of duty.
As a family company they are based at Longfield in Kent, overseeing ongoing projects in both London and the South-East. The firm takes pride in offering its clients competitively priced, 'all-in-one' scaffolding solutions.
Solid in construction the impressive Mercedes-Benz Arocs range of rigid trucks from 18-32 tonnes GVW and tractor units, are purpose-designed for construction-related applications. An advanced Atego, flies the flag for the three-pointed star in the 6.5-16 tonnes GVW segment. A popular choice for operators in the construction and associated sectors, most are used for light- and medium-duty distribution work.
As a forward thinking business Mercer has introduced new management systems and procedures, as well setting up its own transport operation to service larger projects. It achieved Bronze accreditation from the Fleet Operator Recognition Scheme (FORS) last year, and sees the new vehicles as vital to securing Silver status towards the end of 2017.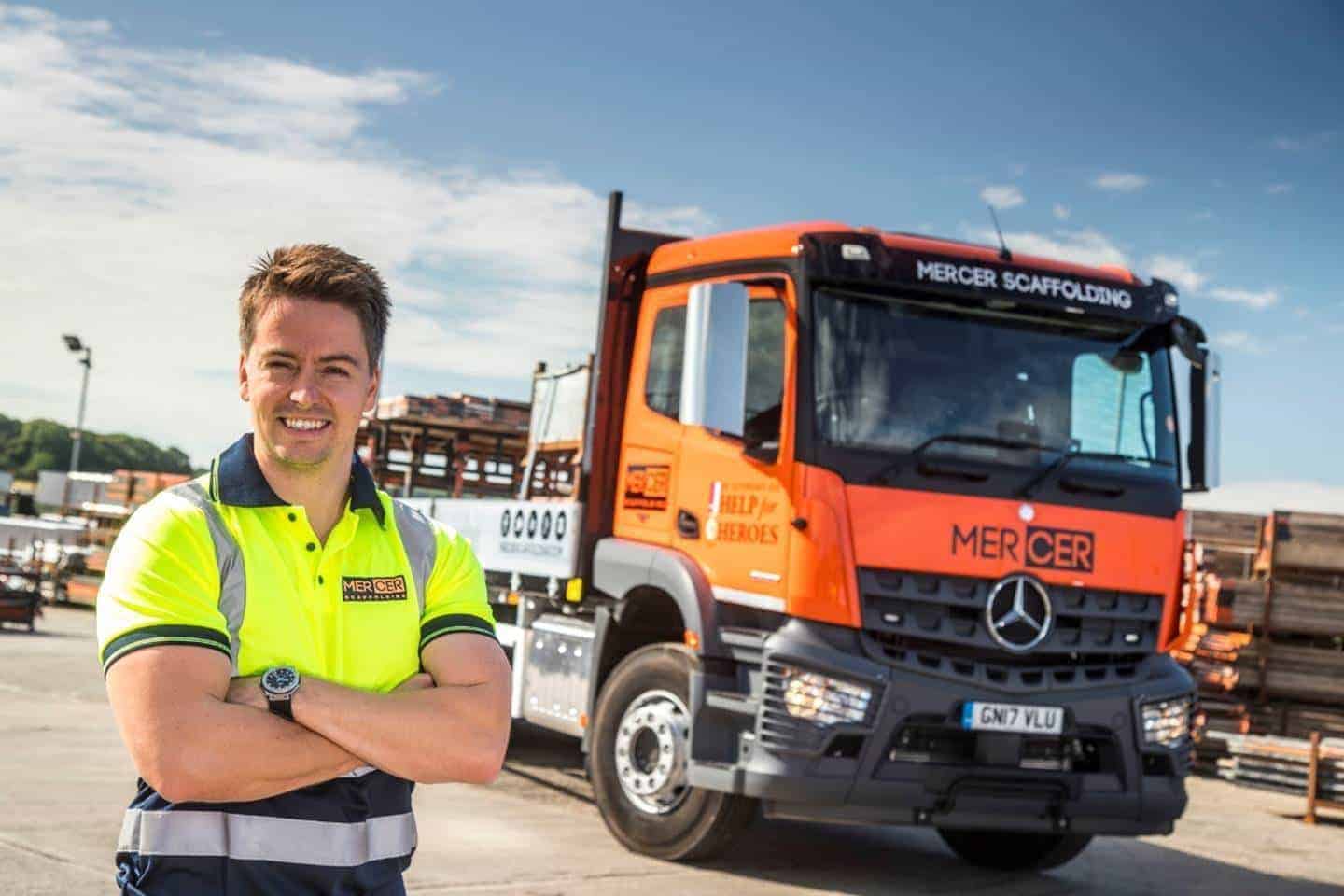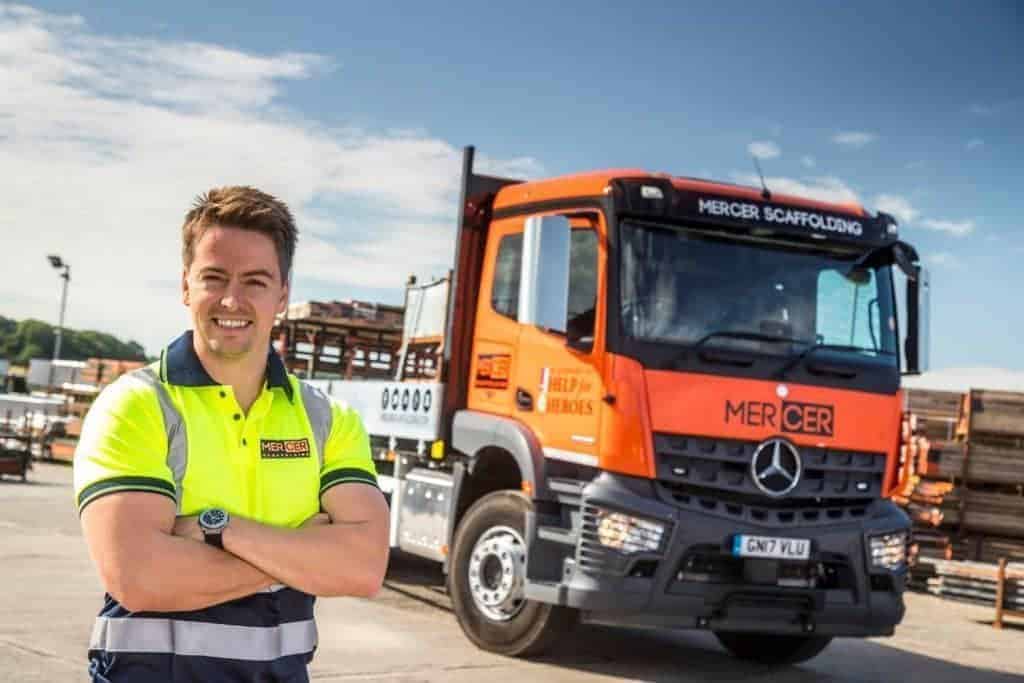 "The business has experienced year-on-year growth and we are now in a position to invest more in the quality of our fleet," said executive Consultant Daniel Clark.
"Some of our competitors and industry friends swear by their Mercedes-Benz trucks, so that helped to confirm we were making the right move. The higher payloads offered by the six-wheelers means they can transport nearly 16 tonnes of equipment, which is proving very useful in terms of operational flexibility. The fact that the cabs can accommodate a crew of five scaffolders also means we don't have to send a separate vehicle. We chose the 15-tonne Atego for its versatility. This truck's carrying capacity is not much lower than that of an 18-tonner, yet it's significantly smaller, which means we can send it into the city, where it can get safely in and out of some pretty tight places."
Mercer Scaffolding also has a tractor unit and four trailers, but at 26-tonnes GVW the two construction-specification Arocs models are its biggest rigids to date.
Daniel added: "These are exciting times for Mercer Scaffolding. We've worked extremely hard behind the scenes to ensure the company is well positioned to make the most of the opportunities which are now presenting themselves. We have really gained momentum and these new Mercedes-Benz vehicles are already enabling us to boost turnover by servicing more, and bigger, projects than we could have done previously."
Mercer Scaffolding's expanding fleet now includes a dozen trucks.