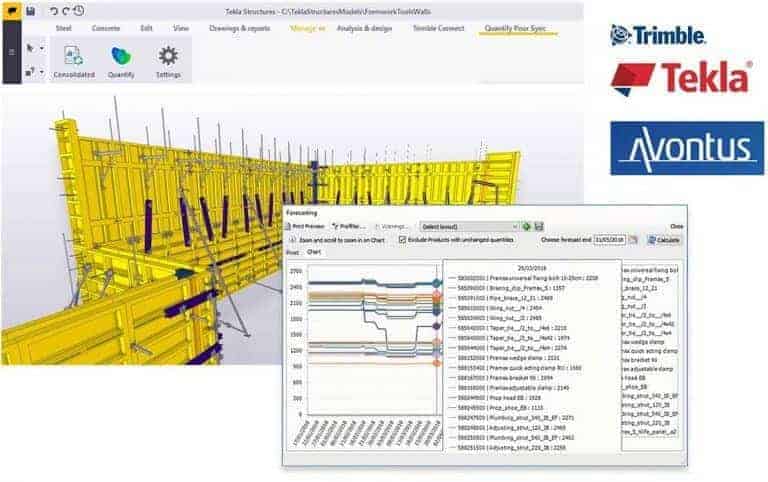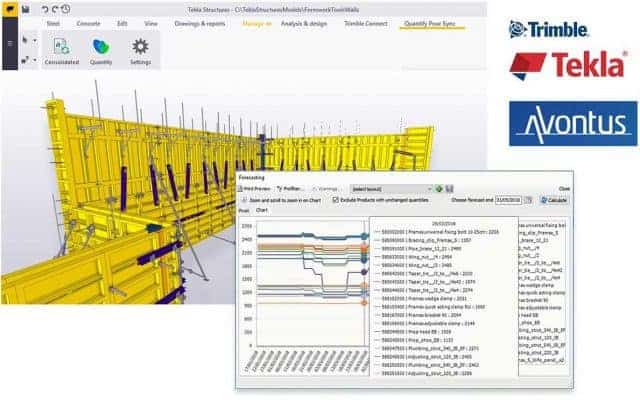 Concrete contractors face unique challenges when estimating, planning, and managing their formwork operations. In addition to needing an accurate and understandable design, inadequate planning can result in costly delays that affect the entire project. And, knowing when and where equipment is needed is essential. Trimble and Avontus have partnered to help concrete contractors with these challenges.
"Tekla Structures, including its unique concrete pour planning and formwork tools, has been a game changer for our customers" says Andy Dickey, Business Development Manager at Trimble.  "Our powerful 3D modeling and BIM capabilities make creation of detailed formwork plans faster than ever before.  Contractors have full visualization into how formwork is planned and can more efficiently manage and coordinate their work."
Enhancing Trimble's commitment to improving operational efficiency, Trimble has partnered with Avontus, driving a more streamlined and productive way for concrete contractors and formwork providers to estimate, plan and manage their formwork operations. The equipment information in detailed formwork models created with the Tekla Structures is now integrated into Quantify, Avontus' inventory management software.
"The bottleneck in inventory management has always been the lack of an easy-to-use bill of materials," says Brian Webb, CEO/Founder of Avontus. "When shipping equipment for multiple pours to a site, it's very important to consolidate formwork materials into a unified list. These lists are used to ship exactly what you need to the site to get the job done, as well as to return formwork as soon as it's no longer needed."
Joining Tekla Structures with Quantify takes the industry to an entirely new level. Formwork modeling and detailing is now integrated into a fully-featured equipment management suite.
"Whether a small concrete contractor or a large multi-national formwork provider, the combination of Tekla Structures and Avontus Quantify allows those planning and managing formwork to solve bigger problems. This new integration between our software will vastly improve their operations." Dickey says.
Learn more about Tekla solution for concrete contractors
Download Tekla Structures – Quantify export in Tekla Warehouse (available for customers in maintenance)
Tekla Software by Trimble
Tekla software solutions for advanced BIM and structural engineering are produced by Trimble. Trimble's construction offering ranges from total stations to advanced software, giving the industry tools to transform planning, design, construction and operation of buildings. Tekla software is at the heart of the design and construction workflow, building on the free flow of information, constructible models and collaboration. Information about Tekla software: www.tekla.com
Trimble
Trimble is transforming the way the world works by delivering products and services that connect the physical and digital worlds. Core technologies in positioning, modeling, connectivity and data analytics enable customers to improve productivity, quality, safety and sustainability. From purpose built products to enterprise lifecycle solutions, Trimble software, hardware and services are transforming a broad range of industries such as agriculture, construction, geospatial and transportation and logistics.
Quantify
Quantify makes managing your formwork business easy. From one user-friendly program, you can monitor inventory, ship materials, generate invoices, job costs, set reminders, manage re-rentals, and oversee all of your projects. Using your custom catalog, Quantify will track where every piece of equipment is and calculate how much you're owed in rental. Anytime you want to know more, just run a custom report. You'll stay on top of your business and free up countless hours. Information about quantify: www.avontus.com
Avontus
Avontus' has been producing quality software since 2002, focused exclusively on the formwork, shoring, and scaffolding industries. Their easily-operated and thoroughly tested software is the most technically advanced in the industry.
Additional information
Andy Dickey, Business Development Manager at Trimble, email [email protected]
Andrew Smith, Business Development Manager at Avontus, email [email protected]