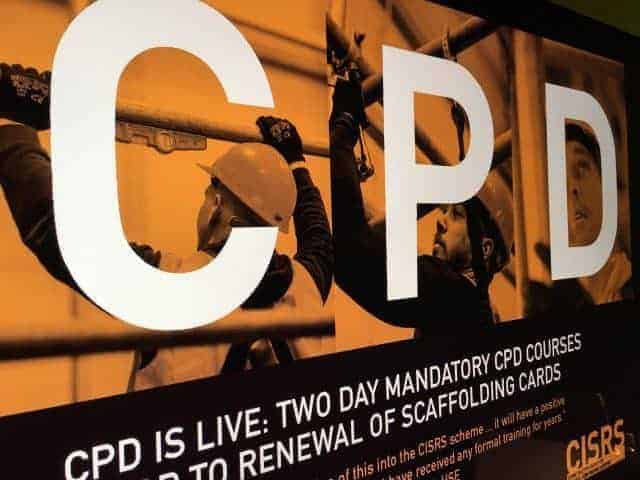 Over 1000 Scaffolders and Advanced scaffolders have now attended the CISRS CPD course.
The Construction Industry Scaffolders Record Scheme (CISRS) have announced that over 1000 Scaffolders and Advanced Scaffolders have now attended the CISRS CPD course and applied to renew their CISRS cards under the new scheme rules.
The requirement for scaffolders to complete the 2-day course prior to card renewal caused quite a stir when it was introduced in July last year.
However, CISRS say in a statement that despite the initial backlash from some segments of the sector, the new course has been very well supported.
Interestingly, the statement goes on to say that In July and August last year accredited CISRS training providers had proceeded cautiously in relation to the amount of CPD courses that were included within their training programmes. But in reality the number of scaffolders looking to attend the CPD course has proven to be much higher than expected with centres making additional courses available to meet demand.  
Dave Mosley CISRS Scheme Manager said: "This is a fantastic achievement in such a short space of time, as any change to an established scheme usually takes quite a while to bed in.
"We had expected a lot of people whose cards expired in 2016 simply to take a H&S test and apply for an early renewal prior to the CPD requirement going live. These figures show that there are plenty of scaffolders who have completed the programme and demand for places on courses is increasing."   


CISRS also say that when the industry was initially informed about the intention to introduce a CPD/refresher element to the CISRS scheme, it met with a very mixed response, ranging from "It's about time" to "I've been doing this for years, what can you tell me?"
Jonathan Gaunt Training Manager for Generation Training Services said "It's interesting to see the change in attitude of some of the scaffolders over the 2 day programme. Initially they arrive feeling that they will learn very little, however giving them a knowledge test early in the course usually highlights that there are areas they do need to brush up on.
"It's been a long time since some of the delegates attended a training centre and for those who got their card under Grandfather Rights it could actually be the first time. After the initial uncertainty they tend to enjoy the course and mixing with their peers, the delegate feedback forms reflect a positive experience.   
"We commend CISRS for responding to the demands of both the construction industry and the HSE, producing a comprehensive CPD product for Scaffolders with a very timely, positive approach."