Mother of two becomes the first ever female apprentice scaffolder in New Zealand.
Maggie Myocevich, a 28-year-old mother of two, has become the first woman in New Zealand to sign on to the new scaffolding apprenticeship.
Myocevich, who is from the Northland region of New Zealand in Whangarei, will be the highest qualified female scaffolder in the country once she completes the apprenticeship.
She is thought to be one of only three women in New Zealand working in the industry.
It is the first time the apprenticeship, which has been developed in close consultation with industry, has been offered to trainees. It is part of the Government plans to train 50,000 trade apprentices by 2020.
Myocevich, a self-confessed 'tomboy' previously worked at the Marsden Point Oil Refinery as a safety watch person. On occasions, she was offered the opportunity to do a bit of overtime with the scaffolders and soon came to realise this was what she wanted to do.
Once decided, that was it – she 'pestered' her current employer, South Pacific Scaffolding, until they gave her a job. She has been juggling being a mum with a 'tradie' life since last May and has already passed her elementary trade certificate.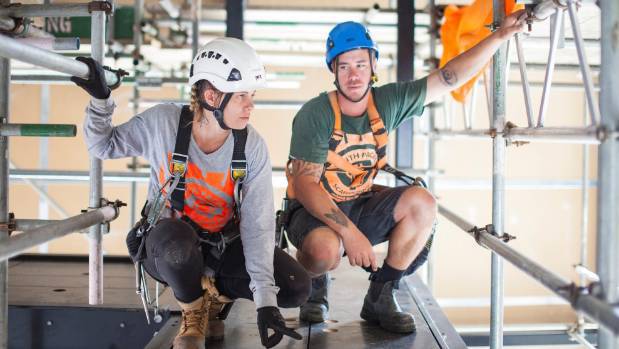 Talking to the news outlet Stuff she said:"I like working at heights, the atmosphere and camaraderie of the team and the job satisfaction and I love seeing the rigging up and the job finished."
She admits she, "has a bit of a dog-with-a-bone attitude. If a man can do it, so can I".
"I've had to prove myself and in the beginning hide the fact I was struggling a bit with lifting the heavyweights – the harness and belts are heavy enough on their own – but now I have built up to it and actually it's more about technique than muscle power."
Not content with her intermediate qualification the apprenticeship will provide, she intends to continue on for an advanced certificate.
Myocevich is keen to encourage other women who are intimidated by the prospect of working in a man's world.
"I am all about women in trade – give it ago, be confident, friendly and persistent. Once the men get over the shock they are usually very supportive," she says.