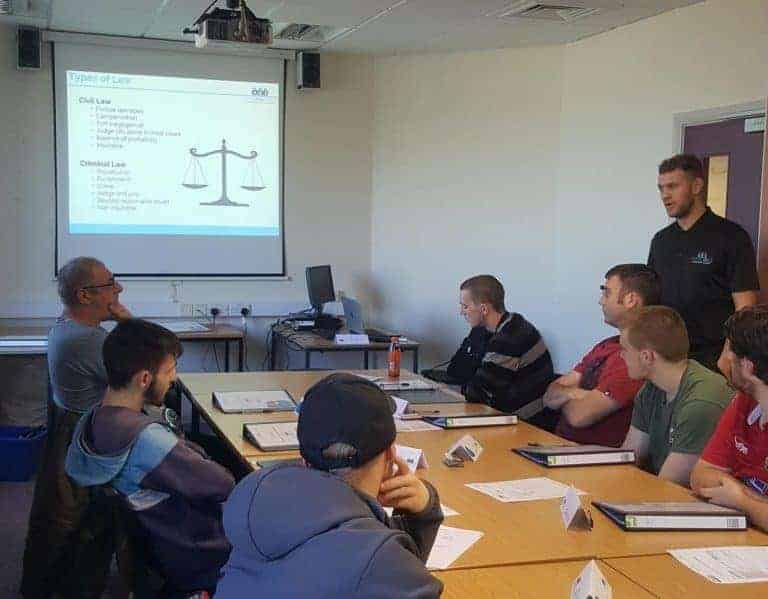 A pre-employment training scheme aimed at lifting barriers for those entering work is set to enhance opportunities within the scaffolding industry.
The pilot 10-day scheme will also include individuals looking to return to work, up-skill or change career direction.
It's all part of a collaboration between The Simian Risk Group, The Department Of Work And Pensions, Construction Wales Innovation Centre, College Cambria in Wrexham, 4c Access UK Ltd, Martin Scaffolding Services and The Arctic Scaffolding Company Ltd.
A Qualified Success Story
Simian Business Development Manager, Simon O'Donnell told us: "The delegates work towards a number of qualifications including Level 1 Award in Work Preparation, Level 1 Award in Mental Health Awareness & Well-being, Simian Aluminium Towers and CISRS COTS.
"The course then involves a 4-day work placement with a local scaffolding contractor. Delegates will be working either in the yard or on-site, carrying out general labouring duties over four consecutive days, and by this stage they will already have gone through their CISRS COTS training, So will be 'site-ready'.
"The delegates are all recruited by the local jobcentre and all currently unemployed. The first stage of the process involves one of Simians consultants visiting the jobcentre to offer their insights and experience of working in the scaffolding industry. From there, interested delegates are invited to attend the course. For the pilot course this week eight delegates were offered the chance to participate and seven have attended, all who appear to be engaged and genuinely interested in completing the training.
"We regularly hear about the skills shortages facing our industry and the recruitment issues faced by employers so we thought we could step in and help. By partnering with the jobcentre, local colleges and scaffolding employers, we are bringing all of the stakeholders together. This helps delegates gain a recognised CISRS qualification, which will hopefully give them the opportunity for employment and progression with the scaffolding industry."
Course Highlights
Highlights will involve responsible work practice, Health and safety in a practical environment, team-work skills, rights and responsibilities in the workplace, mental health and well-being and of course a work placement at a local scaffolding company. There will be a final review and feedback together with advice on the next steps to be taken.
The whole project is aimed at both addressing the skills shortage and recruitment issues facing the industry. It's been welcomed by a number of colleges and the Department for Work and Pensions.
Simon added: "The qualification will help to obtain the generic and transferable skills needed to perform with confidence in a range of workplaces in the sector. It will also provide a range of employability skills needed for a career in scaffolding."
Looking Ahead
It's hoped this will be the first of many with all parties hoping at least one person on the pilot course will be offered employment.