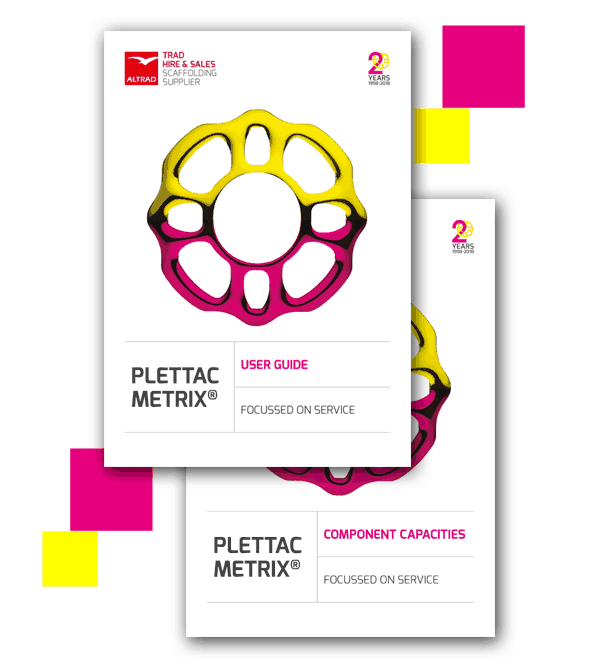 TRAD Hire & Sales are proud to announce the launch of the new User Guide and Component Capacity Manual for their revolutionary Plettac Metrix® System Scaffold.
An innovative ring based system, with horizontal dimensions that are completely metric, which allows both the tubular transoms and ledgers to be substituted by components of a smaller size, permitting the use of extra verticals within a bay length or width. This feature further advances efficiency and vastly increases the ease by which adaptions can be made.
Compliance to SG4 takes a further step forward with the use of the optional, system exclusive, Permanent Advanced Guardrail System. Providing collective fall protection for scaffold operatives (and all other trades), the advance guardrail is an integral part of the Plettac Metrix® scaffold structure from erection to dismantle.
There has been a real shift towards system scaffolding over the last few years, especially as the industry keeps pace with developments in Health & Safety and Training, whilst also maintaining its drive to be more cost-effective.
The market has embraced the simplicity of the Plettac Metrix® System Scaffold, which is enhanced by the aforementioned unique divisibility and optional Permanent Advanced Guardrail, allowing both time and cost savings to be easily achieved.
Plettac Metrix® System Scaffold is exclusive to TRAD Hire & Sales and is offered on both a Hire and Sale basis. They offer an unrivalled commitment to service, including extensive User Guides, Nationwide Training, Engineering and Design Support, Estimating Software, and a full on-site support service – their UK-wide network of depots have the resources and capabilities to meet every demand.
TRAD Hire & Sales are updating their full range of manuals and user guides. Look out for further releases including the new Altrix® Temporary Roof User Guide, over the next few months.