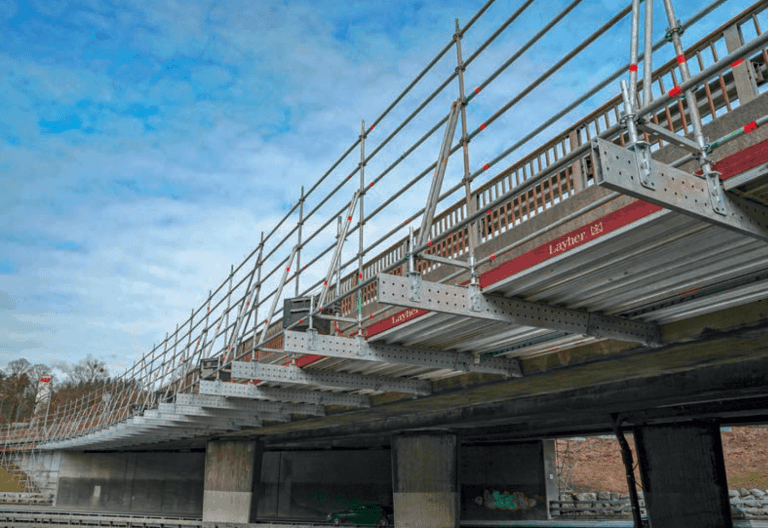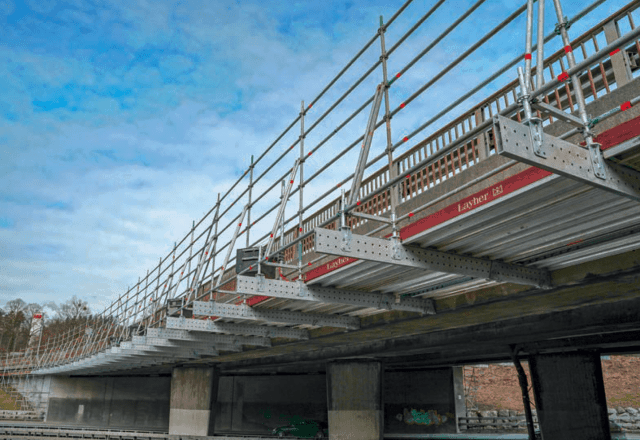 The world's largest system scaffolding manufacture has developed a revolutionary aluminum FlexBeam to help create safe and economical quality structures.
In the past, constructing suspended & cantilevered access, elevated site cabin & pedestrian gantry walkway types of scaffold structures would involve an array of heavy steel lattice beams requiring time-consuming installation, and the use of further materials for lacing, bracing & tying the structure. This new innovation does all of this in a single product facilitating rapid assembly. The high load capacity Aluminium FlexBeam enables surface scaffolding to be efficiently assembled both suspended and upright.
Layher UK Managing Director, Sean Pike said: "The product carries a 40 percent higher bending load capacity, with 40 percent lower height. There's no need for compression chord bracing when compared with other steel lattice beams. Faster assembly is possible thanks to a U-shaped upper side of the section, enabling direct suspension of system decks and an easy to build lift off preventer. Technical support comes in the form of information sheets with structural details. It's great flexibility is key of course.
"Further expansion using standard Allround components is also possible. In the case of use as suspended scaffolding, both the anchor plate and the suspension shoe are available for receiving the beam. The anchor plate is intended for direct wall-plug connection to the structure."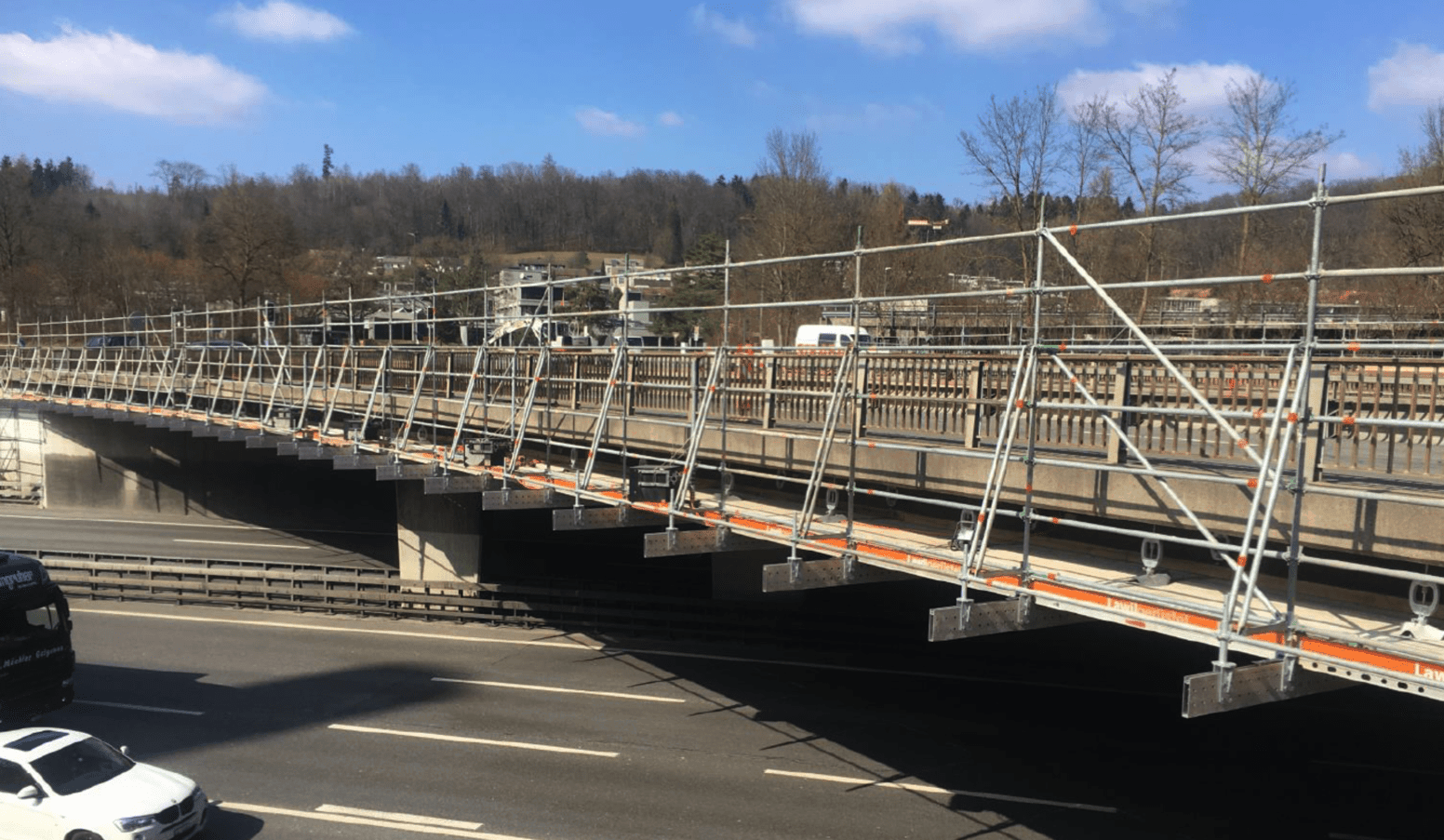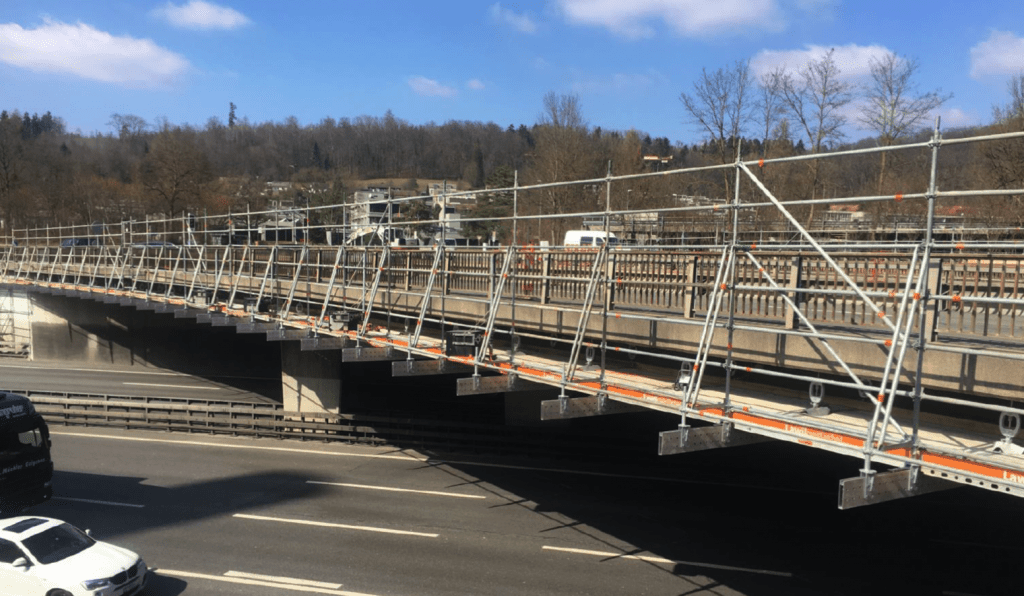 Advanced Design
This well-designed product comes with a number of options making it extremely flexible in a range of different situations. The suspension shoe can be directly connected to the tie rod adapter, meaning the suspension itself can be extended in length by Allround standards using the standard adapter, male or female adapter. A standard connector is used for expansion within the Layher system dimensions.
What's more, the lift-off preventer can be inserted anywhere and moved in the longitudinal direction of the beam, fixed in place with a special bolt. To extend the length of beams, the FlexBeam spigot is available, which is inserted into the hollow chamber of the beam section and then pinned to it.
The timber beam support permits lateral fitting of an extra beam. For example, it can act as a basis for providing fitted bays in curved sections.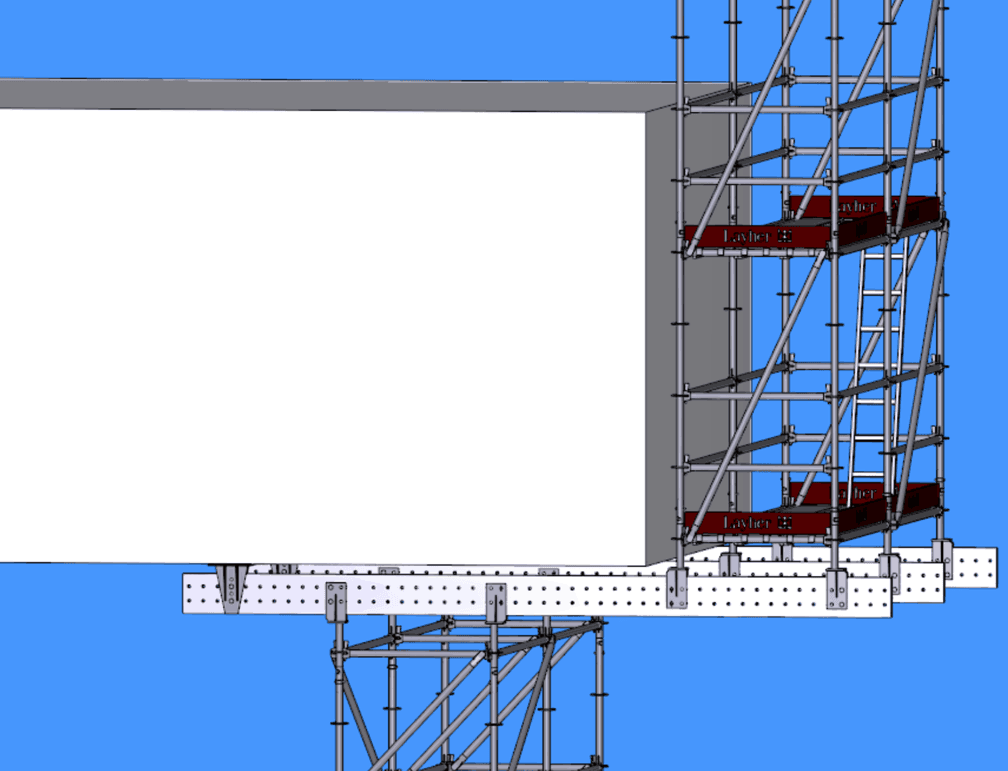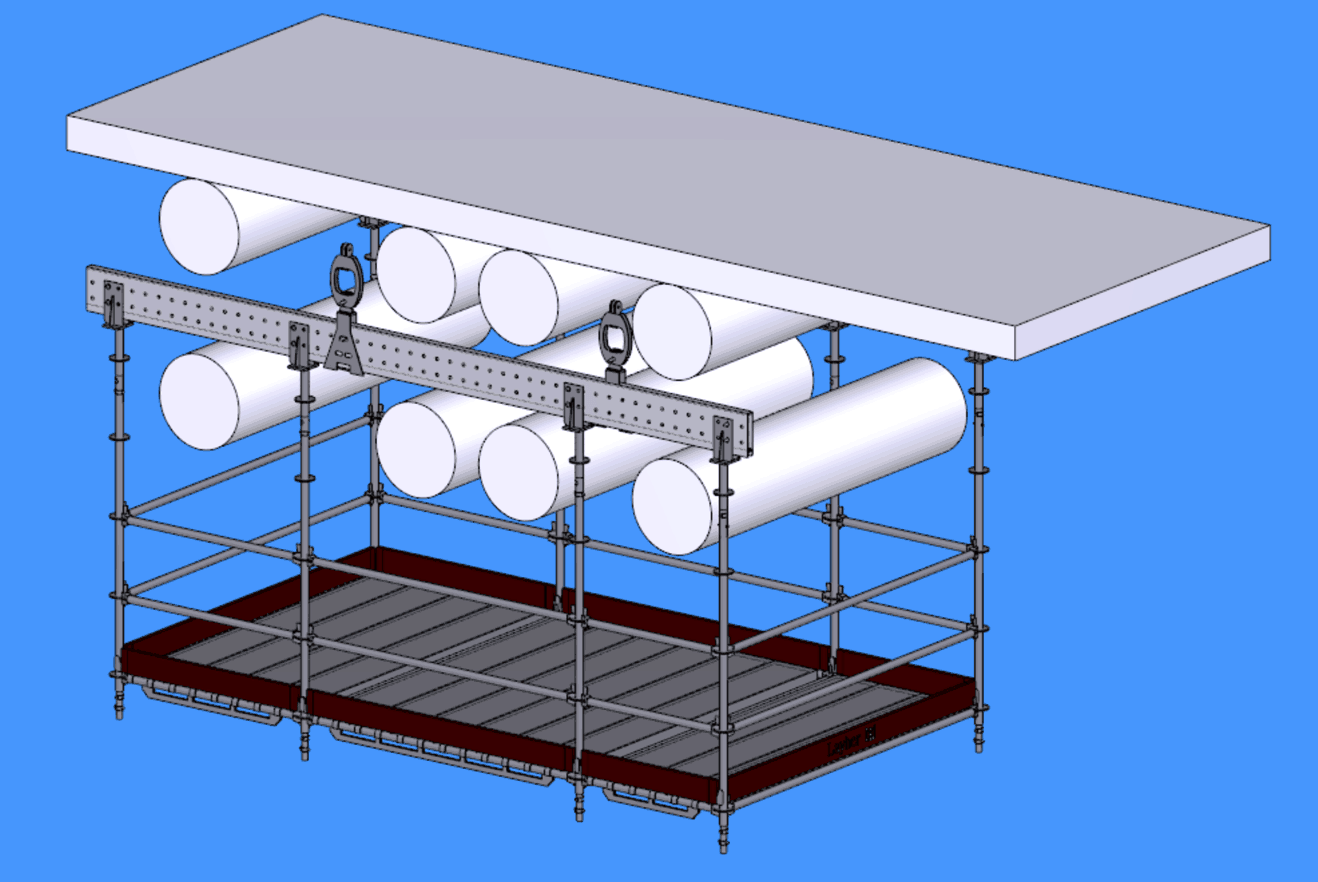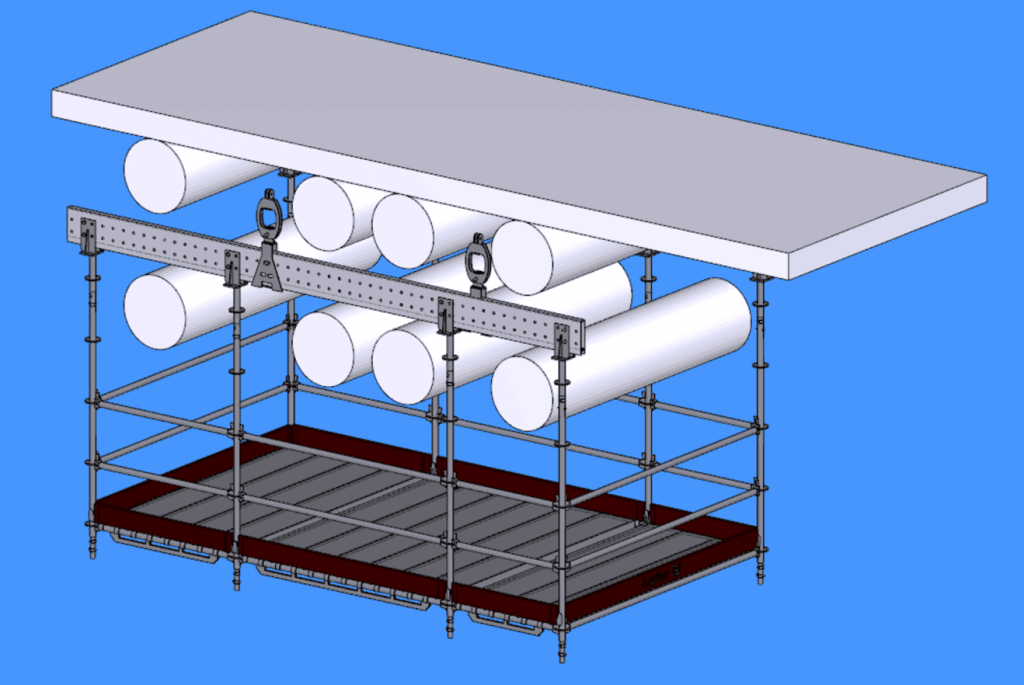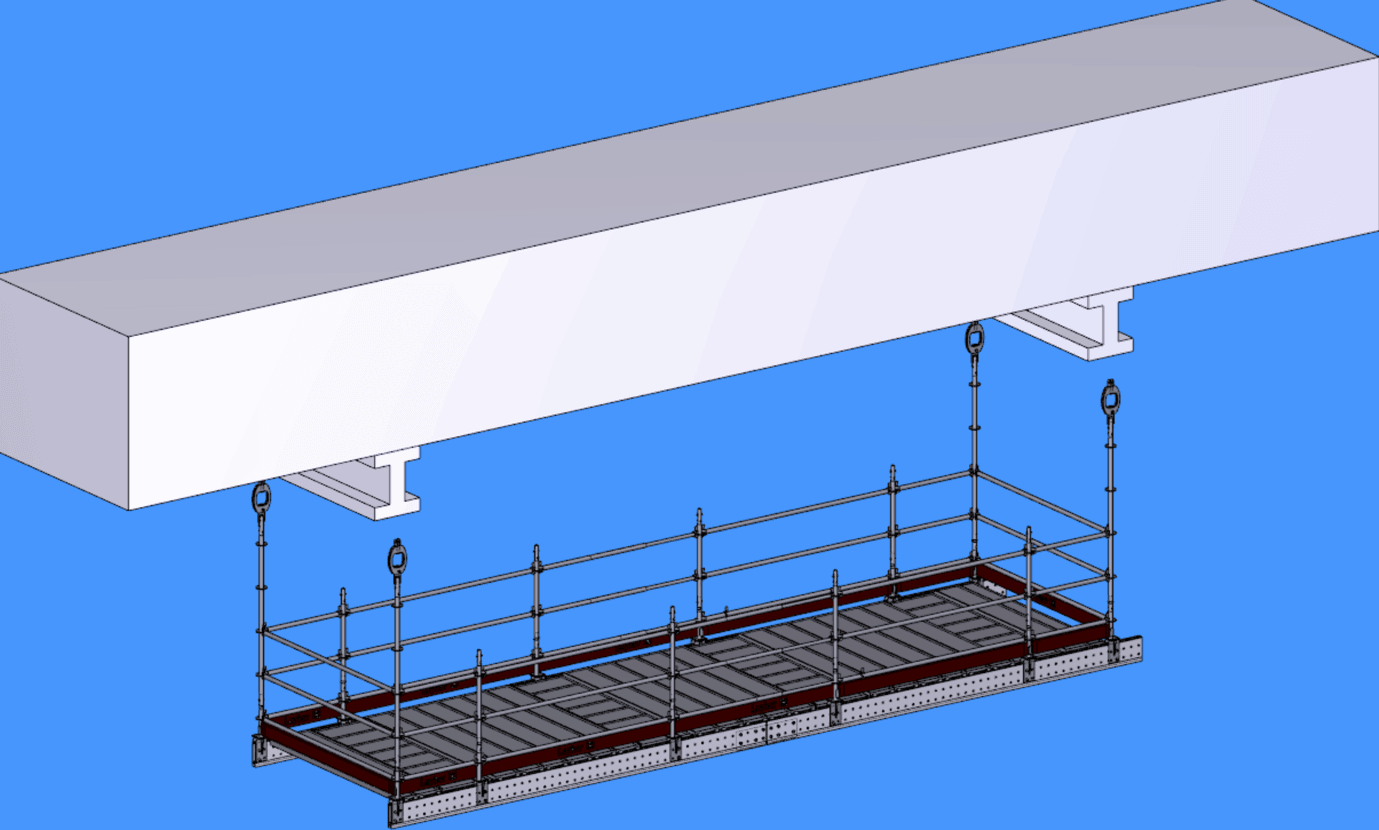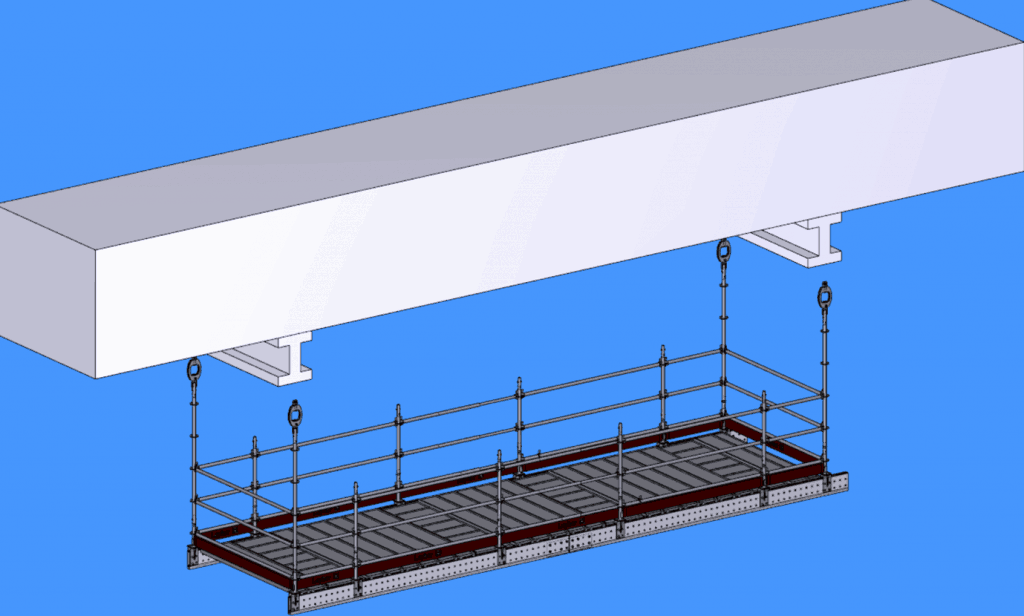 Ringing Bells
This forward-thinking company is already well known for their 'original Layher Allround modular scaffolding system', regarded as one of the best scaffolding system available in today's market, complete with unique 360° connection technology. Construction sites, power stations, chemical plants, shipyards and public arenas are just a few applications in which the Layher Allround scaffolding system can be used.
By using state-of-the-art design software, on-going installation help and direct liaison, they have worked and continue to forge strong links with some of the top contractors in the industry. Extensive resources and experience from the UK local Layher subsidiary, further backed by the head office in Germany continues to further enhance customer confidence.
The term, 'scaffolding with possibilities' certainly applies to a design set to become very popular across the industry at large.