Last week, PERI delivered its first 5-day CISRS-accredited BASE course to apprentices from J.MAC Scaffolding.
The course, which took place at NETA's training centre in Middlesbrough, is one of many ways the business is helping to increase the number of skilled operatives in the industry and demonstrate the benefits of system scaffolding.
PERI's Scaffolding Instructor, Mark Holmes, who led the course, believes that the BASE training course in particular will help meet the growing demand for skilled scaffolders.
He added, "I feel this course gives apprentices a good insight into system scaffolding as they embark on their scaffolding careers, including the opportunity to erect basic structures. It also gives them an understanding of Working at Height Regulations 2005 and safety guidance from NASC SG4.15 Preventing Falls in Scaffolding Operations. Seeing the apprentices learning and grasping the PERI UP system concept by the end of the course gives me great job satisfaction, and I think it's definitely a step in the right direction for PERI."
The BASE course is designed for non-scaffolders looking to pursue a career in the industry. It prepares them by replicating real-life site situations during training. Trainees are taught the fundamentals of scaffolding, which provides them with the basic skills and knowledge to erect, modify and dismantle system scaffolding in just five days.
Non-scaffolders gain practical experience by training with the PERI UP Flex system, which is the formwork and scaffolding provider's response to high quality, flexible and safe system scaffolding.
Successful completion of the BASE course meant the apprentices from J.MAC Scaffolding qualified for a BASE scaffolding card endorsed by CISRS. This will enable them to carry out basic scaffolding operations on most project sites. Recognition from CISRS will also open up further career opportunities in the field.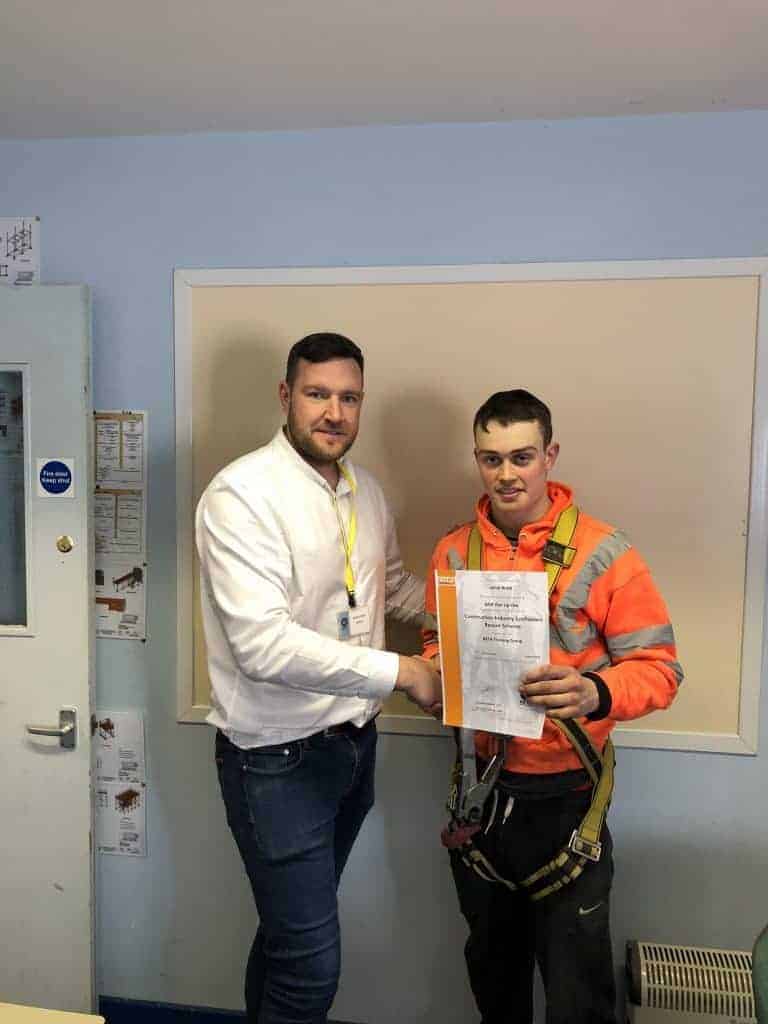 Brian Ward, Lead Instructor at NETA, who shadowed Mark during the BASE course said: "We are extremely happy with how the BASE course was delivered. Giving candidates an insight into scaffolding is always great to see, and creating skills in the industry can only support the growing demand."
Jack McDonald, Labourer at J.MAC Scaffolding and course attendee, said: "The BASE training course, carried out by PERI's Scaffolding Instructor, has been excellent and delivered really well. I am a practical learner, so being able to learn through hands-on training and stepping outside of the classroom environment has helped me develop my skills.
By completing the course, I am able to move forward in my role. Before, I was simply passing equipment to others. I am now able to erect, modify and dismantle basic system scaffold structures on a housing development site, which is something that I could never do before. Learning with PERI UP has also demonstrated just how easy system scaffolding is to use and how quickly any mistakes can be rectified.
The training course is definitely an investment into the future of system scaffolding, and I will be using what I have learnt when I am on site. I would definitely recommend taking the course with PERI to anyone starting out in the industry."
Jamie Brack, an Apprentice at J.MAC Scaffolding and course attendee, said: "I have recently joined the industry as a young apprentice, so I have not had any experience erecting or handling scaffolding. The way the course was delivered made it easy to follow and provided me with a real insight into system scaffolding.
This is also the first time I have been out on site and away from the yard, so being able to receive practical training from an experienced instructor has been great. I am now aware of scaffolding operations like the erection sequence and understand how we build scaffolds. With the skills I have developed, I am eager to get onto my first project site and apply what I have learnt."
With easier assembly and disassembly operations, PERI believes system scaffolds are the way forward for any access solution. In addition to the BASE course, PERI are offering advanced CISRS-accredited courses, such as the inspection course, enabling qualified scaffolders the chance to enhance their technical skills.