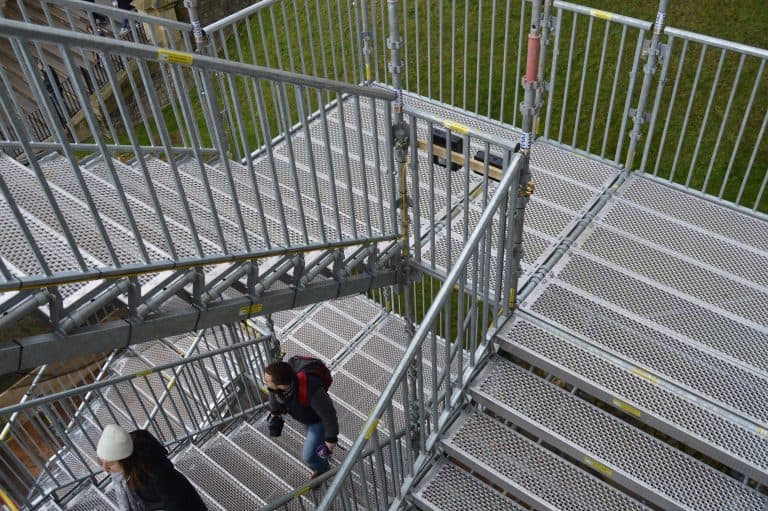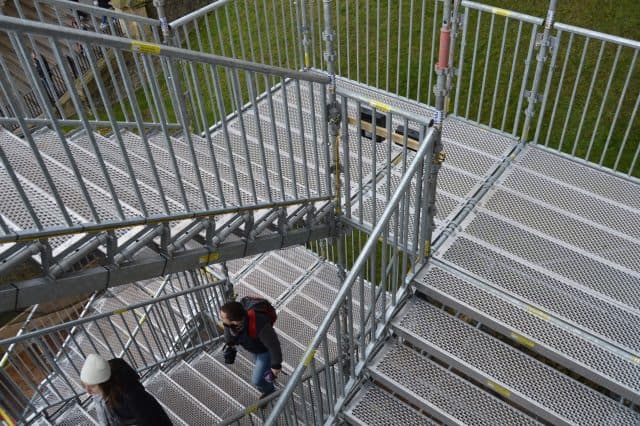 UK System Scaffold Hire has become the "go to" specialists for companies requiring public access staircases (PAS).
UKSSH's unsurpassed product knowledge combined with HAKI's superb Public Access Staircase have provided fully compliant access solutions at sports and leisure venues including football stadia, major flower shows and boat shows as well as at railway stations and historic monuments and provided emergency exits at schools and shopping centres.
Features of the temporary staircases include non-slip treads with GRP covering, Disability Discrimination Act compliant handrails and unique tamper proof locking devices to ensure maximum safety.
One example of the system's ability to take very heavy footfall in its stride was when UKSSH was asked to provide a temporary staircase for pedestrian access to the world famous White Tower at the Tower of London whilst the installation of new, permanent, steps took place. Unique Scaffolding chose UK System Scaffold Hire to specify and supply the HAKI Public Access Staircase.
THE BEST SOLUTION
The temporary staircase had to cope with large numbers of visitors queuing on the staircase during busy periods and lead them up to the temporary entrance on the west elevation. It also had to provide a safe, comfortable and steady walkway for tourists visiting the historic building. Due to the historical importance of the building, the stair could not be tied to it and therefore had to be free standing.
The permissible load for a tread width of 1.6m and loading from one side is 7.5 kN/m2. The stair was designed to be capable of taking a maximum load of 189 people, more than adequate for the required access of 100 people at any one time. The aluminium treads provided with the stair delivered the perfect slip-resistant steps and landings without any additional GRP covers even throughout the cold, icy winter months.
UK System Scaffold Hire provided on-site support and on-time delivery in the very heart of the Nation's capital, helping the Tower to maintain visitor numbers throughout the renovation.
This article was first published in ScaffMag Issue 6