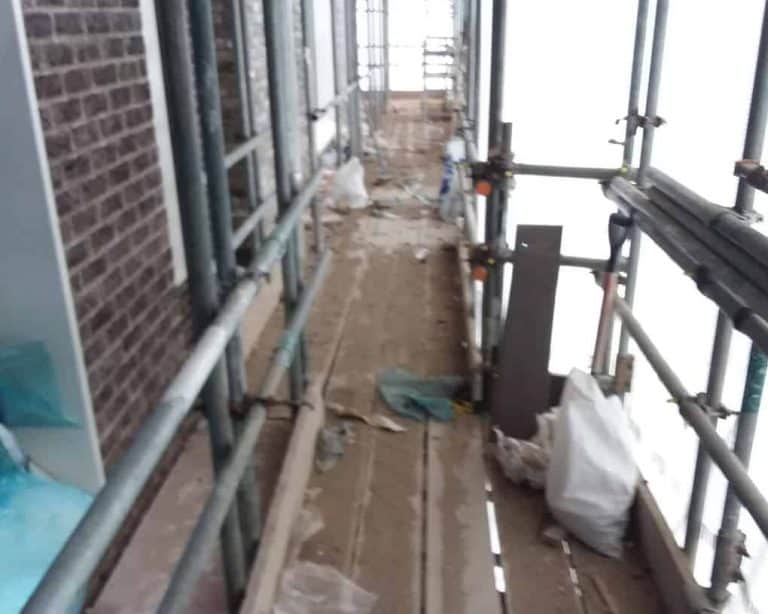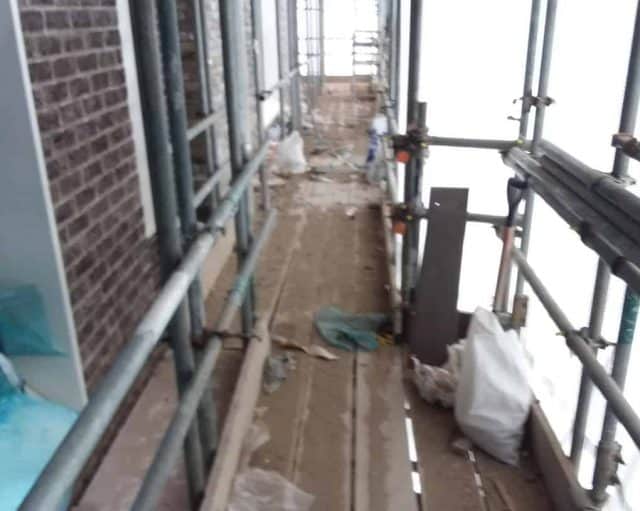 With slips, trips & falls still the number one cause of accidents & injuries on scaffolds, a new reporting system with SMART Scaffolder's mobile inspection app has for the first time ever revealed the top trends for failures – helping employers to avoid work at height incidents.
SMART Scaffolder's award-winning SMART Inspector mobile app has now been used to improve the safety and efficiency of more than 365,000 weekly scaffold inspections. The latest release includes a new report in the desktop web console giving managers a view of the most common failures which can be filtered to show them by site, by customer and even across the entire business.
It is a legal requirement of the Work At Height Regulations 2005 to conduct weekly scaffolding inspections and the SMART Inspector app does away with the often inefficient, time-consuming and flawed paper record systems, which are also prone to human error, which can lead to un-inspected, unsafe scaffolds. The fully auditable reports available via a desktop web console give managers an unprecedented view of what's happening across all their project sites.
The latest 2019 Safety Report by the National Access and Scaffolding Confederation (NASC) revealed a shocking 27% increase in the number of accidents and injuries among its 200+ scaffolding members (16,645 scaffolders) in 2018. The report shows that the most common cause of accidents and injuries were 'slips, trips and falls on the same level' – representing more than 43% of all accidents reported.
A review of anonymous feedback gathered from across all of SMART Inspector's users backs this up – with obstructions (50%), debris (14%) and board condition (10%) being the most common faults reported. Additionally, guard-rails and toe-boards were often either missing or incorrectly placed/secured (4%). And other common faults were materials stacked above toe-boards, damaged cladding, missing ties, undermined foundations and missing ladders.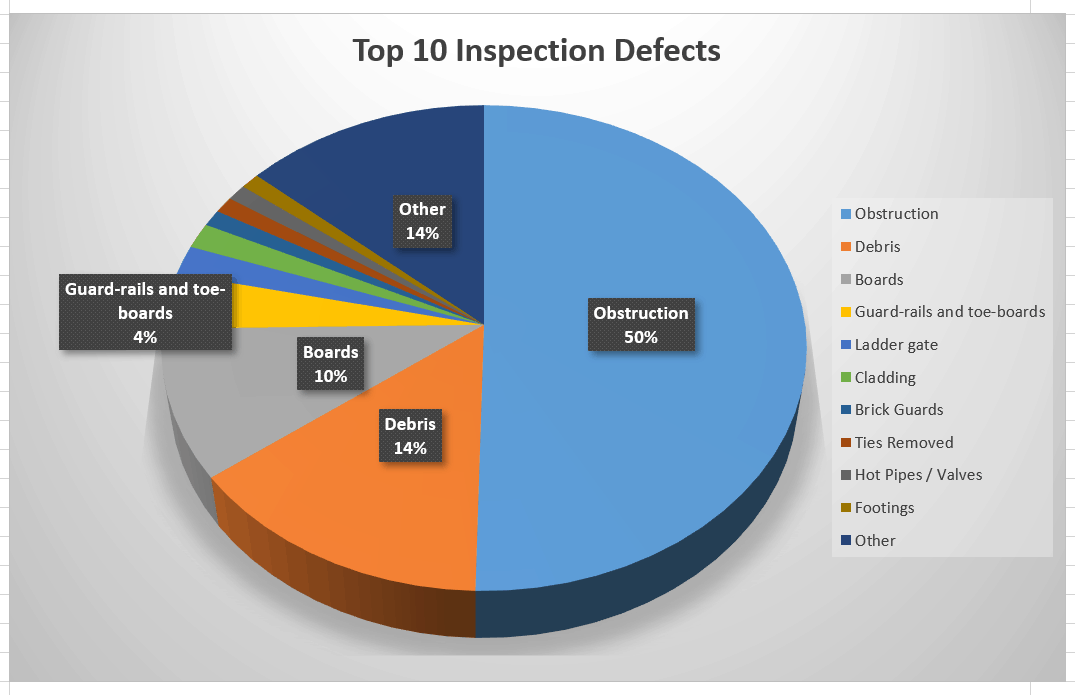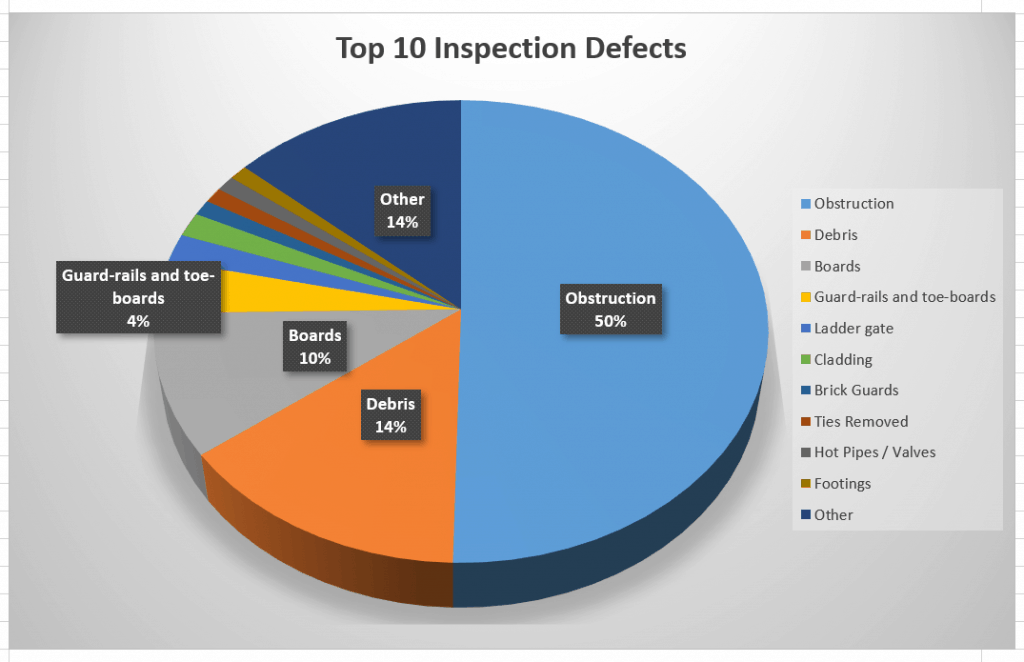 But scaffolders using the SMART Inspector mobile app have seen the safety of their sites and scaffolds improve dramatically – thanks to the integrity and traceability of the crucial weekly inspection process. The new top defects report has highlighted where extra training may be required and also exposed where trades have been repeatedly removing toe-boards, ties, boards, etc.
Robert Ramsay of leading UK scaffolding contractors, Enigma Industrial Services said: "The Inspection app has been a revelation for us, in terms of safety, efficiency and sharing data with our clients. A lot of our work is industrial, where there are great number of obstacles like pipework to avoid during the scaffold process. These can be a major cause of the biggest contributor to accidents in our sector – slips, trips and falls. But the quality and accuracy of the SMART Inspector app massively reduces the exposure to these risks, thanks to an improved inspection process and clearer, simpler reporting of scaffold faults using technology and images."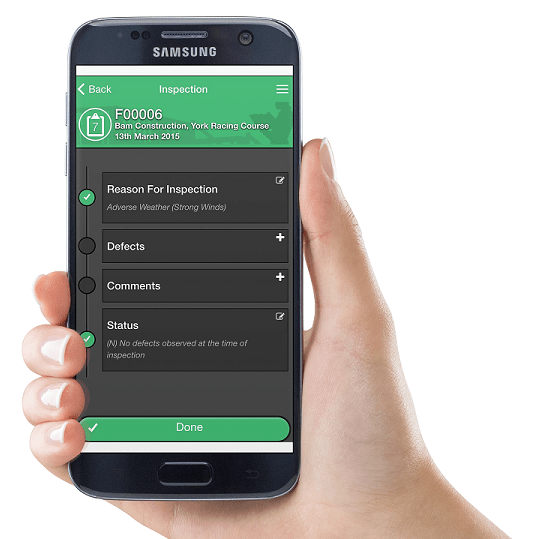 And Shane Watson of Amphibian Scaffolding agrees, saying: "Working in both the commercial and house building sectors we have found SMART Inspector invaluable in highlighting reoccurring problems on particular sites, meaning that we are able to identify where boards and ties are being regularly removed by trades and where scaffolds are left in a mess with potential trip hazards."
SMART Inspector was initially developed in partnership with Lyndon Scaffolding, and Lyndon SGB MD, Rob Lynch added: "We are more than happy with the SMART Inspector app, which has not only improved the quality of our reports but also transformed the efficiency, leading to better and safer scaffolds."
Reflecting on the feedback Ian Chambers, Sales and Marketing Director at SMART Scaffolder, said: "It's undeniable that our software is having a profoundly positive influence on the safety of scaffolds right across the country, through radically improved inspection quality and the online reporting of faults.
"The latest NASC Safety Report shows a depressing year-on-year rise in the number of accidents – mainly down to slips, trips and falls potentially caused primarily by faults which should have been spotted and fixed in the weekly inspections. But things are clearly being missed, or inspections skipped entirely, leading to avoidable accident and in some cases, life changing injury.
"Why take the risk to people's lives when there's a market leading product out there – in our SMART Inspector app – to help eliminate issues relating to the weekly inspection process?"
"We are thrilled so many other good quality outfits are getting on board with paperless, more accurate inspections using our software. All of this is changing our industry for the better, leading to keen interest from many main contractors, housebuilders and the Health & Safety fraternity as a whole, which can only be a good thing." 
Find out more at www.smartscaffolder.com