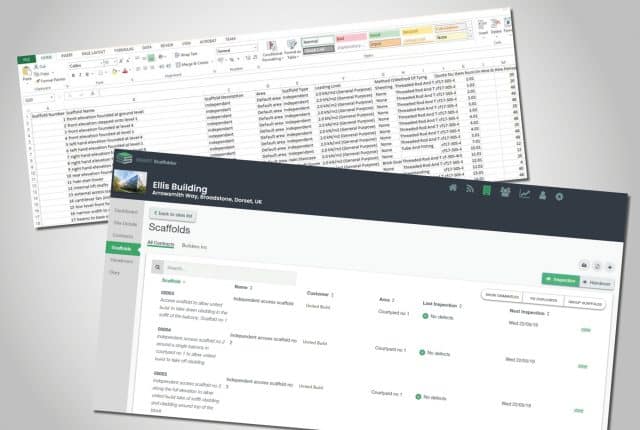 Scaffold estimating software developers CADS have launched a new update for the SMART Inspector app, saving users hours of work.
Load all your scaffolds from an Excel spreadsheet
SMART Inspector and SMART Handovers already do away with the need for paperwork, for example weekly inspection reports, handover certificates or variation instructions can all be completed on a mobile phone or tablet that creates an auditable trail back at the office via a web console.
With the latest release you can save even more time on large sites, be that a housing development or an industrial contract, as all the scaffolds to be built or inspected can be instantly loaded from an Excel spreadsheet. Just upload the file and all your scaffolds are ready to be handed over or inspected.
Top inspection defects report
There is also a new chart in the desktop console showing the top defect types reported, which you can filter to show them across your business, per site or per customer. As an example, you might find that, for a particular customer or site, you have a lot of instances of brick guards being removed. It's a great feature because it allows you to find instances where tradesmen are interfering with the scaffold (which can be reported to the main contractor) or instances where your scaffolders are making mistakes and need training.
Monitor activity across your sites
A new activity screen auto-refreshes, so you can use it on a monitor up on the wall to see activity coming in from site. When you click on an activity (for example when a handover, variation or dismantle is completed) you see the details including the photos and signatures. You can click again to download the Handover Certificate or Variation Instruction, making the web console a virtual 'mission control'.
Ian Chambers, Sales and Marketing Director at SMART Scaffolder, said "our latest release is part of our ongoing plans to constantly respond to our customers' requests for additional features. This release makes uploading scaffolds on larger sites possible in seconds and also gives a new level of visibility across all a scaffolder's sites."
To see how you can save time, improve visibility across your sites and improve safety while tracking and charging for any extra hire or variations please visit www.smartscaffolder.com.