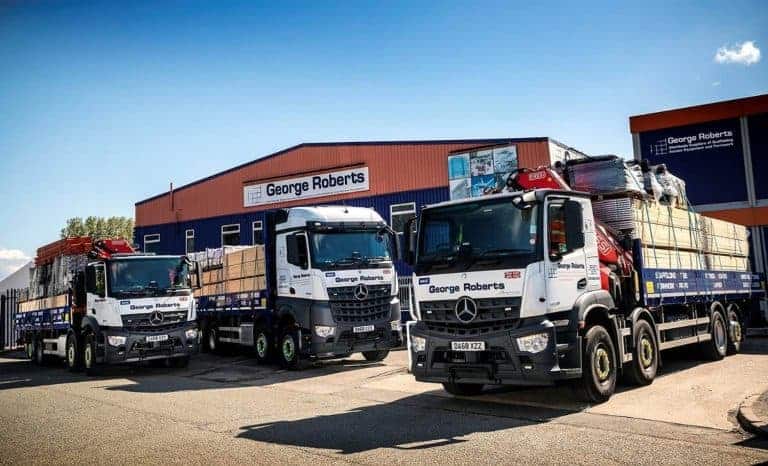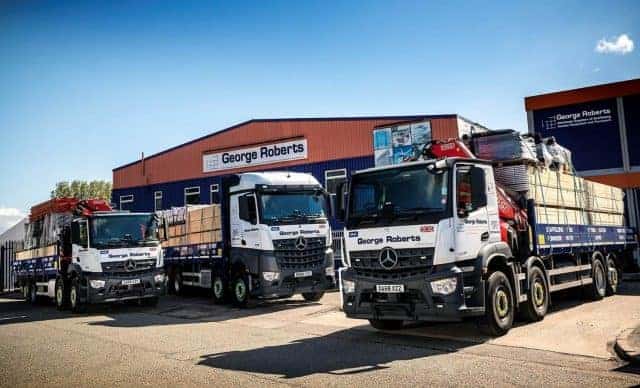 Liverpool-based scaffolding specialist George Roberts (North West) has enjoyed first class support from Mercedes-Benz truck sales executive Richie Rainford for a quarter of a century. No surprise then, that the latest additions to its fleet also wear the three-pointed star.
Supplied by Dealer Roanza Truck & Van, the three 8×2 Arocs rigids are fitted with dropside bodies by PPS Commercials, of Bury, and Fassi 485 cranes with a maximum outreach of more than 28 metres.
All are 3246 models with 10.7-litre straight-six engines which produce 335 kW (456 hp) and drive through Mercedes PowerShift automated transmissions – two of the trucks have ClassicSpace M day cabs, the other an aerodynamic StreamSpace sleeper.
Direct replacements for a trio of 6×2 Mercedes-Benz rigids stood down after providing four years' reliable service, they have lined up alongside another three six-wheelers and are George Roberts' first four-axled delivery trucks. The operator resolved to upgrade its fleet from 26- to 32-tonners to stay on top of increased customer demand, and a growth in the number of larger contracts requiring deliveries of heavier loads.
Transport Manager Andy Roscoe said: "In terms of performance and reliability our Mercedes-Benz trucks have always been superb. They're also well-appointed and popular with our drivers. If a scaffolding delivery is late an entire construction site can grind to a halt, so it's crucial that our vehicles are up to the task. Experience has taught us that Mercedes-Benz trucks can be relied on to deliver on time, every time."
George Roberts (North West) is a leading provider of tube and fittings, scaffold boards, system scaffolding, formwork and related products for hire and sale worldwide. Its trucks deliver loads of scaffolding to sites across Britain – these include new-build housing and commercial developments, as well as more specialised domestic and commercial renovation projects.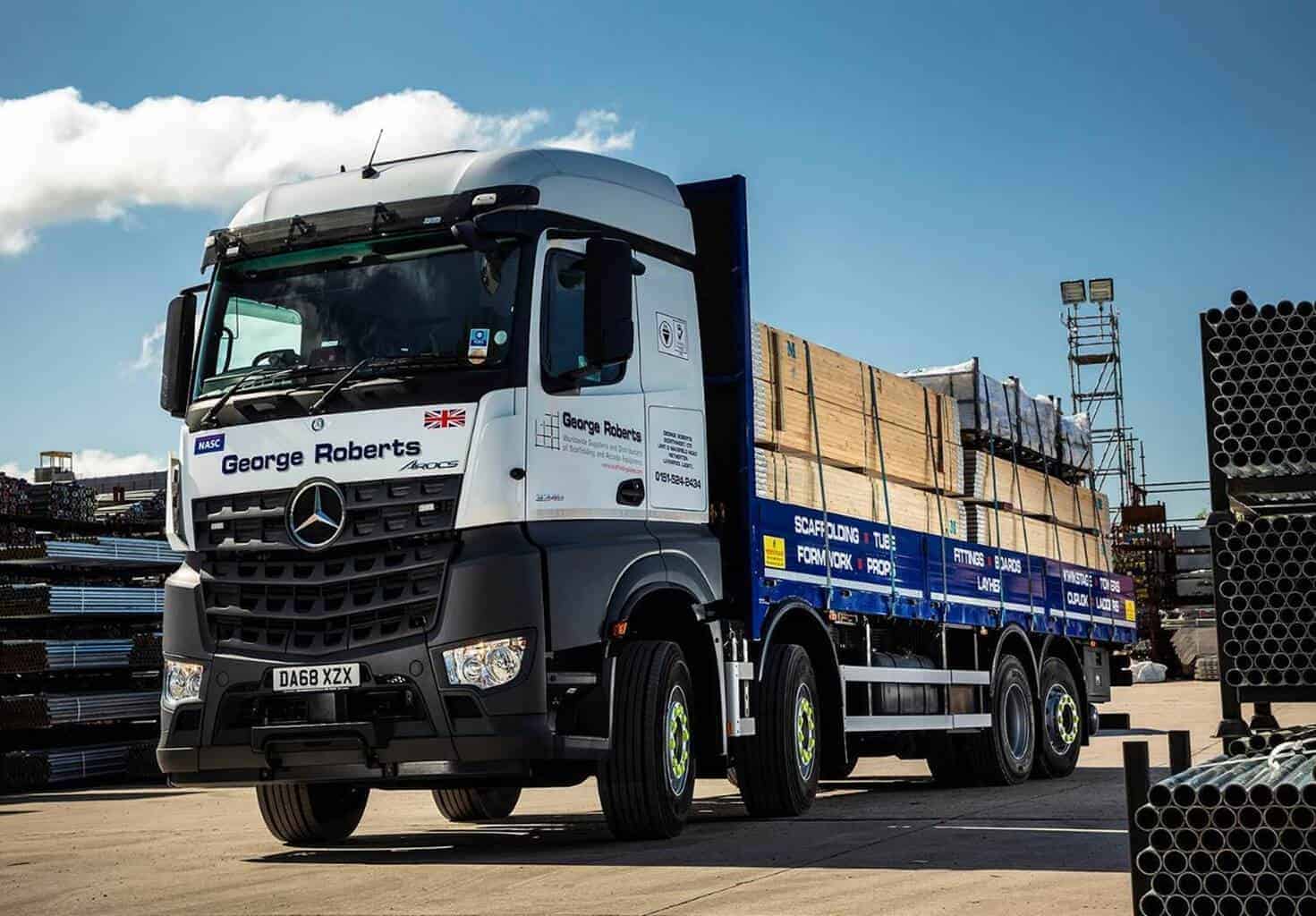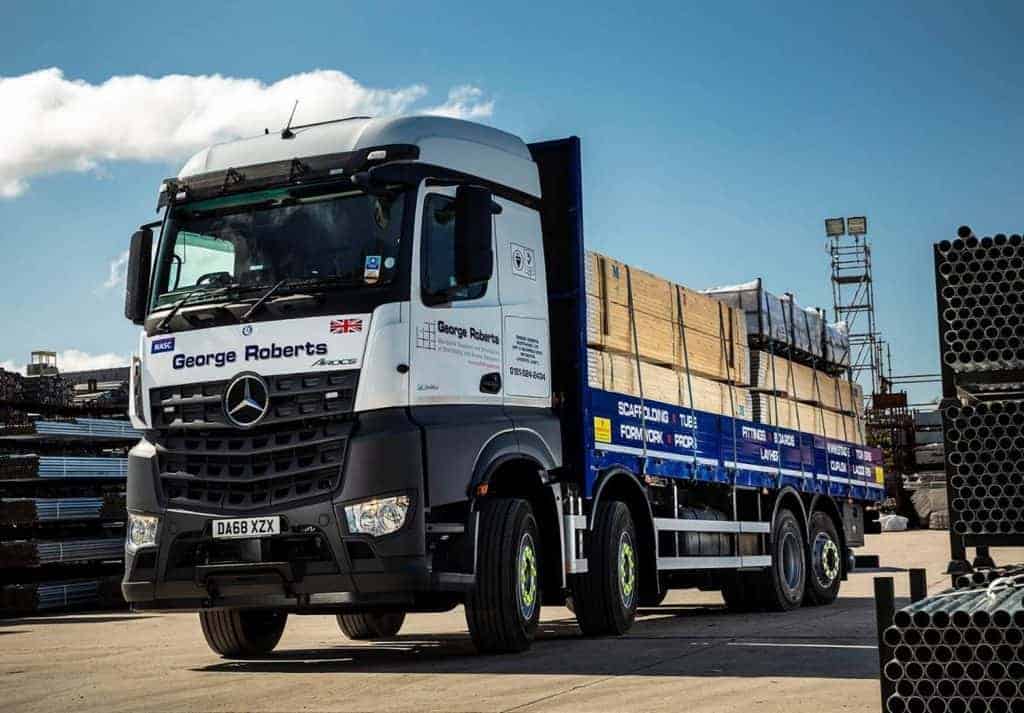 George Roberts' latest Arocs are the subject of a Mercedes-Benz Finance contract hire agreement. Those with day cabs typically deliver to large building sites – if their presence is required for more than a day, operatives stay overnight in local hotels. For multi-day jobs in more remote locations with no accommodation nearby, the truck with StreamSpace sleeper cab provides a roomy and comfortable 'home from home'.
The muscular Mercedes-benz Arocs is purpose-designed for construction and related applications. "The Arocs is ideally suited to operation on rough sites, being both rugged and reliable," confirmed Mr Roscoe. "Meanwhile, Roanza's Richie Rainford has put together another excellent package for us. He knows our business inside out, and has always looked after us very well.
"We have a great working relationship too, with the Dealer's Service team. One vehicle goes in each week for its six-weekly check. We'll drop it off at Roanza's workshop in Wavertree on a Friday evening, and it's always ready to be picked up on the Saturday morning. This means we can load the truck on a Sunday ready to go out again first thing Monday morning, thereby virtually eliminating any downtime."