The NASC and SIMIAN have come together to help a former soldier take the next step in his career in the scaffolding industry. 
The two organisations teamed up after scaffolder Liam Gibbons reached out for assistance via the NASC's Facebook account. 
In his message, he wrote: "I read with interest that the NASC is keen to encourage more ex-Forces personnel to take up positions in the scaffolding industry and had launched a fund to help them with training. Just wondered if there was anything you could do for me?  
"I left the army two years ago, have been struggling with Post Traumatic Stress Disorder (PTSD) and am living in a veterans care home. I became a scaffolder, starting at the bottom and have worked my way up from a labourer to a qualified part one scaffolder. 
"My second trainee card is close to expiring so I need to complete the Part 2 scaffolder course as soon as possible. I was wondering if there is any help available towards this next step."
The NASC has stated, Liam's appeal struck a chord with the NASC's new President Lynn Way, who has made greater engagement with the Armed Forces and creating more career opportunities for former military personnel core objectives of her presidency. 
The NASC and Simian have agreed to co-fund Liam's Part 2 and VQ training. He will now complete his Part 2 training at Simian's Waltham Forest training centre in January 2020.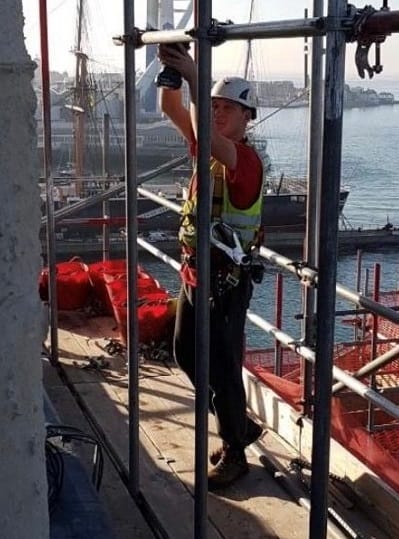 NASC President Lynn Way said in a press release: "I am passionate about helping former Armed Forces servicemen enter the scaffolding industry and then progress through the training stages wherever I can. This is why we decided to help Liam on a strictly one-off basis. 
"We'll soon be in a position to help many more ex-military personnel achieve the same progress as Liam through the NASC's dedicated £150,000 training pot. We're also working hard to further strengthen our ties with the Armed Forces, ensuring that current servicemen are aware of the varied scaffolding industry careers that are available to them – many of which complement their skill sets – and can put their repatriation funding allowance towards scaffolding training.
"We hope to have more news on this front in the coming weeks"
The news comes after when last month, the NASC signed the Armed Forces Covenant, where they made a formal commitment to promote career and training opportunities in the scaffolding industry to ex-military personnel.
Simon Hughes, Managing Director of Simian, added: "Simian are very happy to work with NASC to support Liam's progress in the sector. We are also fully behind the ex-military initiative and wish NASC the best of luck with this worthy project."
Through the NASC's dedicated Armed Forces training pot, it's members can claim up to £1,000 towards the retraining or upskilling of an ex-forces employee or employees. 
Further information on funding for ex-military personnel for NASC members can be found here: https://nasc.org.uk/information/training/
The NASC has also been developing relationships with various charitable partners linked with the Ministry of Defence, including Buildforce UK, After the Military and the Careers Transition Partnership.