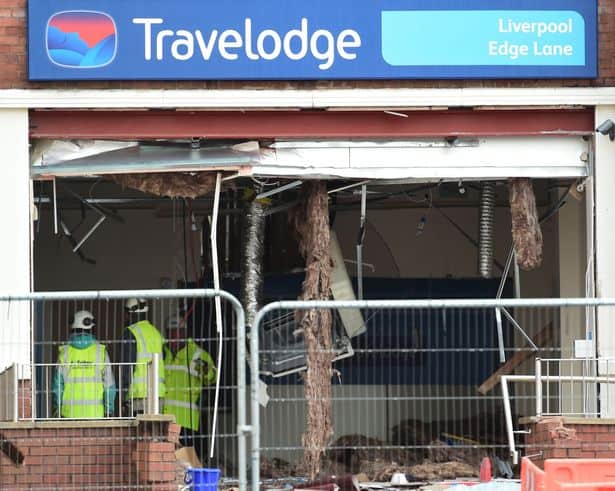 A digger driver who wrecked a newly completed Travelodge in Liverpool has been jailed.
John Manley, 36, caused a trail of destruction at the new Travelodge because he was owed £600 in wages. He drove the digger through the front doors of the hotel on 21 January 2019 and caused over £400,000 worth of damage.
Videos of the incident went viral online and showed colleagues asking Manley to stop as he shouted: "All you had to do was pay me."
Manley was sentenced today (26 February) to five years and four months at Liverpool Crown Court for damaging property and being reckless as to whether life is endangered.
Judge David Aubrey QC said: "You were intent on maximum damage and you intended to leave a trail of destruction."
The court heard Manley, who had an emotionally unstable personality disorder, had a number of issues in his life.
Prosecutor Trevor Parry-Jones said he effectively destroyed the ceiling, wiring and structure of the building after he drove through the front doors of the 71-bedroom hotel, where people were still carrying out work.
Two colleagues eventually managed to disconnect the fuel line to the vehicle, leaving one of them temporarily blinded after diesel sprayed into his face, and Manley jumped out of the vehicle and scaled a 10ft wire fence to flee the scene.
Mark Sharman, defending, said the father-of-two could not afford electricity or to buy food because he had not been paid, and therefore could not have his children, aged six and 11, to stay.
Manley was also disqualified from driving for four years and one month.