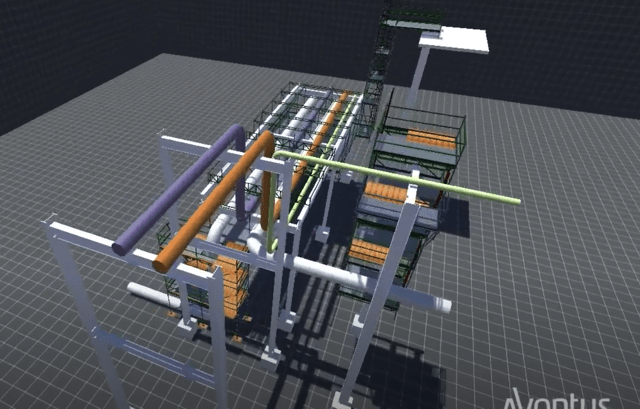 Scaffolding businesses can now share virtual walkthroughs with anyone, anywhere, thanks to a new feature
Avontus Software has announced that the company has enhanced its Scaffold Viewer software with a one-click YouTube export feature. This new feature gives users the power to record a video walkthrough of their scaffold design, export it to YouTube, and easily share it via email or other marketing channels.
Avontus Scaffold Viewer brings powerful advantages to scaffold businesses. This free app seamlessly integrates with Avontus Scaffold Designer, enabling customers to visualize their scaffold designs in advanced 3D, augmented and virtual realities (AR/VR). Packed with state-of-the-art visualization features, Scaffold Viewer enables Avontus customers to differentiate their proposals during bid presentations, communicate designs during planning reviews, and make hand-overs safe and easier to understand.
The new YouTube export feature enables sharing of 3D scaffold walkthroughs to people who don't even have the Scaffold Viewer app. YouTube videos also provide for a more structured tour versus a self-controlled one in the app. A predetermined path can be taken and recorded for on-the-spot communication or review later, whether for a specific project or as part of a business development/marketing portfolio.
"Miscommunication, inaccuracies, and unidentified obstructions aren't just costly—they can create safety hazards for crews," stated Andrew Smith, Avontus VP of Operations. "Scaffold Viewer avoids these problems—and delivers new competitive advantages to Avontus customers—through the use of advanced AR/VR technology. With this new release, our customers now have the ability to share their virtual walkthroughs with anyone, anywhere, with just a click of a mouse."
Avontus Scaffold Viewer is available as a free download for desktop PCs, mobile devices, and supported VR devices.
Visit the Avontus website today to learn more, view sample virtual walkthrough videos, and download your free Scaffold Viewer app.