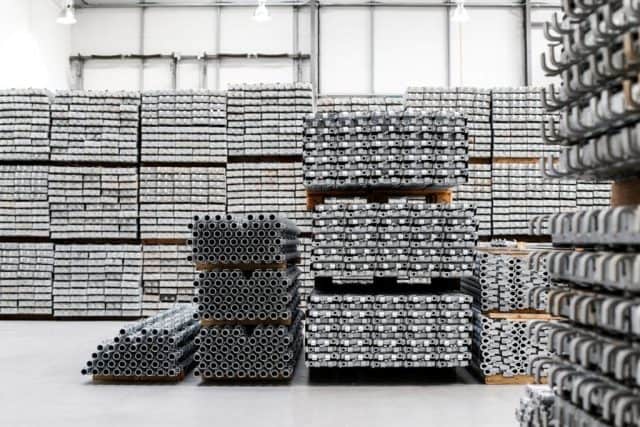 Enigma Industrial Services has entered an exclusive agreement to be the sole distributor of HAKI modular scaffolding systems within the UK.
The strategic partnership will enable both organisations to better serve and support the market as it continues to evolve toward simpler and safer systemised solutions.
HAKI has today said under this agreement, its customers can collect stock from 7 strategically located depots based in Erith (South East), Kenfig (South West), Derby (Midlands), Preston (North West), Newcastle (North East), Edinburgh and Glasgow (Scotland); utilising Enigma's existing network of locations across the UK.
Increasing stock availability nationwide will simplify logistics and shorten lead times for its customers, HAKI said.
Its customers will continue to order stock through the usual channels but can select a preferred Enigma depot for collection or to arrange delivery. Customers will also be able to purchase and hire stock directly through Enigma as part of the partnership.
All primary product ranges are available from the Enigma locations, including the Universal system, stair towers, Public Access Stair (PAS), Bridge System (HBS), and the HAKITEC temporary roof. Enigma customers will also benefit from HAKI's expansion into the network with access to a wider range of systems than has previously been available.
Extending beyond the provision of stock, HAKI and Enigma will also continue to collaborate on support services. Knowledge and resource sharing practices will improve technical support, training, and product development; enhancing the overall offering for all stakeholders.
Speaking on the partnership, Thomas Schüller, CEO of HAKI said: "We have, over the last few years, built a very strong relationship with Enigma Industrial Services; leading to them being the largest user of HAKI Universal System Scaffold in the UK.
"During the past 12 months, we have continued to build stronger ties, which has resulted in the development of a joint plan for Enigma to distribute HAKI products nationally. Enigma currently operates one of the UK's largest scaffolding asset bases with nationwide coverage and shares the joint belief that together, we can provide a better service for our customers and improve safety within the industry. This makes Enigma the natural choice to be HAKI's UK distribution partner and we are excited about this venture."
Scott Hardie, MD of Enigma Industrial Services, also commented: "Enigma's relationship with HAKI has been developing over a number of years. It's very satisfying that we can now go forward in partnership. I firmly believe that existing and new clients will benefit.
"We are partners who are focussed on delivering safe access solutions, improving availability of HAKI product for sale and hire via Enigma's network of locations and thereby supporting improved safety and productivity on projects throughout the UK."