Burflex Scaffolding is poised to start work on a 17 storey £61m flats complex in Sheffield's City Centre.
The East Yorkshire based company has been awarded the substantial contract and are set to provide a full scaffolding package starting in July.
Leading construction firm Watkin Jones awarded the scaffolders the contract. Watkin Jones has entrusted Burflex on a number of other projects in Sheffield and Leicester. The Welsh construction business is tasked with building the large redevelopment project located on Rockingham Street in Sheffield's City Centre.
The development comprises of five blocks, up to 17 storeys with 794 beds for mainly student accommodation. Additionally, 106 beds will be for up-market flats aimed at young professionals.
The new blocks will be built on the old Grunwergs site, former home to houseware and catering products supplier Grunwerg.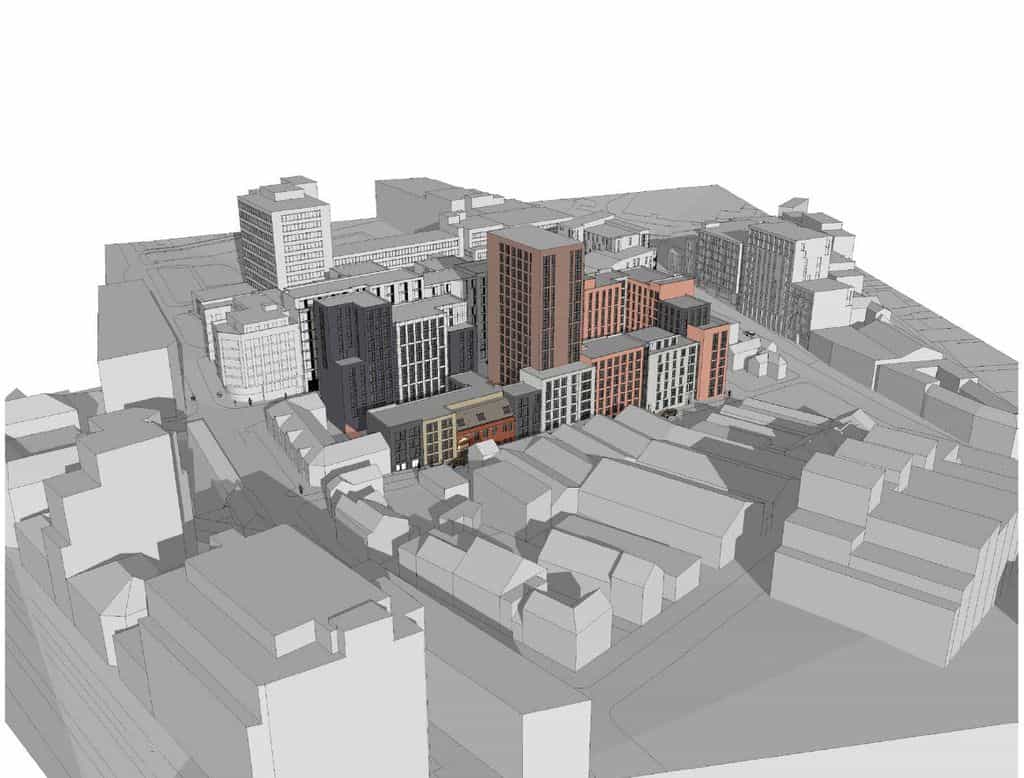 ScaffMag understands that Burflex will be providing and erecting over 12,000m of scaffolding, 234 loading bay lifts and using 336m of beams. The project will also be wrapped and sheeted using 7,500m2 of monoflex.
Teams of Burflex scaffolders are set to start erecting from 1st July 2020 with the dismantling phase concluding by the end of May 2021. 
Gareth Kay, Burflex Cost & Estimating Manager said: "We are delighted to have been awarded this prestigious contract in Sheffield City Centre, this is another significant win for the business to complement our other ongoing contracts within the Burflex Projects Division. This win and other recent wins further demonstrate our proven capability at delivering these large and complex major construction projects. 
Our relationship with Watkin Jones has really flourished over the last 3 years due to our safe approach and can-do attitude. We have enjoyed repeat business following the completion of 3 other sites in Sheffield and we are also currently working on a site a similar size to Grunwergs in Leicester where the scaffold erection is currently nearing completion."
"Since opening our Leeds office and Depot last year we have continued to grow and deliver within this sector and we are certainly looking forward to targeting and achieving further growth.
It is also worth noting that as part of the Grunwergs contract Burflex are tasked to employ local labour from Sheffield, as such we are actively recruiting in the area."