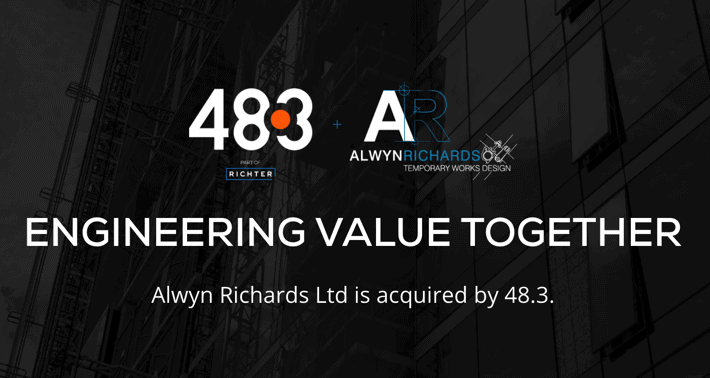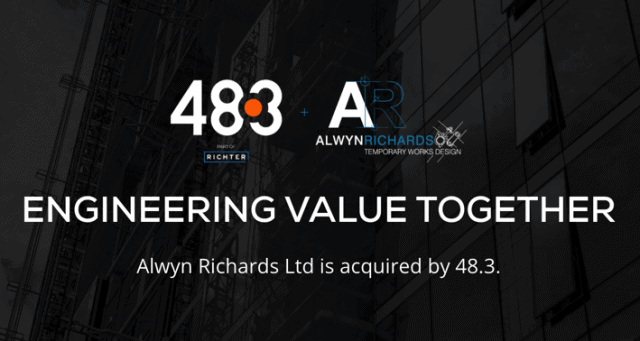 Market-leading temporary works specialist 48.3 has just announced its acquisition of South Yorkshire-based scaffolding and temporary works design consultancy, Alwyn Richards Ltd.
Following 48.3's merger with Richter just 12 months ago, this latest business expansion is yet another strong development for the 48.3 brand.
48.3 – which celebrated its 10-year anniversary earlier this year – has long maintained its drive to transform the landscape of the scaffolding industry. With multiple offices conveniently located across the UK, 48.3 provides fully integrated temporary and permanent works design services across the nation, leveraging additional resources and service offerings from powerhouse parent company, Richter Associates.
Alwyn Richards Ltd is a well-established scaffolding and temporary works design consultancy which has been in operation since 1998. Its working portfolio includes impressive projects for well-known clients such as ITV – specialist film sets for TV programme 'Emmerdale', BAE Systems – scaffolding for an astute class submarine project, and Shell International – multi-level scaffolding access for its FPSO (floating production, storage & offloading) vessel in the Niger Delta. 
This strategic acquisition will enable 48.3 to strengthen and expand its market share in the North UK region, where Alwyn Richards' presence and success has always been substantial. The unrivalled network that Alwyn Richards Ltd's Managing Director, Alwyn Richards, has established throughout his long-standing career will bring invaluable growth opportunities to the ambitious engineers at 48.3.  
Alwyn will be joining the 48.3 team on a permanent basis bringing with him nearly 50 years of industry experience, knowledge and expertise. As part of his role at 48.3, Alwyn will deliver valuable mentorship and training to colleagues, in line with 48.3's dedication to developing the next generation of design engineers.
"Having been in the industry since 1973 and after building Alwyn Richards Temporary Work Design from the ground up, I am extremely proud that the business is joining forces with an industry leader such as 48.3. I am completely confident that all of our clients will prosper with the direction that 48.3 will guide them in," comments Alwyn. "I'm thoroughly looking forward to working with the innovative team behind 48.3 and helping to develop the next generation of leading temporary works engineers."
Due to their close proximity, over the coming months the Alwyn Richards office will be merged into 48.3's Leeds branch. The team will be overseen by 48.3 Director, Ivik Masek, who spent nearly 10 years as a Design Engineer at Alwyn Richards Ltd. The two companies have a proven track record of collaborations in the past, with Alwyn Richards using 48.3's reputable design checking services on various projects. This well-established working relationship is something that will benefit all parties involved during the business merging process.
"This is a really significant move for us, Alwyn is one of the pillars of our industry and has an unrivalled depth and breadth of experience in his field. He will offer tremendous value to our team and our clients as we utilise his experience in delivering our design solutions, training and team development," comments Ben Beaumont, 48.3 Managing Director, who started his career with Alwyn Richards Ltd in 2004.
Roger Tice, Managing Director of Richter Associates and a Director of 48.3 added: "Alwyn Richards' integration into our business will be an entirely seamless process due to the values we both believe in and a working culture we are both proud of. This is a fantastic opportunity for both clients and the team; our newly-welcomed clients will profit from a more versatile range of fully-integrated services and expertise, whilst our expanded team will benefit from the sharing of knowledge and best practice."
48.3 will be keeping the industry updated of more details on this acquisition from their LinkedIn page.