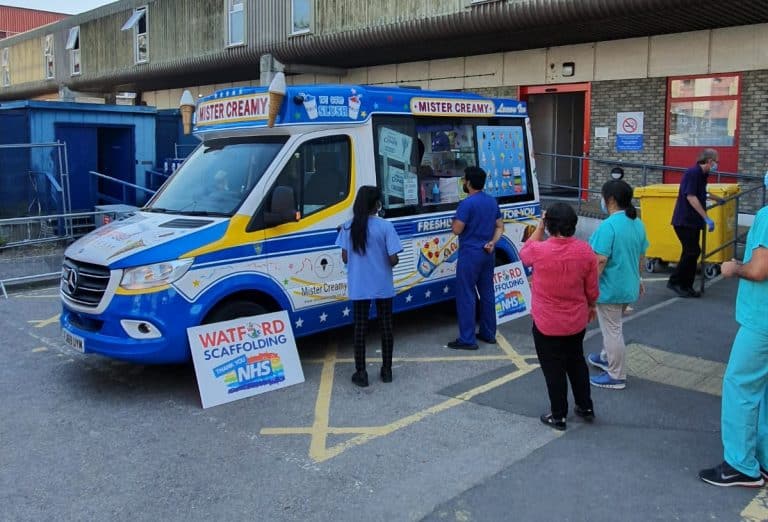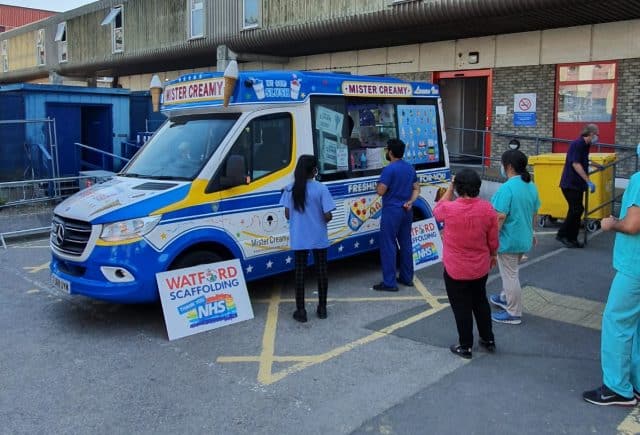 A scaffolding company is continuing to mark out their cones in the new spirit of giving following the coronavirus pandemic.
During the recent UK heatwave, Hertfordshire based scaffolding firm Watford Scaffolding Ltd wanted to thank the fantastic NHS by hiring an Ice Cream van and dish out free Ice Creams to NHS Keyworkers.
Managing Director Tony Shehu takes up the story: "We'd been looking for local charities that we could help during this difficult time. With the recent heatwave, we decided upon an Ice Cream giveaway to the local hospital nearest our yard, Watford General Hospital.
"Having decided, we started to look into the logistics of this and how it could be organised. We contacted Watford General on Wednesday 24th June and spoke to a lady called Zoe Nicholls, the PA to Charity Director, who made all kinds of enquiries before giving us permission to make the necessary arrangements. 
"We were aware the weather would be at its hottest on the Thursday so made last-minute arrangements with Mister Creamy Ice Cream Van Hire. He was very helpful and held all the relevant Insurances and Hygiene ratings required. The following day from noon he'd be able to supply a  pre-paid number of ice creams to NHS key workers. Arrangements were finalised with all parties concerned and everyone was looking forward to a successful day."
Then at 5pm it seemed their plans had been licked somewhat when Zoe contacted their offices to explain they were unable to accept ice creams unless 'it was a Level 3 Heatwave'. At that time the temperature stood at level two. Disappointed but undaunted, the company cancelled arrangements for the following day. This is Britain of course, and wouldn't you know it – nature was set to play a helping hand with our inconsistent weather.
Tony added: "At 9.00 am on Thursday morning a lady called Freya Hollingsworth called from Watford General explaining we had now hit a Level 3 heatwave, and could they please rebook the Ice Creams. Next step … back to Mister Creamy who so kindly managed once again to refit us into his schedule. We attended Watford General Hospital that afternoon and gave away more than 600 ice creams to the NHS Workers – a great response from everybody."
There are certainly no coneheads at Watford Scaffolding, so given their previous success, it was time to visit the other two sites of NHS West Herts. This time both St Albans City Hospital and Hemel Hempstead Hospital were the lucky recipients the next day to the tune of 600 more ice cream treats.
And at no risk of 'flaking out', the team also managed to pop into one of their own sites to help cool the cream of their tradesmen at Watford Cross, Weston Homes.
Tony said: "This has been a very difficult time for us all, we consider ourselves very lucky to be in the position to help these wonderful people who have put themselves at risk to care for others. 
"To highlight our thanks for the NHS, we have had a batch of "Thank You NHS" signboards made up. These are now adorning all our live jobs."
Well, you know what they say – 'charity begins at cone' – or is that home? Well done Watford Scaffolding Ltd.