An award-winning Cornish based start-up has developed and patented a new product that allows UK scaffold firms to offer floating access solutions.
The product called ScaffFloat is a set of tough plastic floats that have been specifically designed to integrate with standard scaffolding parts to make floating pontoons, rafts and versatile floating structures.
The company has been testing the system in the field over the last few months and now their initial R&D work has been completed, they are starting to introduce the product to the market, take bookings and actively look for UK scaffolding companies that are keen to offer floating access solutions to their customers.
Toby Budd, Founder and MD said ''We are already speaking to a number of scaffolding companies who are interested in becoming Approved Delivery Partners. After a signed agreement has been put in place, and we have provided the necessary training, they can hire floats from us and use them to start building pontoons for their customers. The interest has been much stronger than we expected.''
He added, ''We appreciate that most scaffolders are not familiar with floating structures, so, as well as hiring them the floats, we provide an in house design service. All our pontoon designs come with full structural, buoyancy and stability calculations and we are happy to produce renders and drawings FOC to help our partners bid for and win tenders, we are also always on the end of the phone to offer advice. Category 3 checks can also be provided for larger projects.''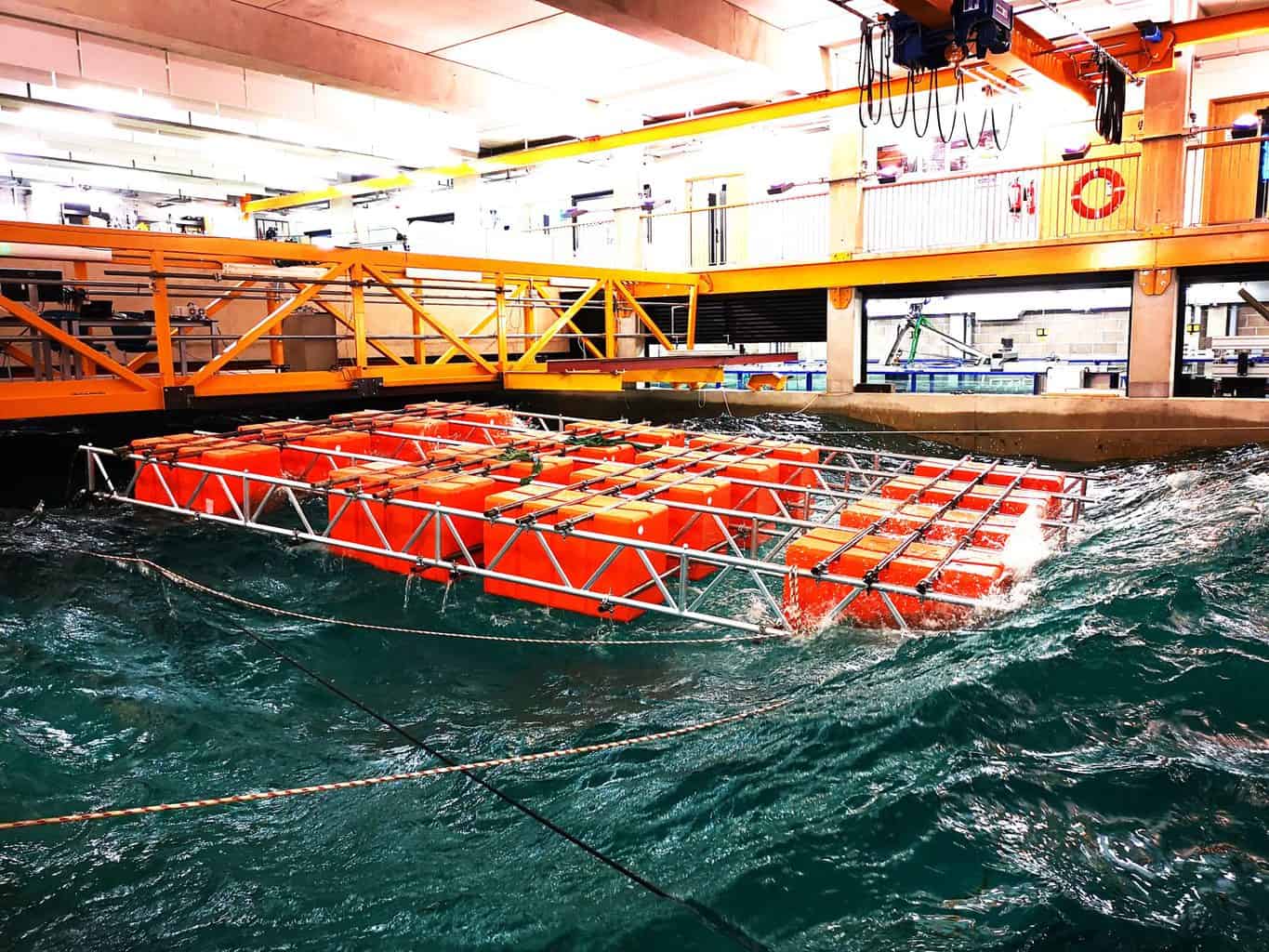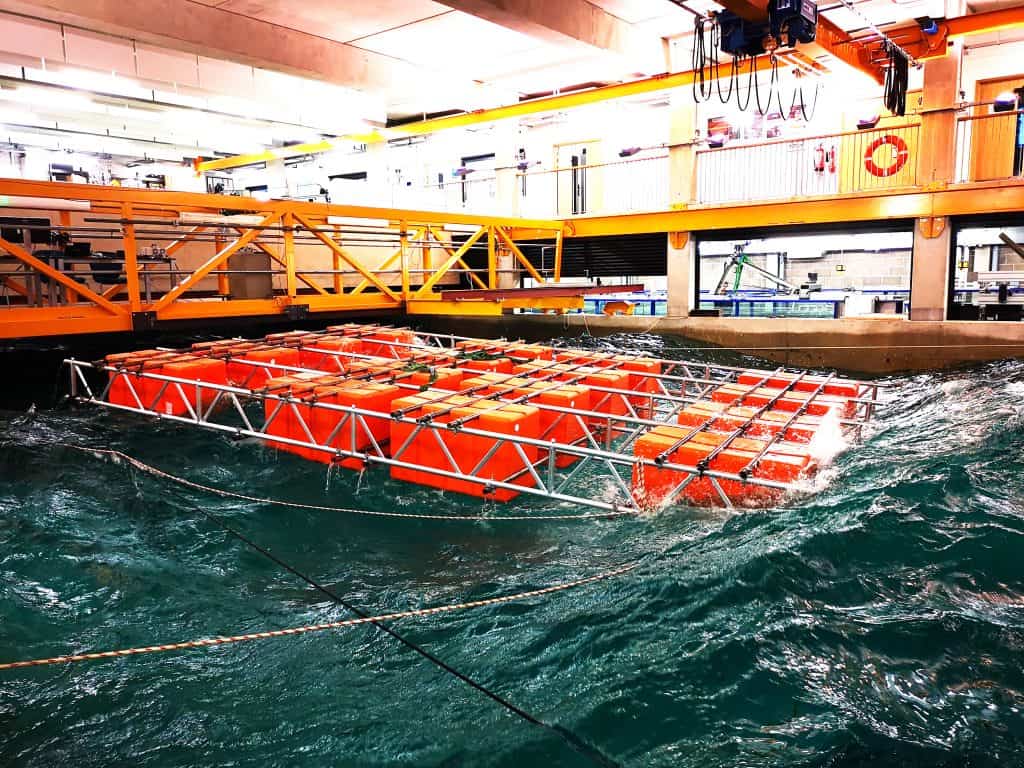 The company says that safety is key, so to help make sure all ScaffFloat pontoons and structures are professionally built to an approved set of drawings, they are currently only hiring their floats.
It's understood that float hire prices start at £1.90 per day on long-term hire or £3.90 per day on short-term hire.
The floats are designed to integrate with popular 450 & 750 lattice beams, and then use standard tube lengths, forged double couplers and scaffold boards. The smallest pontoons start at 4m x 4m and can scale to almost any size.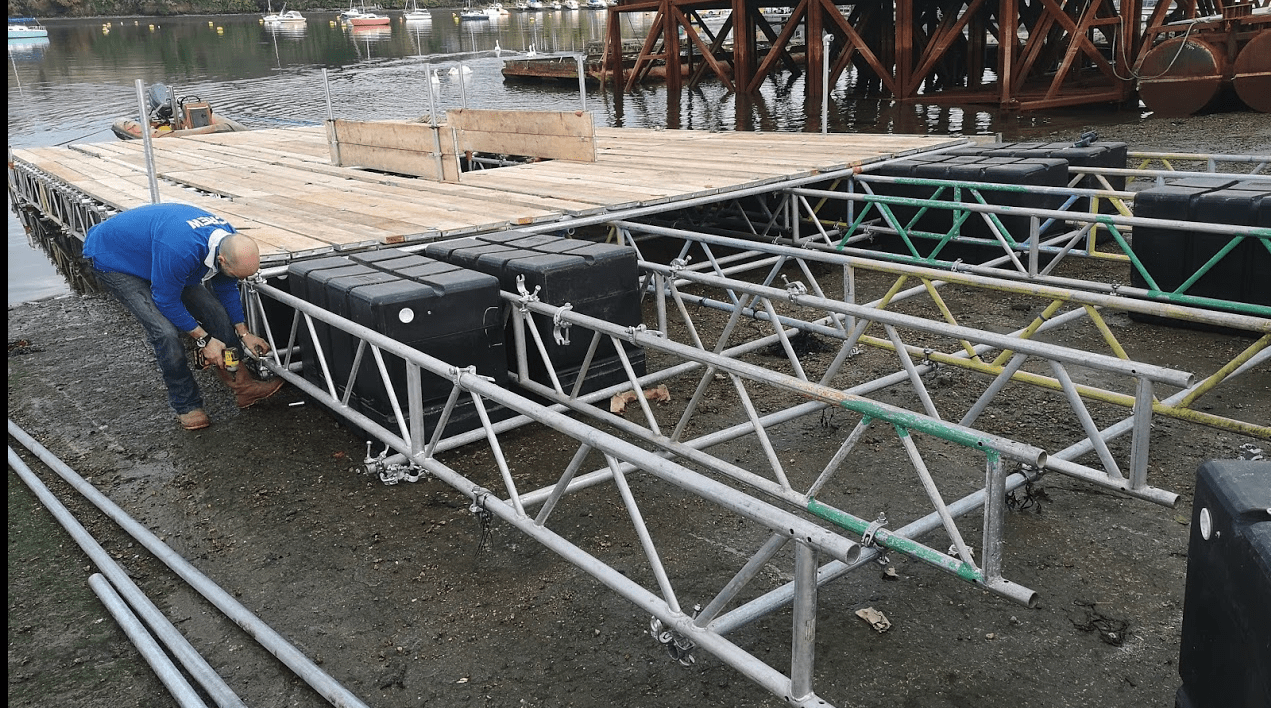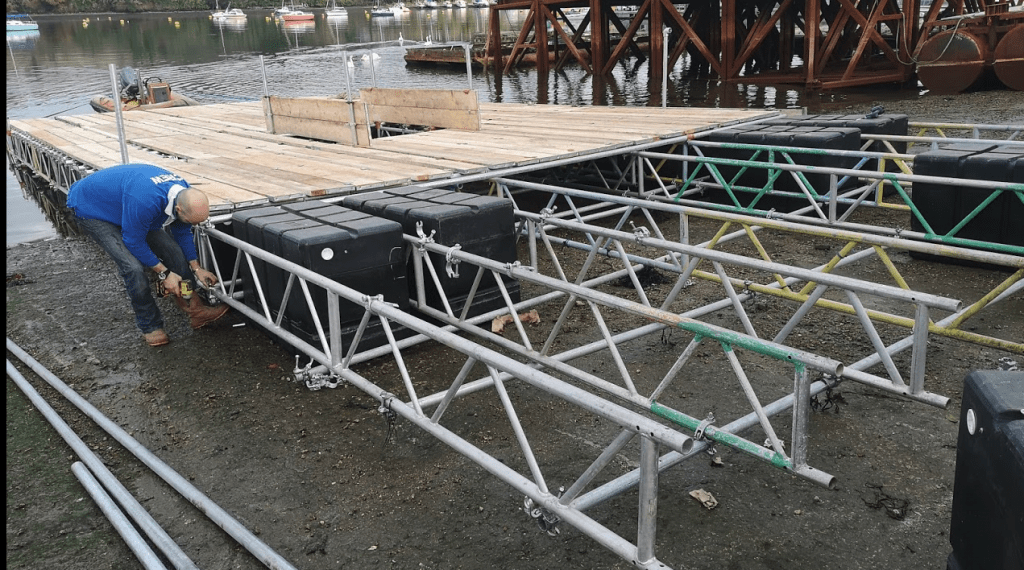 Uses for ScaffFloat span several sectors including survey, drilling, geotechnical, renewables, oil & gas, civils, events, disaster relief and access. As well as standard flat top pontoons the company is currently testing a range of 'bolt-on' modules that include spud legs, propulsion, welfare huts, lifting A-frames, deck cranes and loading ramps.
A spokesperson for ScaffFloat told Scaffmag that particular interest has also been shown for bridge projects, where pre-built structures can either be floated underneath and lifted into place, or a ScaffFloat pontoon can be lifted up under the bridge to provide access for repair works, or for scaffolders to install scaffolding.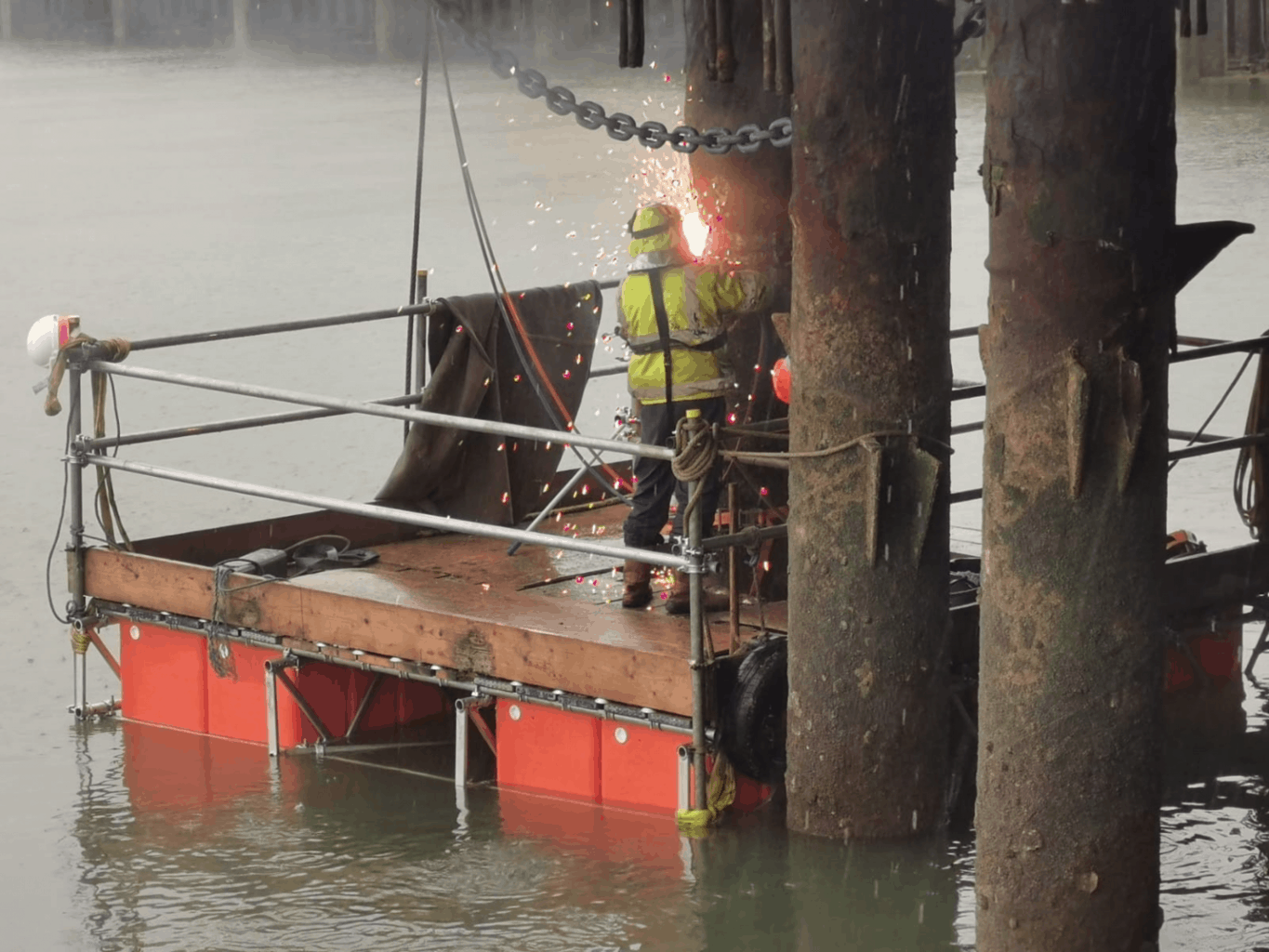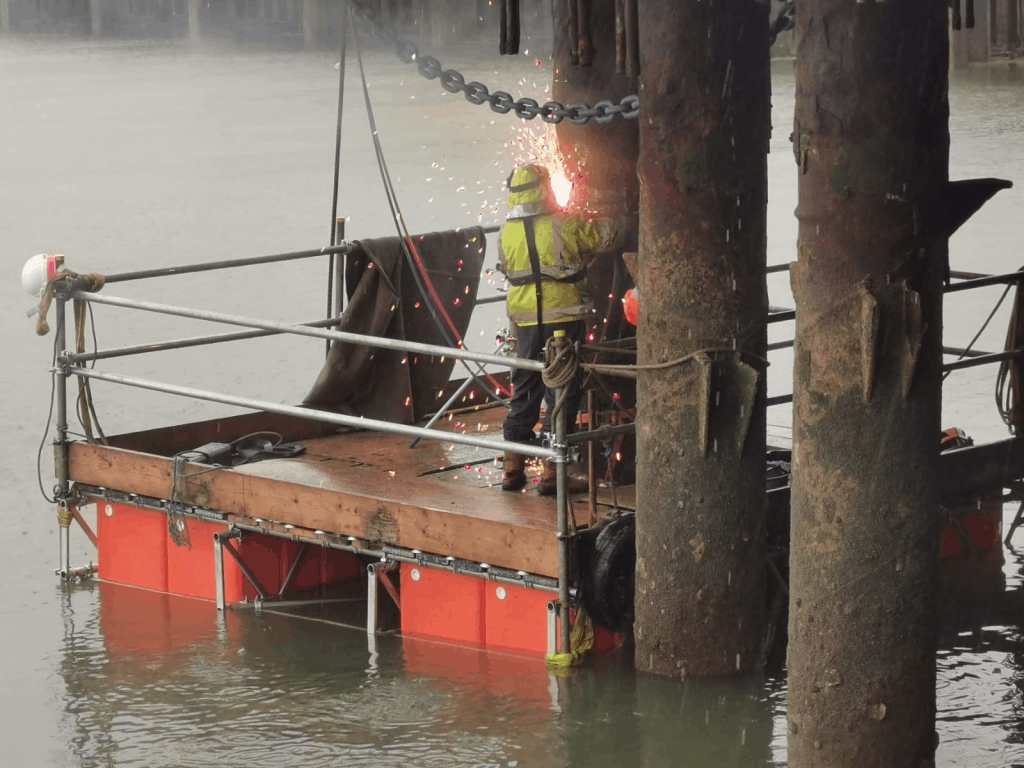 Roger Tice, Managing Director of Richter Associates, said ''We are a firm of consulting civil, structural and geotechnical engineers that specialise in temporary works and construction sequences. We are actively working with the ScaffFloat team and offer design solutions to our customers using this innovative system.
We can see all sorts of exciting applications for this within the industry we serve, and in most cases, there are very significant cost savings to be had. 48.3 Scaffolding Design Limited – a Richter group company dedicated to the scaffolding market is proudly working with ScaffFloat, and bringing this system to its existing client base. We endorse this system created by ScaffFloat.''