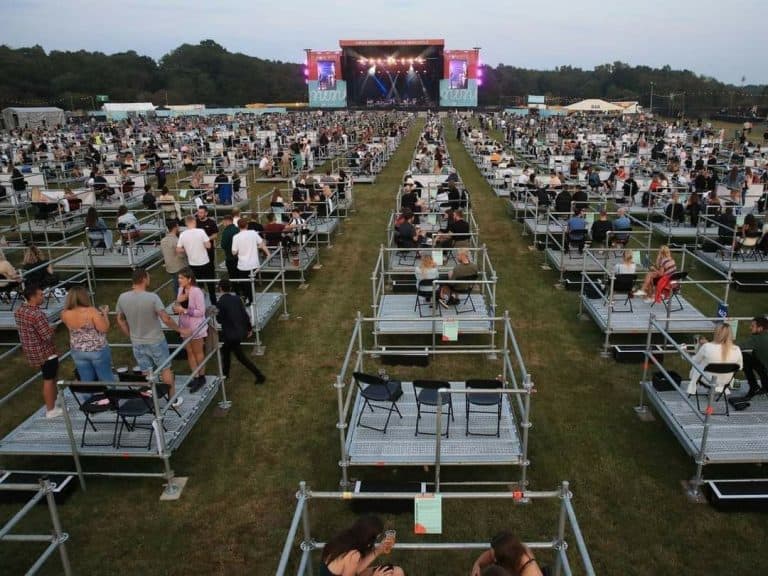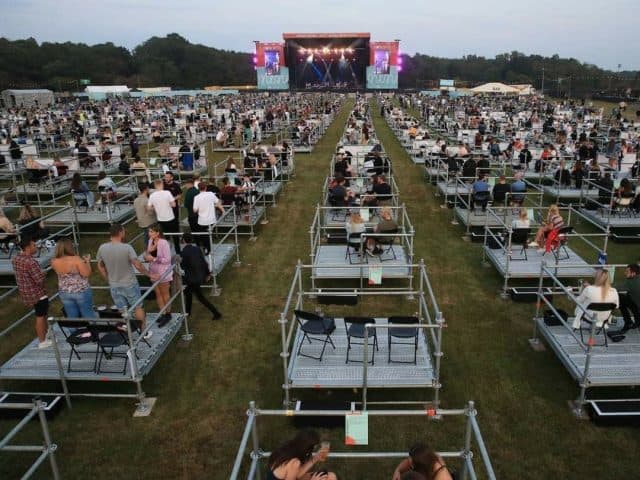 The world's first socially distanced concert proved to be a huge hit thanks to a successful Layher partnership.
It was all-round sweet music to Layher UK as the popular Sam Fender took to the stage at Gosforth Park in Newcastle. In fact, it was certainly with a little help from my friends SSD Concerts, ES Global Ltd and Overlay Events Ltd, their latest project proved to be a huge hit.
A World First
This was the world's first socially distanced concert produced across a number of months with the recent coronavirus pandemic in mind. But in order to ensure everyone was kept safe in groups of five, seated comfortably in separate raised metal platforms, some innovatively designed scaffolding was required. This, of course, is where Layher excels – and so it proved thanks to a 10-man team working over three days at the Virgin Money Unity Arena on Tyneside for a crowd of 2,500.
The whole thing was built upon timber spreaders to prevent sinkage on the grass in wet weather conditions. What's more, double edge protection was fitted to the perimeter to create safe social distanced enclosures and protect against any fall from height. The Layher platforms measured 2072mm x 2072mm on the plan and were kept two and three metres apart, leaving lots of space for fans to move about.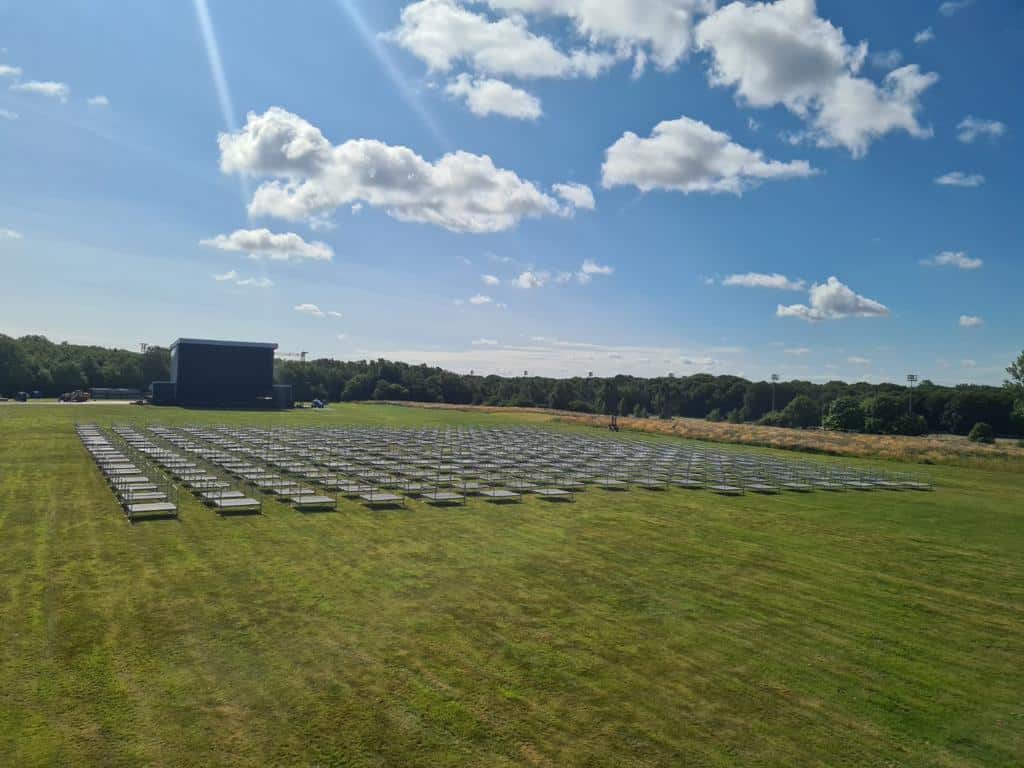 78 Tons Of Scaffolding
Garreth Hannon, Overlay Events Director told me: "The whole job took 78 tons of scaffolding and associated equipment. We used a fully perforated steel deck platform surface to allow water and mud to drain naturally through the Layher decked surface.
"Layher LALO anti-lift preventors were used to secure the steel decks into the 'U' weight-bearing Transom to prevent wind uplift and to combat deck movement from bounce and reverberation if users were jumping and or dancing.
"Layher dome caps placed on all vertical uprights helped to prevent debris being pushed down the tube and protect against clothes from snagging on naked tube ends. All platforms were lasered in to create plumb and evenly distanced access routes north, west, south and east.
"The modular nature of the product, coupled with competent Layher CISRS installers saw great labour efficiencies."
In terms of the two height variants used, these included low-level platforms 167mm x 150 and high-level platforms at 500mm x 150 requiring a rear step and railing.
Highly Recommended
Mark Hornbuckle, ESG Senior Project Manager added: "We'd been working together on this since March, and while we could have opted for our own system, Layher came highly recommended after their work on the hospital in Cardiff. To erect 500 pods in just  a few days was an amazing achievement. Everything was non-slip and kept very clean.
"Concert goers were allowed to take off their mask once in their pod. We provided trays from the bar so one person could carry them over – and there was also waitress service for both food and drink.
"Obviously you couldn't have such a set up for a rock concert, but other events like this could be very practical if restrictions were decreased to say a single metre. We've seen fantastic interest across the globe in this event, and even had enquiries from the United States.  It was truly amazing."
Happy Sponsors
A spokesperson for Virgin Money, commented: "We are delighted to play a part in bringing back live music events as we start to emerge from lockdown.
"This feels like a unique opportunity to celebrate music and all the wonderful emotions that come with experiencing it live alongside other music fans."
The venue will go on to host gigs involving Sir Van Morrison, The Libertines , Maximo Park, Bill bailey and Jimmy Carr.
It seems Layher and friends are currently number one with concert fans in the North-East.