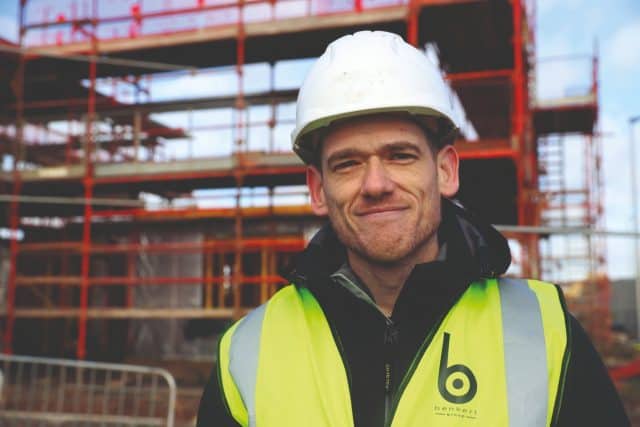 A project to recruit and train 100 quality assessors for the construction industry in Scotland – which was put on hold due to the Covid-19 pandemic – has been re-launched.
The two-year project, driven by CITB and ESP, in partnership with 24 Scottish colleges, government agencies and private training providers, was originally unveiled back in early March this year.
The re-launch of the recruitment campaign is more good news for the construction industry – which has like many other industries – struggled during the lockdown.
Recruitment of the new assessors will enable more efficient delivery of onsite assessments for apprenticeships in Scotland and help the promising economic recovery that is being made in the construction industry as it emerges from months of inaction.
Recent initiatives such as the UK Government's Kickstart programme – where employers can offer youngsters aged 16-24 who are claiming Universal Credit a six-month work placement – as well as Skills Development Scotland's enhancement to their 'Adopt an Apprentice' scheme, which has seen the funding grant raised to £5,000, have been welcomed positively by building firms across the country.
During this time colleges across Scotland have been offering more full-time one year construction courses, to enhance the pipeline of work ready MA's for employers.
The College Assessors role offers a secure and rewarding opportunity with a competitive salary, generous holiday entitlement and benefits package. They are responsible for carrying out a wide range of assessment and verification duties and ensuring apprentices have the skills and knowledge to pass their course outcomes. Additionally they play a key role in ensuring qualifications are delivered to a high standard through compliance with both internal and external awarding body policies, procedures, processes and standards.
The project forms a major part of the CITB's new strategic road map launched in September (2020), which will focus on a smaller number of priorities to help modernise construction and increase productivity, collaborating with industry, governments and Further Education (FE).
Assessors will be recruited across a range of curriculum areas, including Carpentry & Joinery, Brickwork, Painting and Decorating, Roof Slate and Tiling, Wall and Floor Tiling, Stone Masonry, Wood Machining and Plastering.
Colleges and training providers will continue to recruit individually, while the assessor vacancies will be promoted via a national campaign. The campaign will primarily target individuals working in the construction sector, who may be seeking a full-time or part-time career change with the opportunity to help support and deliver the industry's future workforce.
As part of the project, West College Scotland (WCS) has been selected to deliver bespoke training to new assessors, which will complement essential qualifications being undertaken through employers such as the L&D9DI and L&D11 – SQA qualifications for assessors and verifiers. WCS are also developing an e-portfolio which will be available free to all training providers as part of this project. Finally, Forth Valley College have also been involved providing Communications, PR and Marketing support for the re-launch.
Jim Brown, Director of ESP, said: "It has been a challenging few months for every industry across Scotland, but we're excited to be relaunching this campaign at this time. Ensuring we have the Construction Assessors in place across Scotland will support young people into the construction sector and hence underpin the economic resurgence of the Construction industry and secure its future. It will also provide real opportunities for those with experience in the sector who are seeking a new career.
"Becoming an assessor can be a secure and rewarding career choice and the opportunity to shape the next generation of talent.  It is a key role in the success of the construction sector, helping new entrants to gain their qualifications and become highly skilled in their trade.
"We originally began the recruitment campaign during Scottish Apprenticeship Week 2020 as it seemed like the perfect time to launch the project.  The importance and value of Modern Apprenticeships are recognised throughout the country, and they wouldn't be achievable without the help and support of the Assessor role.  
"This is a fantastic opportunity for experienced industry professionals to use their skills and knowledge in a new capacity and we would encourage them to find out more about this fantastic job opportunity."
Ian Hughes, CITB Partnerships Director Scotland, said: "Our evidence-based approach to funding will help the construction industry deliver tailored training and assessment to fulfil Scotland's skills needs.
"The Scottish Assessors project is a great example of how our work in partnership with training delivery organisations ensures that employers have the right people, with the right skills, in the right place. With an average annual growth rate of 1.4% forecast across 2021-2025 for Scotland, our Construction Skills Network (CSN) report highlights the importance of investing in skills."
Gordon Nelson, Scotland Director at the Federation of Master Builders (FMB) is quick to point many small building firms are finding themselves very busy right now as homeowners use the lockdown restrictions as an opportunity to build extensions or make renovations and refurbishments to their properties. This could lead to them hiring more apprentices.
He said: "Many of our Master Builder members take great pride in recruiting and training construction apprentices. 
"Our members have high standards, which is why it is important that the new assessors have sufficient skills and knowledge to ensure apprenticeship qualifications are delivered to high standards too. 
"Prior to impact of Covid-19, some members also expressed an interest in becoming assessors themselves. To ensure Scotland's construction industry has a bright future, we will need a healthy pipeline of skilled and qualified apprentices to become the Master Builders of tomorrow."
Mark Stevenson, Apprentice Manager for Taylor Wimpey West Scotland, said: "Future-proofing our industry and attracting the right talent who are ready to learn the skills that we need to deliver high quality new homes for our customers is a real focal point for our business.  Having access to a CTB appointed work-place assessor will ensure a consistent approach, which will benefit apprentices and companies by improving the overall quality of learning and individual achievement.  This can only be good for our industry, especially in these unprecedented times."