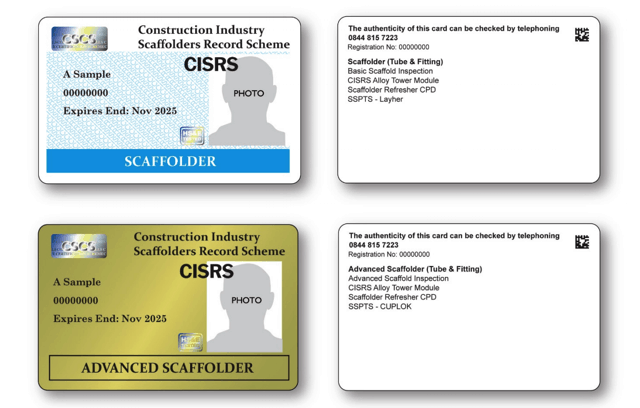 The Construction Industry Scaffolders Record Scheme (CISRS) is set to change the wording for endorsements on the rear of all new CISRS cards in a bid to bring clarity to the card system.
From the 1st February 2021 the wording of certain endorsements and the order in which they appear will change on most CISRS cards issued.
The first endorsement on all cards will show the card category. Any following endorsements will show additional training modules and qualifications held by the cardholder at the date the card was issued.
Endorsements showing the route of achievement for Scaffolder and Advanced Scaffolder cards will now no longer appear on the new cards.
The change comes after a steady influx of courses and qualifications now offered by the record scheme such as CPD, SSPTS, System Inspections and the like, the rear of the cardholder's card was becoming pretty overcrowded, CISRS said.
Recently CISRS has seen some instances mainly with scaffolding instructors who have had to be issued 2 cards due to the sheer number of endorsements they hold.
CISRS Managing Director, David Mosley said: "The card endorsement listings change is basically about space and clarity. We think this is a clearer way to show that the individual has met the relevant criteria to hold a particular card at a certain level e.g. Scaffolder, Advanced.
We felt it was more important to highlight any additional endorsements the person may have e.g. SSPTS Layher rather than the route to qualification e.g. COTS Pt1, Pt2 VQ etc."
The authenticity of all CISRS cards can be checked by calling the CISRS helpline on 0844 8157223 or emailing [email protected]. Or alternatively, you can use the NOCN online CISRS card checker by clicking HERE.