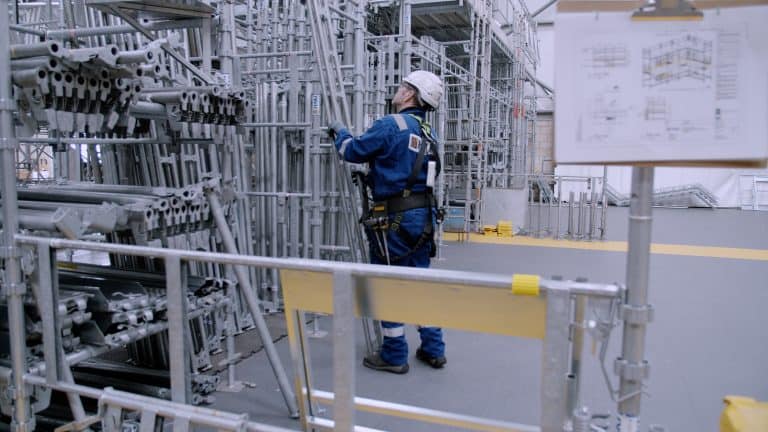 HAKI is offering a substantial discount on its CISRS BASE courses in January and February.
System scaffolding firm HAKI is offering 15% off its 5-day CISRS BASE that will teach participants how to erect, alter and dismantle simple scaffold structures up to 6m high. The course aligns itself with the organisation's mission to open up career opportunities, improve skills in the industry and assure safety.
The company is offering 15% off the course for any delegate who signs up for a February or March 2021 programme in January and February 2021. Usually valued at £585 (ex. VAT) the discount means participants will pay only £497.25 – a saving of nearly £100!
Over the 5-day programme, delegates will learn about HAKI's products. They will also learn how to safely construct simple structures through a series of theory and practical assessments. After completing an end-of-course theory test participants will receive a CISRS BASE certificate, where HAKI will apply on their behalf for a CISRS BASE card.
This card permits non-scaffolders to construct HAKI structures up to a maximum height of 6m, providing they are not in an environment with a general public interface.
Chris Partridge from HAKI Training Centre says: "Our BASE course is ideal for small housebuilders, roofing and double-glazing companies who often lose money due to the delay in waiting for the scaffolders to return to base out or erect the next lift. This qualification allows professionals to erect the HAKI universal system scaffold themselves to suit the progress." HAKI can be hired or purchased from Enigma.
The first 5-day course launches on 1st February 2021. It is currently live and available for booking. Details are found at: https://www.haki.com/services/training/booking/. Delegates can quote 'janbase21' when booking to receive the discount.
According to HAKI, February 28th 2021 is the final date to use the 15% discount on one HAKI BASE course in either February or March 2021. It is one discount per HAKI BASE course. There is limited availability on each course, with only a maximum of six places available. No proof of purchase requirements. Only the discount code will be used. There are no further restrictions to its normal T&Cs.