It's been uncovered that some scaffolders are finding it difficult to renew their CISRS cards due to the Covid lockdown but CISRS says, 'don't panic!'
With around half of the CISRS registered scaffolding training centres across the UK temporarily closed due to the coronavirus pandemic, a number of scaffolders are experiencing problems booking CPD courses to renew their CISRS cards.
Many of whom have recently contacted Scaffmag concerned with the ongoing training situation. One scaffolder based in Scotland that contacted us is struggling to find employment because of it.
"My card expired in August last year but I am unable to book to complete my CPD. I am looking for work at the moment but every time a potential employer enters my details into the database it says my card has expired, so I don't get the job," he said.
We reached out to CISRS to get their take on the situation: "Some scaffolders may be experiencing problems depending if local centres are open or not but they do not need to panic," says Dave Mosley CISRS Scheme Manager.
"The centres that have been closed are reviewing their position constantly. And the majority of them originally suggested that they would reopen week commencing 22nd February, so by the end of the month we could have a lot more capacity but obviously that depends upon what the Government says at the time, which may have some effect on their decision."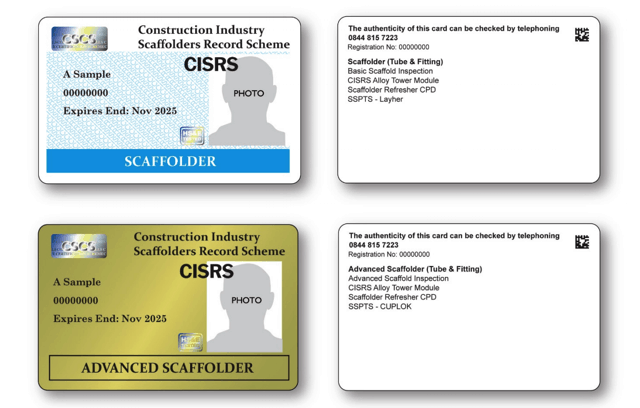 The mandatory two-day CPD/refresher course is a key element required to renew Part 2 Scaffolder and Advanced cards but booking CPD courses is not an issue for centres that are open, claims CISRS.
The courses are running regularly they say but that depends on where the scaffolders are located in the country. In some areas training centres that are open have CPD courses available at the end of February early March onwards.
However, CISRS has stressed that it is important to book any courses required well ahead of time wherever possible. And those training establishments that have stayed open are running with reduced capacity with strict COVID precautions.
Employers Need To Show Leniency
For those that are finding it difficult to renew cards that have expired CISRS has urged contractors, employers and those responsible for site access and card checking procedures to show leniency towards these scaffolders.
Laura Weekes at CISRS said: "We are asking employers and contractors to accept any recently expired CISRS cards expired due to this and previous lockdown situations. We are always happy to speak with employers to confirm this if they get in touch."
CISRS Helpline Number: 0844 815 7223 Email: [email protected]