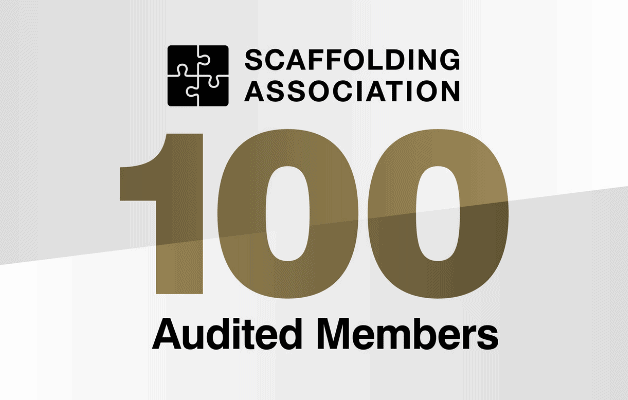 The UK's largest trade association for access and scaffolding businesses has reached another milestone after announcing its 100th Audited Member.
The Scaffolding Association, which recently reached an overall membership figure of 500 companies, continues to grow as more and more scaffolding businesses join.
The trade body says it's Audited Membership is the highest level available, developed in line with PAS91 specifically for scaffolding contractors who work to the strictest safety standards, display the utmost professionalism and support the association's mission to raise standards across the sector.
The title of 100th Audited Member has been achieved by Globe Scaffolding (Cambridge) Ltd, a business with over 30 years experience and one of the most highly respected independent scaffolding contractors in their area.
Neil Thacker, Managing Director of Globe Scaffolding (Cambridge) Ltd said: "As a large, ambitious, growing contractor, based on a strong code of ethics, we are always looking to improve. We feel that membership of the Scaffolding Association is the best way to achieve this aim.
Clients recognise Audited status as a benchmark for quality and professionalism, meaning that we can be considered for more projects that will enhance our skillsets, reinforce our reputation and grow our revenue streams. We're also keen to give something back to the sector and will support the association's drive to improve safety, training and work opportunities for all."
Robert Candy, Chief Executive of the Scaffolding Association, is delighted with this latest landmark: "It isn't easy to attain Audited Membership status – the qualification criteria are extremely robust – so Globe Scaffolding (Cambridge) Ltd and the other 99 companies can rightly be proud of their achievements. They represent some of the best in the access and scaffolding sector, and their efforts, excellence and expertise will be rewarded as more and more clients accept Scaffolding Association members onto their tender lists.
We look forward to supporting all our members in these challenging times, and working together to secure a successful future for all."
According to the trade body, the organisation saw a 30% increase in its membership numbers in 2020. It offers a framework that allows businesses to progress at all stages in their growth and development.