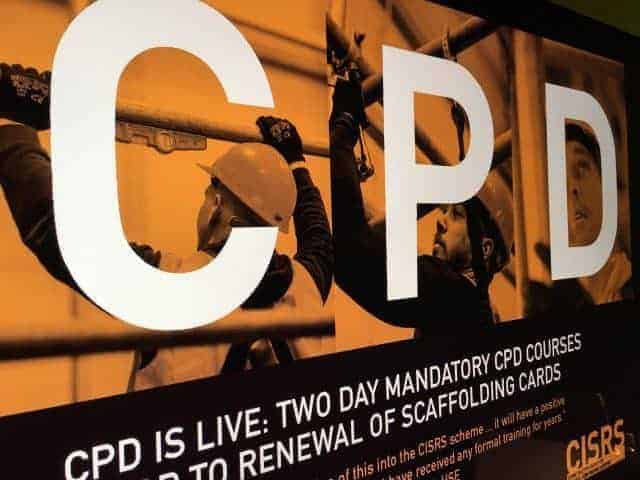 The Construction Industry Scaffolders Record Scheme (CISRS) has announced it will once again be funding a number of subsidised CPD courses across the UK this Spring and Summer.
CISRS has today told Scaffmag it reached an agreement with a number of training centres across the UK that will enable them to deliver the CPD programme for £50 per delegate.
As a not-for-profit organisation CISRS is always keen to find ways of supporting the sector and feels this is a good use of resources, especially at this difficult time, CISRS said.
The training scheme stated in a press release: "Covid-19 has caused disruption and additional expense to operatives, employers and training centres alike, these subsidised courses are a gesture from CISRS to those who have worked hard to keep the industry going in the last year or so."
CISRS will waive the usual costs of the delegate training folders and card application fees normally incurred in the delivery of these courses.
They are hoping to offer more in the way of subsidised training later in the year.  The subsidised CPD courses will be held at the following centres:
AIS (Aberdeen) 17-18 April
AIS (North Shields) 10-11 April
CITB Northern Ireland (Crumlin) 13-14 April & 5-6 May
Construction College Midlands 14-15 April
LTC (Cullompton) 24-25 May
LTC (Plymouth) 17-18 June & 22-23 June
NCC East (Bircham Newton) Date TBC
NCC Scotland (Inchinnan) 12-13 July
NCC (Erith) 7-8 June
NETA (Stockton) 1-2 June
Safety and Access (Nottingham) 28-29 June
Safety and Access (Immingham) 7-8 June
Simian (Warrington) 10-11 May
Simian (Waltham Forest) 8-9 July
Simian (Weston Super Mare) 29-30 June
Simian Aspects (Coventry) 21-22 July
Training 2000 (Blackburn) 14-15 April & 19-20 April
Course dates and centre contact details can be found on the CISRS Website  www.cisrs.org.uk