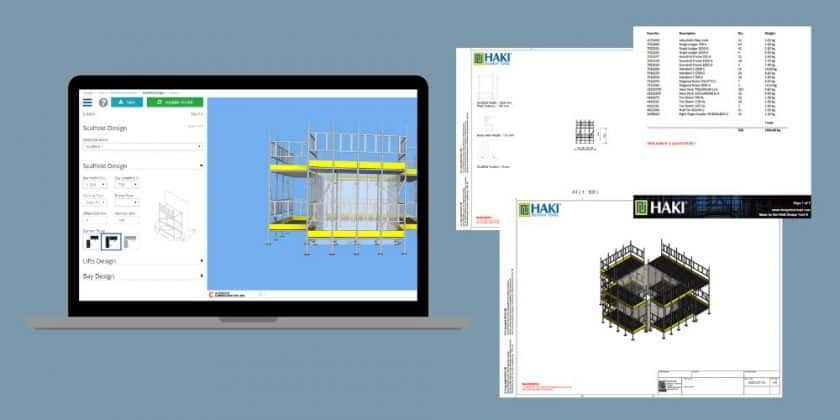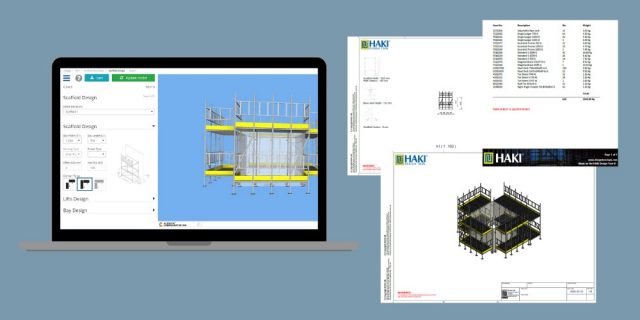 System scaffold provider HAKI will be relaunching its HAKI Design Tool to further provide its customers with the very best experience when it comes to designing HAKI scaffold structures in 3D models.
The relaunch will see the HAKI Design Tool webpage refashioned into an easier-to-navigate page that hits the marks on visuals.
Modules in the cloud-based HAKI Configurator will also be updated. The HAKI Configurator is a new facility under the HAKI Design Tool umbrella that is designed for HAKI customers to better visualise and estimate their simple HAKI scaffold structures.
The latest module upgrades – including the popular HAKI Universal module – will enable immediate updates to the 3D scaffold models so that customers can design at a far quicker pace. Clients will have the possibility to export an estimated bill of materials (BoM), and will be able to export the 3D model to a 3D programme to collaborate on the model with different customers and partners.
Additionally, the HAKI Configurator tool will allow increased interaction with 3D models on the HAKI Universal module and more. In the previous iteration of HAKI Configurator, customers had to manually enter in product details to add the scaffolding. With the latest updates however, customers will only have to click on the desired system for it to appear where it needs to be on the model. This update will be hugely beneficial to HAKI Configurator users.
Commenting on the relaunch and updates, Mattias Kuduk R&D/VDC and Innovation Manager at HAKI said: "We are very excited to unveil the HAKI Design Tool webpage's new look. The webpage will feature two main categories: HAKI Configurator and HAKI BIM. The benefits for our customers will be in terms of pace, interaction and visualisation. The biggest change will be in terms of the modules. Not only will our modules update at greater speeds, customers will be able to interact more with the 3D models."
This is an automatic update for all current users of the HAKI Design Tool. HAKI BIM – an Autodesk Revit plugin – will also be upgraded so it is compatible with the latest Revit 2021 edition. HAKI BIM enables scaffold designers and contractors the ability to improve cost, time and project management in more complex temporary works. The accuracy of HAKI BIM minimises the risk of error to ensure scaffold solutions are safe and fit for purpose.