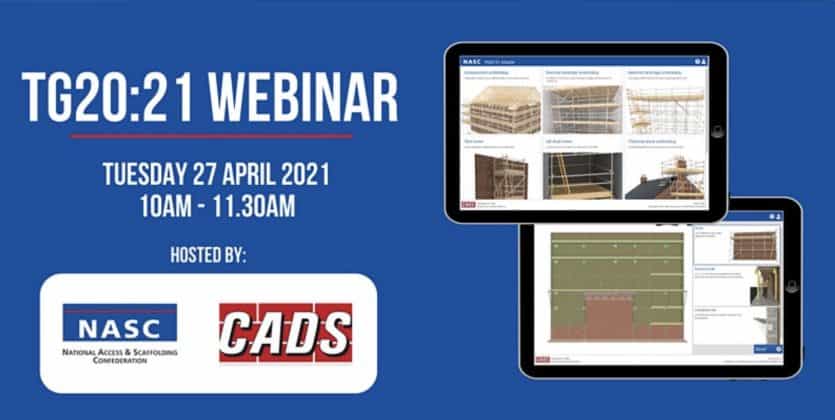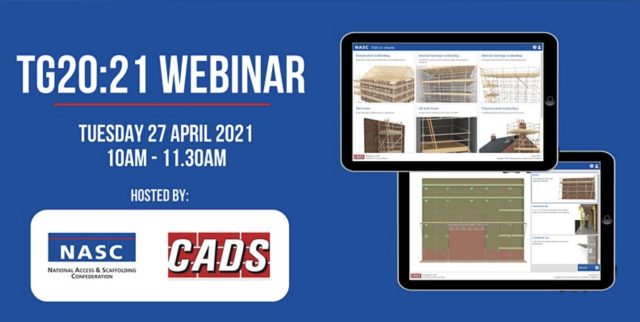 Scaffolding trade body the NASC is set to hold a free TG20:21 webinar to give users a better understanding of the new and updated guidance.
The live online event that takes place on Tuesday 27th April at 10am follows the launch of the updated and expanded scaffolding compliance software TG20:21.
People can register to attend the free webinar here: https://www.eventbrite.co.uk/e/tg2021-the-nascs-upgraded-and-expanded-scaffolding-compliance-software-registration-151207966097
Users of the new TG20:21 eGuide can produce a wide range of standard scaffolding structures, without the need for bespoke design. The latest version builds upon the groundbreaking TG20:13.
TG20:21 has retained its user-friendly look and feel, but includes a number of revisions to make the process of producing compliant scaffolding – in accordance with the European standard BS EN 12811 – even simpler, and incorporates a wider range of scaffolding types.
Additions include exterior birdcages, tube and fitting mobile towers, tube and fitting loading bays without beams, and tied independent scaffolds with three inside boards.
Also, TG20 compliance sheets are now double-sided, with an illustration and principal compliance criteria on the front, and detailed compliance criteria listed on the reverse.
TG20:21 is available on an annual subscription basis, costing £300 + VAT per login per year, which is discounted to £75 for NASC full members.
To ensure the transition from TG20:13 to TG20:21 is as fair as possible, there is a period of free use of the new software for existing users, which can be accessed using the TG20:13 serial number.