The Tidworth and Bulford infrastructure framework, worth in excess of £15bn, were part of a much larger plan to uplift capacities and improve overall facilities at a number of key MOD sites across England. This project provided high quality, fully serviced and purpose-built living and working accommodation for our returning soldiers.
In the UK, there is strong commitment to maintaining the overall health and wellbeing of service personnel, even after they have left the services. This project was to improve facilities at two army camps, meaning soldiers returning from demanding operations will receive the quality accommodation they deserve.
To ensure the building remains weather-proof and to enhance its whole-life performance, the entire exterior of the roof and the interior ceiling tiles were replaced. George Roberts Ltd were engaged to support the scaffolding contractor, Ideal Scaffolding Southern Ltd.
To allow unhindered renewal of the old roof along with access for internal works to replace the ceiling in the main building, a large scale bespoke temporary roof was provided along with some large internal scaffolds.
Negating the need of 450T of ballast – or 18 truck loads
During the first stage, the goal was to erect the internal birdcage measuring 37m long x 18m wide x 12m high using over 250 tonnes of scaffolding, within 3 weeks. The work was being undertaken during the first Covid-19 lockdown in the UK, therefore, care had to be taken to observe the Government's Covid-19 guidelines. This proved challenging in maintaining social distancing, in particular when working at heights.
The second phase of the project was to erect a temporary roof measuring 52m long x 42m wide with additional buttresses for an unsupported span of 38.5m in the centre section of the roof.
A unique 'Platypus' percussion anchor point system was used to secure the free-standing structure at ground level.  This unique lightweight and corrosion resistant anchor shaved weeks off the build programme, which otherwise would have required around 450 tonnes of ballast at the base of the scaffolding around the perimeter.
Due to the sheer size of the truss beams, the roof bays had to be skilfully assembled at ground level on special rigs by Ideal Scaffolding Southern Ltd, then lifted into position on top of the support scaffold by a crane.  This meant the roof was assembled, lifted into position (over a 3-lift programme) and fully sheeted in situ over a staggered 4-week period to maximise safety and productivity.
The Keder roofing sheets supplied by George Roberts was manufactured exactly to size for best fit using a 610g/m flame retardant PVC material providing a watertight barrier, meaning roofing works would continue throughout the project, regardless of weather conditions.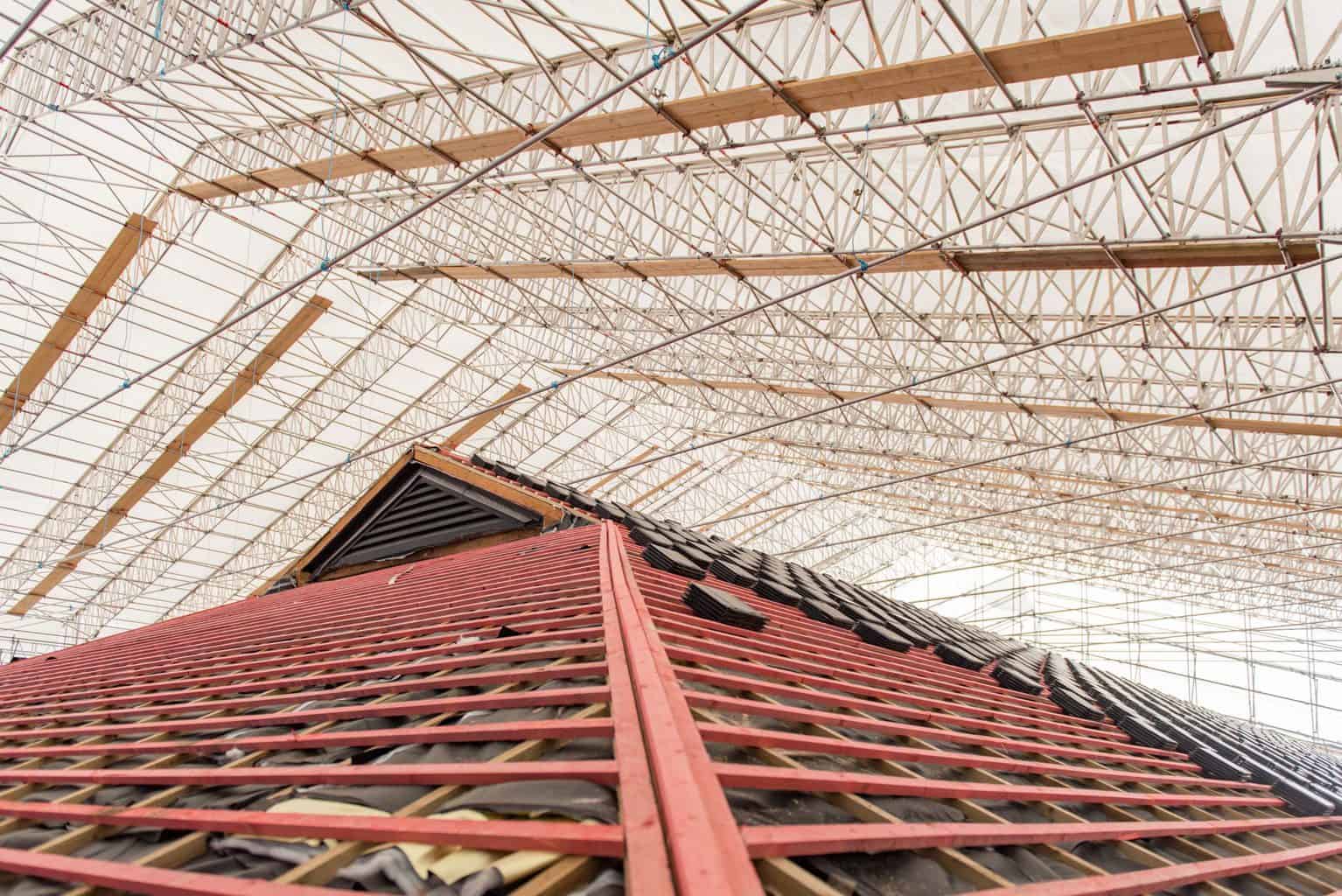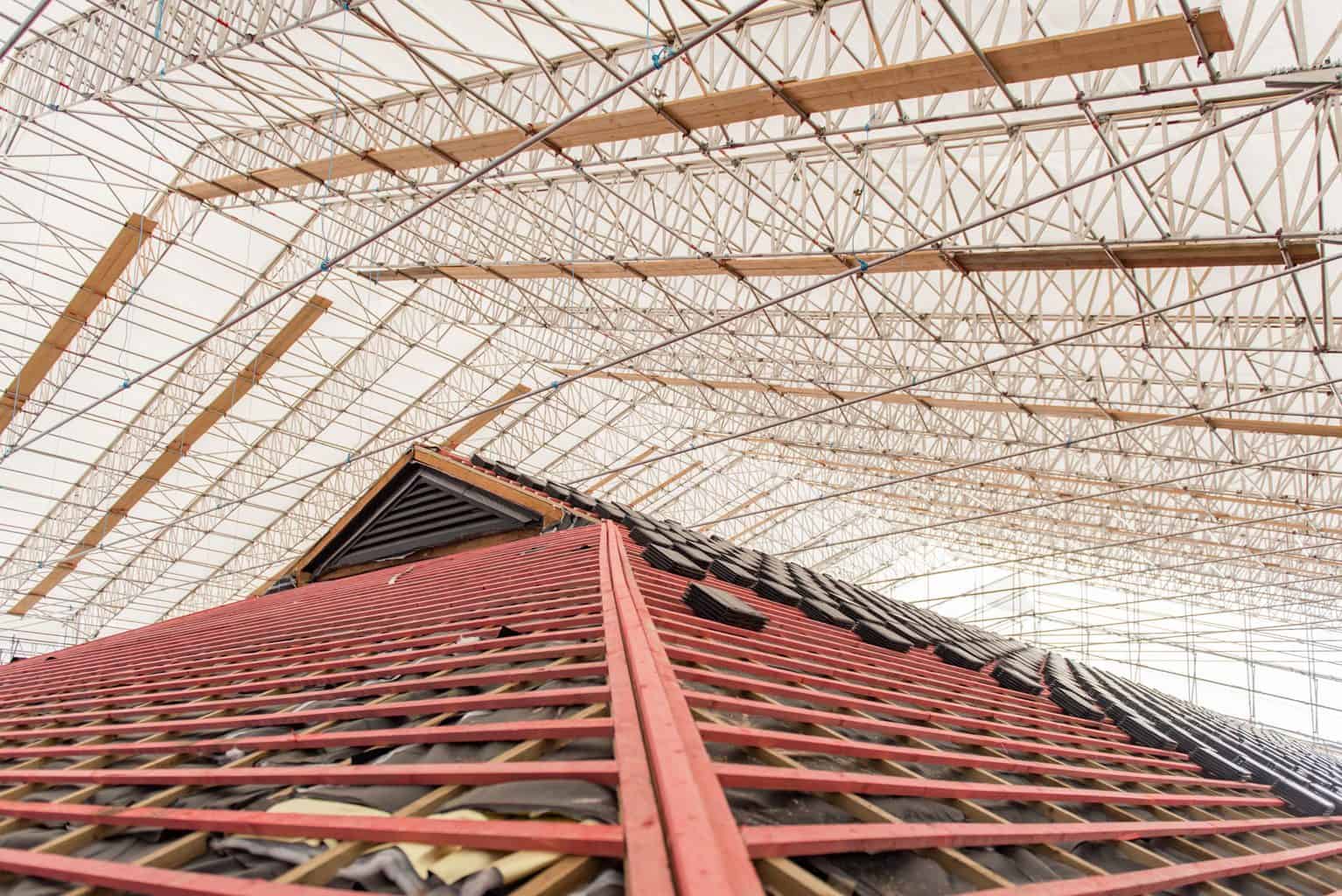 The X Factor
For most temporary roof applications, our standard 0.75m beam is more than sufficient, but because of the very large span requirement (42m) on this project, we needed to specify the heavier duty 1.3m deep X Beam – a first for George Roberts and Ideal Scaffolding.  This also allowed productivity to be maintained using 3.07m & 2.57m bay widths throughout. Without having X Beams in our offering, this project simply wouldn't have been possible.
"The project was supported by George Roberts Ltd, who provided an invaluable service to supply all temporary roofing and scaffolding equipment needed. The flexibility & professionalism that the team of George Roberts demonstrated during the planning and execution of the project, proved to be a key component in its success.  At the time of the project, the temporary roof was one of the largest in the country."  Darren Lee, the owner at Ideal Scaffolding Southern Ltd.
Challenges
The main challenges for George Roberts Ltd were around the rapid supply of over 250 tonnes of equipment, 200 miles from our Liverpool depot over multiple loads.
There were also engineering challenges due to the size of the building and roof span required, and also, tying into the structure was not permitted, meaning all supporting scaffolds needed to be free-standing.
The scheme was expertly engineered by Optima Scaffold Designs in Bristol.  Due to the very large span required, the UBIX temporary roof was designed utilising 1.3m deep aluminium X Beams. The roof was staggered in section to follow the natural plan size of the building which ranged in overall cover width from 34m to 44m.
For this project George Roberts Ltd had to call on the services of Alan White Design and our licensed beam manufacturers Apollo to expertly engineer a brand new 18-degree Ridge Beam to form the main duo-pitch roof truss structure, along with the design of a bespoke aluminium diagonal brace and tension bar system to suit this gigantic free-standing structure.
This represents a significant investment which will ensure Service personnel continue to have access to high quality sports facilities on the defence estate.
At the time of this project in 2020 the external scaffolding at Tidworth boasted the biggest unsupported span within a temporary roof standing anywhere in the UK.
Stats
Project comprised with earthworks, groundworks, drainage, reinforced concrete works for foundation slabs and external works to various types of accommodation blocks. Associated external works include access roads, footpaths, car parks, hardstanding, street furniture and lighting, bin stores, cycle racks and areas of hard and soft landscaping.
The overall plan cover size provided for this project on time and on budget was in excess of 2000m²
The building was over 40 metres in width and all supporting scaffolding had to be completely free standing.
Temporary roof covering a whopping 52m long x 42m wide.
Each of the 19 trusses weighed up to 2.6 tonnes.
Delivered over 250 tonnes of scaffolding equipment to site.
The structure was fully weather contained in situ using our popular 610g/m² Flame Retardant PVC sheeting material that was tailored exactly to length to provide an exact fit.
Tidworth project was one of the UK's largest free-standing Temporary Roof structures.
Project valued in excess of £15 billion
Equipment and Types of Scaffolding Supplied
George Roberts supplied scaffolding tubes, fittings, timber boards, Uniscaff Stair Tower & Loading Tower, flame retardant Power clad sheeting, aluminium X Beams and our UBIX temporary roof system.