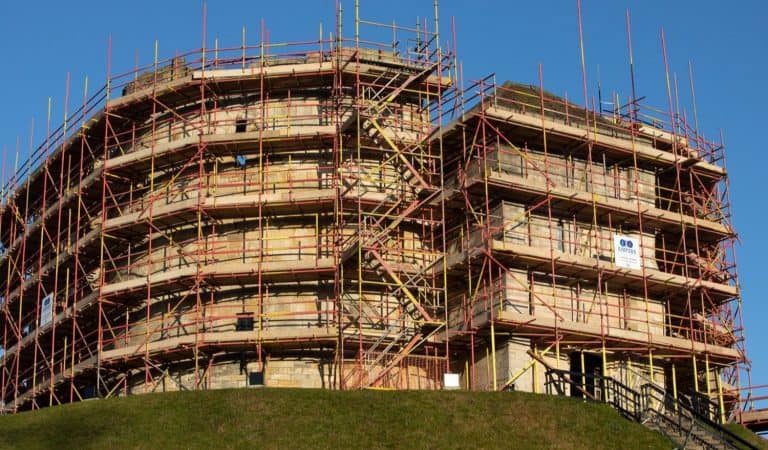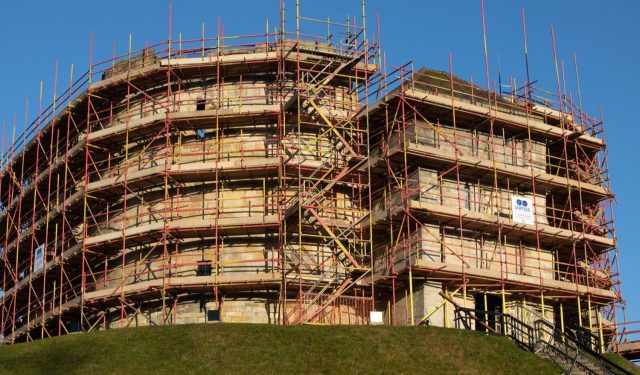 With imposing views across the city, York's Clifford Tower will remain a breath-taking North Yorkshire landmark long into the future thanks to some loving restoration and repair work helped along with a little help from one of the counties finest scaffolding exponents.
Whichever way you look the City of York makes for a dramatic vista with its sequence of castles, prisons, law courts and many other spectacular properties. Look closely at the castle close to the River Foss and you'll spot the now-ruined keep of the medieval Norman castle commonly referred to as Clifford's Tower.
More than nine centuries of history have roots in this world-famous place, so any scaffolder would surely be proud to play a part in helping restore a past, so important to York's future. The original mound of Clifford's Tower, with a timber structure at the top, was constructed by William the Conqueror in 1068 as a statement of his power over the whole area.
The passage of time however along with huge numbers of visitors meant restoration work was urgently needed to both conserve and repair the tower for future generations to enjoy.
English Heritage has told us: "In June 2020, City of York Council granted planning permission to enable conservation and improvements to visitor infrastructure at Clifford's Tower, following our consultation which showed clear support among the people of York for the plans.
"Following this, separate Scheduled Monument Consent was granted in September 2020, meaning that all the necessary permissions were now in place for work to start. Work started on our project to undertake specialist care of the tower's historic fabric in November 2020.
Though the tower is now likely to have to remain closed to visitors until the project is completed in summer 2021."
Wetherby based Say Scaffolding was charged with the task of erecting a scaffolding design strong and safe enough to be set in place for 30 weeks, while the work was carried out by Simpson of York.
Say offer bespoke and innovative scaffolding solutions using a combination of traditional tube and fitting, and Layher system scaffolding. And with Managing Director Philip Wetten both pricing up the job and also playing a leading role in its creation with Scot Nicholas, director of Raptor Scaffolding Design, English Heritage were in good hands throughout.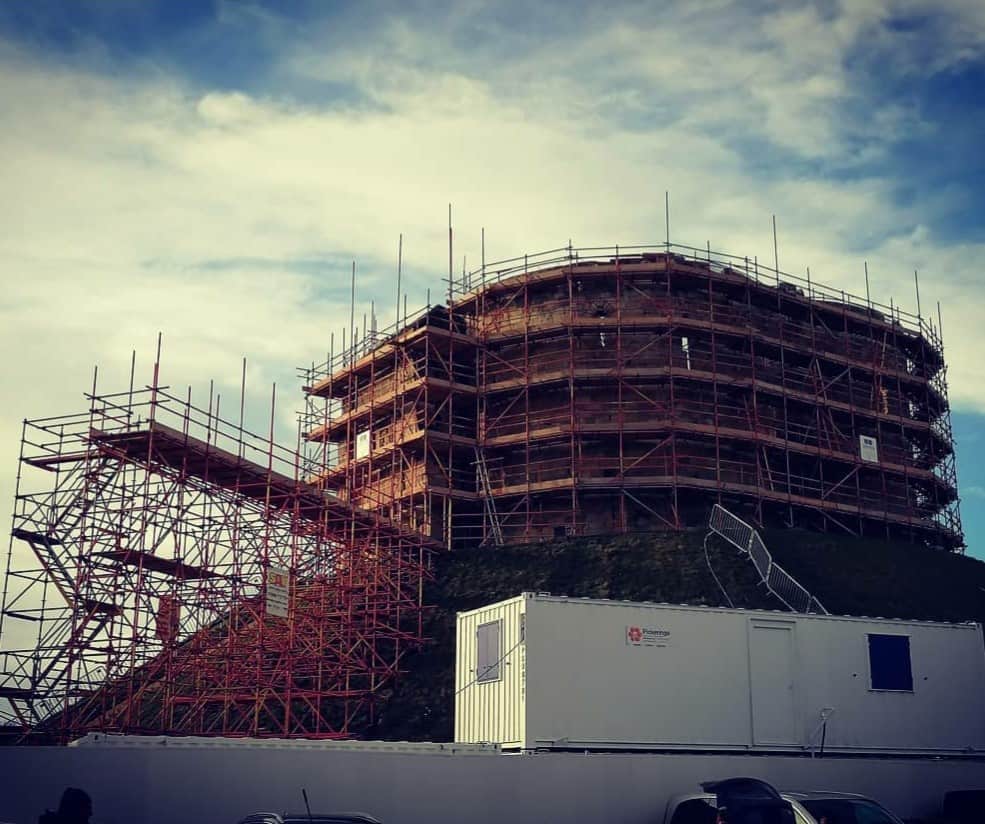 They chose a free-standing barrow run scaffold fully buttressed on both sides with an attached Layher system stair tower. A 2000kg goods hoist was attached to the end of the scaffold to help with the project. The fully external perimeter scaffold has a neat and efficient look having seen five fully boarded lifts. In short, everything required for restoration and repair work.
In fact, previous experience is invaluable on such a challenge – Say could fall back on the knowledge gained from lifts fully boarded in 2019. It's also important to note the work involved in putting three temporary roof sections in place – one over the main entrance and another over stair cores one and two.
And when it comes to a safe and secure working platform for a new roof structure the company weren't found wanting. Enter a birdcage scaffold bridged two ways from a central independent to the internal perimeter scaffold. The view looking up from the bottom of those well-trodden steps is certainly impressive.
Most scaffolders would agree any project of historical importance should blend in with the surroundings as best as possible, and this is certainly the case with the Clifford Tower. It's scaffolding guaranteed to do any castle proud. But then this isn't surprising given the history of the company involved.
Established in 2004, SAY Group of Companies / SAY Scaffolding (Northern) Ltd has established itself as a key player within the scaffolding industry, providing access, protection and support scaffolding for a broad range of infrastructure, building and refurbishment projects.
A Say in keeping history alive is worth its weight in Yorkshire Gold.
This article was first published in the ScaffMag Magazine Issue 12