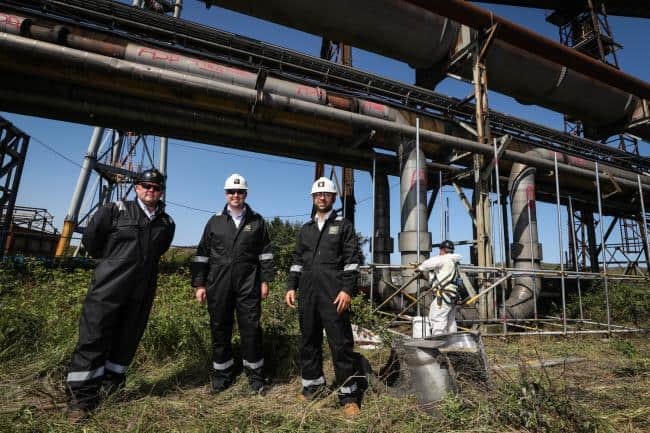 Enigma Industrial Services has boosted its workforce on Teesworks – the UK's largest Freeport after a series of contract wins.
The multiservice company has been on Teesworks for four years providing scaffolding, insulation and painting services on a number of projects across the site.
Recent work includes providing internal scaffold access for the remediation of Steel House, focusing on the removal of asbestos.
According to the Northen Echo the firm has now won a new £450,000 contract to remain at Teesworks for 12 months, and its presence there has already led the team taking on more work with other businesses on the site.
Enigma is currently erecting scaffolding at the South Bank Coke ovens and, thanks to these successes, in the past four weeks it has increased the number of its workers on site from four to eight.
It has also signed up Stockton-based training provider Northern Safety to upskill the company's new starters giving them the skills they need to help with the redevelopment of Teesworks.
Enigma Industrial Services General Manager Kayvon Azadi said: "We're thrilled to continue to be part of this massive regeneration project, which will bring real positive change for generations to come with new opportunities. It's been really interesting watching how the site has developed in the four years we've been working there and are incredibly privileged to be able to help it evolve further.
"We're proud to employ local people and are delighted we've been able to grow our workforce to get more people permanently based on the Teesworks site and take on these new projects.
"We're passionate about supporting local businesses and using the brilliant supply chain that exists in the region and our work at Teesworks has meant we can do that, as we progress on to bigger things."
Tees Valley Mayor Ben Houchen said: "We're grateful to have Enigma and its skilled specialists on-site, helping our team and other contractors as we ramp up Teesworks' transformation faster than ever. This will get the site investor-ready as early as possible, make sure we take full advantage of all the opportunities.
"Enigma's help has been invaluable over the years on a range of projects, and so it's a no-brainer to award them a new contract to keep them on the site, ensuring their experience is put to good use.
"It's fantastic to see other companies at Teesworks are noticing Enigma's hard work and signing them up too. It's down to all of this that it's been able to go on and increase the boots on the ground, backing another great local training provider in the process."
Teesworks is the UK's largest Freeport and has been set up to promote the economic growth and commercial development of the Tees Valley by converting assets in the South Tees area into opportunities for business investment and economic growth.
It covers around 4,500 acres of land to the south of the River Tees and includes former SSI steelworks site as well as other industrial assets.
The area has river access and includes the deep-water port of Teesport, England's largest exporting port.