It's been a long time coming but after more than 70 years in business Coventry Scaffolding has commissioned its first Mercedes-Benz truck, a 26-tonne Arocs supplied by Dealer Sparshatt Truck & Van.
Despite its name the family-owned company is based in South London, and undertakes much of its work in and around the capital. The only scaffolder in London to hold a Royal Warrant, it has worked on many of the city's most prestigious buildings including – in 1968 – all 170 feet of Nelson's Column, in Trafalgar Square.
The latest addition to the Coventry Scaffolding fleet has a ClassicSpace L-cab with 320mm engine tunnel, which means the driver sits relatively low. This, together with the enhanced visibility provided by its MirrorCam technology, means the Arocs already meets the three-star Direct Vision Scheme (DVS) standard without which, by 2024, trucks will not be granted the Safety Certificate that permits them to operate in Greater London.
MirrorCam is Mercedes-Benz Trucks' revolutionary replacement for conventional mirrors. In Direct Vision terms, the benefits of the compact, camera-based system have nothing to do with how much more the driver can see behind, and everything to do with what they cannot see in front – the large mirror housings that create blind spots which get bigger as distance from the truck increases.
Coventry Scaffolding's new six-wheeler also came with an occasional, fold-down bunk that doubles as a four-man bench seat. This allows the operator to transport a crew as well as the boards, tubes and fittings carried on its platform body, which is by Fred Smith & Sons, of West Bromwich.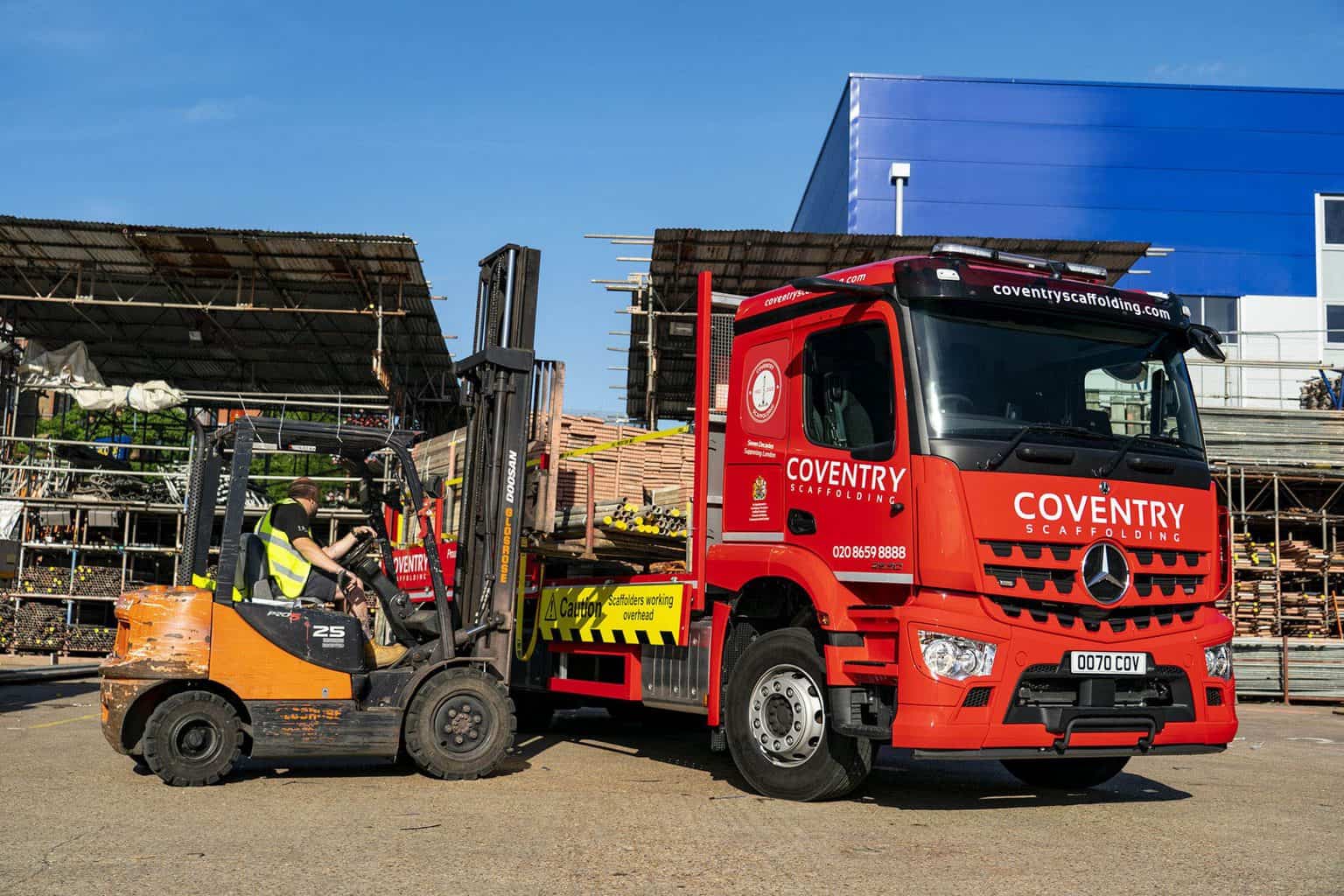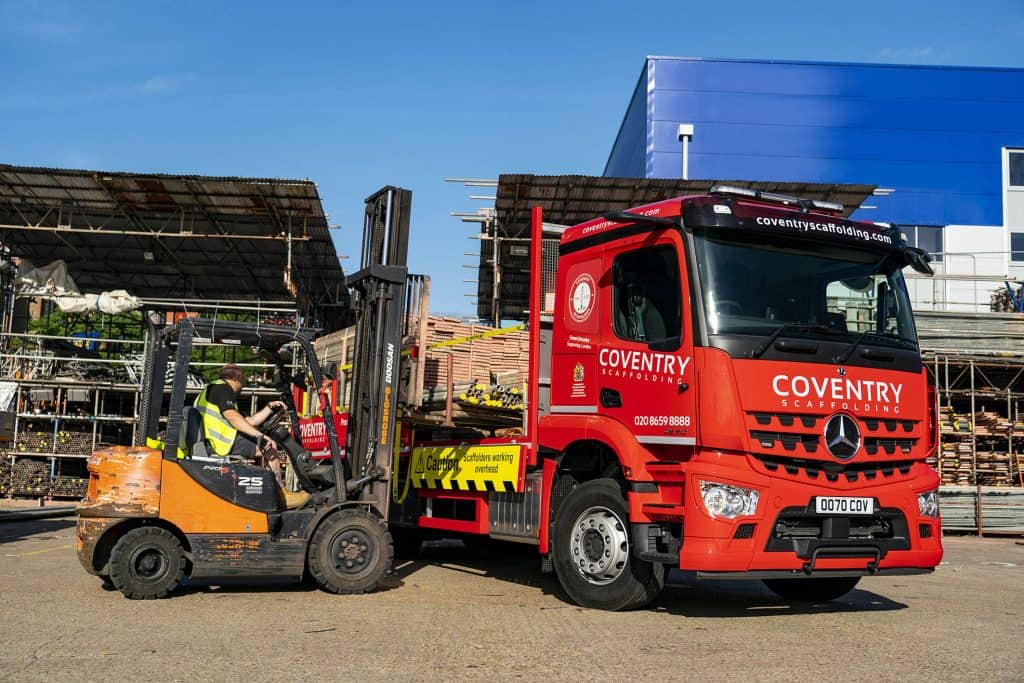 A 2530L model with 220 kW (300 hp) 7.7-litre in-line six-cylinder engine, the Arocs is the subject of a flexible and cost-effective Agility plan from Mercedes-Benz Finance. Agility offers all the benefits of conventional hire purchase with a balloon payment – including low monthly repayments – but provides customers with a variety of options at the end of the term.
Coventry Scaffolding was established in 1950 by Patrick Hanifan, who chose the name because of its association with the post-World War II rebuilding work being carried out at the time in the Midlands city – he later contemplated changing this to one that evoked a sense of London, but never did so as the business continued to go from strength-to-strength.
One of London's largest independent scaffolding companies, Coventry Scaffolding has been managed since Patrick's retirement in 1992 by his sons Perry and Paul. It runs a fleet of 13 trucks in which two other brands hold sway – in addition to its new Mercedes-Benz, the line-up comprises four tractor units, six 18-tonners and a pair of 7.5-tonners.
Coventry Scaffolding initially approached Sparshatt Truck & Van because it was interested in acquiring a new, DVS-compliant tractor unit. The 26-tonne Arocs had the right cab and had been pre-built with a scaffold body for sale from stock, so Sales Executive Shaun O'Hara drove this vehicle to the operator's premises in Bell Green, for Perry and Paul Hanifan to see.
They liked the rigid so much that they bought it there and then, and have since ordered an Actros 1843 tractor unit. Due for delivery in September, it will have a 2.3 m-wide (the narrower of the two widths available) ClassicSpace L-cab with 320 mm engine tunnel – this specification, together with MirrorCam, means this vehicle will attract four Direct Vision stars.
Re-painted in Post Office red – complete with colour-coded bumper – at Sparshatt Truck & Van's own bodyshop in Sittingbourne, the Arocs wears a specially designed livery that celebrates the seven decades over which Coventry Scaffolding has been trading.
Perry Hanifan recalled: "We wanted a stand-out vehicle on which to highlight our 70th anniversary milestone and Sparshatt's truck fitted the bill perfectly. I'm a Mercedes-Benz car driver so Shaun didn't have to sell the brand to me – it looks fantastic."
He continued: "Image is all well and good, but we're running a business, so the Arocs had to stack up from an operational point of view too. Not only are we looking forward to benefiting from the reliability and durability for which Mercedes-Benz products have long been renowned, but the truck also came with a full complement of safety technology and the three-star DVS rating that our established chassis supplier couldn't offer."
Driver Gary Hiley has certainly taken to MirorCam, and is equally enthusiastic about the radical Multimedia Cockpit, which has replaced traditional switchgear with stylish and intuitively operated twin screens.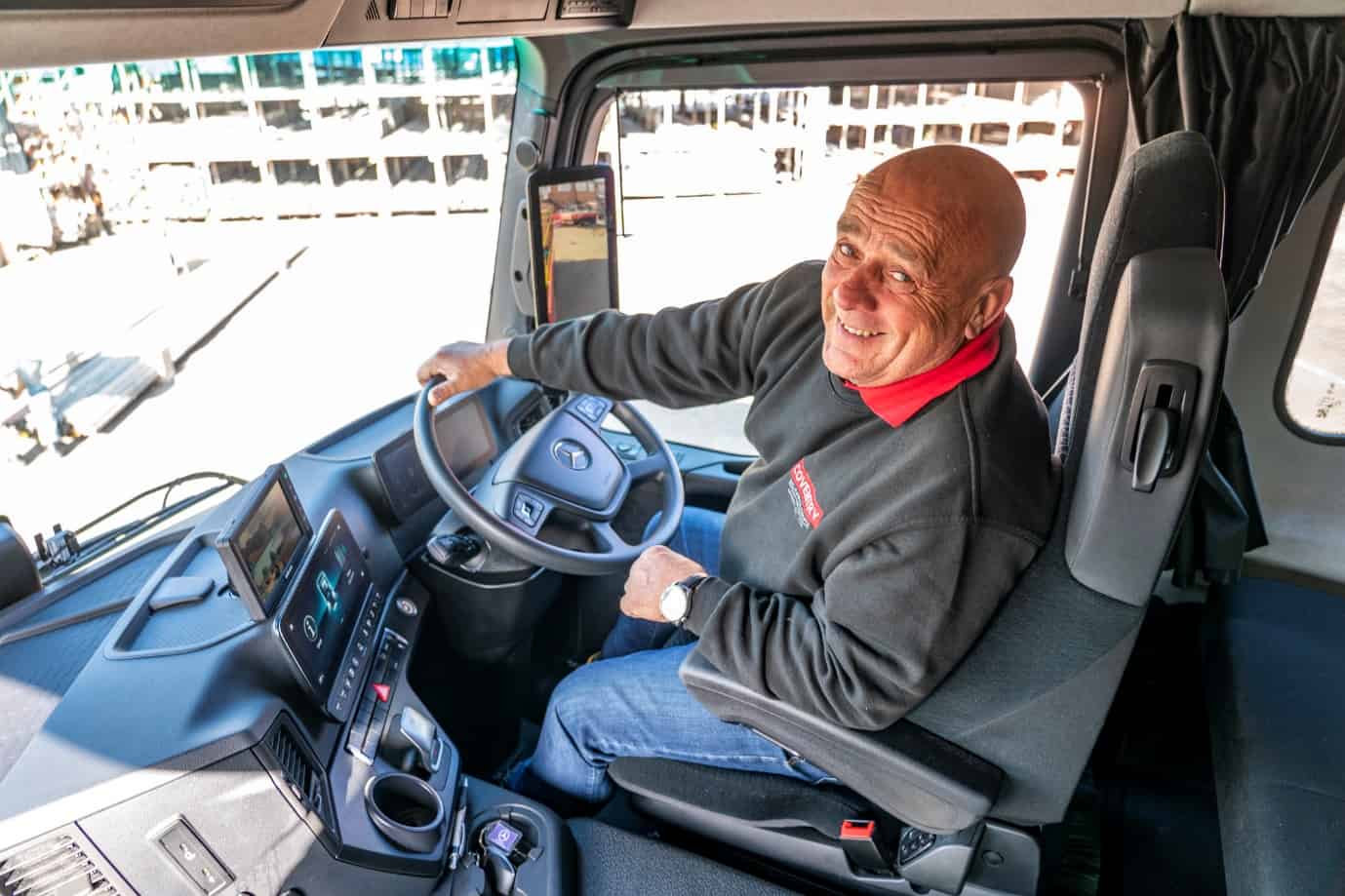 "I know older drivers who don't fancy all the new technology but to my mind they're just stuck in their ways," he said. "I'm 62 and over the years have done many different driving jobs, from container work and general haulage, to skips, bulkers, and even a fire engine. So I've had crash 'boxes, and I've had splitters, the lot really. All of which means that I like to think I know a bit about the job now, and I reckon this is the best truck I've ever driven – by a mile!"
He continued: "MirrorCam is unreal. The visibility is great when I'm reversing and there are hardly any blind spots when looking ahead. What's more, because the cameras are mounted on the roof and therefore that bit higher, I no longer have to worry anything like as much about getting a mirror knocked off, particularly by a passing single-deck bus, when I'm working in town.
"As for the new dash, it's absolutely wicked. Thanks in part to a very good handover by the Dealer it took no time at all for me to get used to it. It's really modern and everything I need comes easily to hand, so what's not to like! It's an outstanding truck, and I'm a man who's very happy in his work."
The vehicle is now being inspected and maintained under a Mercedes-Benz Complete Service Contract at the purpose-built Dartford Dealership that Sparshatt Truck & Van opened in 2019, following an investment of more than £2 million.
"We're still at an early stage in the relationship but first impressions of the Dealer are entirely positive," added Perry Hanifan. "Shaun's service in particular, has been first class. He's more than just a salesman… he can drive a truck, and he understands the demands of the job, particularly here in London.
"Every time I've asked Shaun for a piece of information or a price he's come back to me straight away, while he's also arranged for the truck to be painted and our livery applied. I couldn't have asked for more."