A warning has been issued by Network Rail after a scaffolder plunged into a river in Glasgow while dismantling a scaffold over water.
A safety advice bulletin published by Network Rail revealed that on Friday 24th September the scaffolder fell from a dropper tube that became loose from its coupler.
The unnamed scaffolding contractor was tasked with dismantling a traditional tube and fitting scaffold between the south pier and the riverbank on a structure over a river in Glasgow, Scotland.
According to the bulletin the scaffolder was standing on a dropper tube when it 'slipped loose from its couplers', causing the man and the tube to fall from the scaffold into the river.
His harness and lanyard were clipped onto the same dropper tube.
A nearby rescue boat on standby immediately mobilised and rescued the man by pulling him out of the water. The scaffolder was rushed to the hospital by emergency services but was discharged the same day.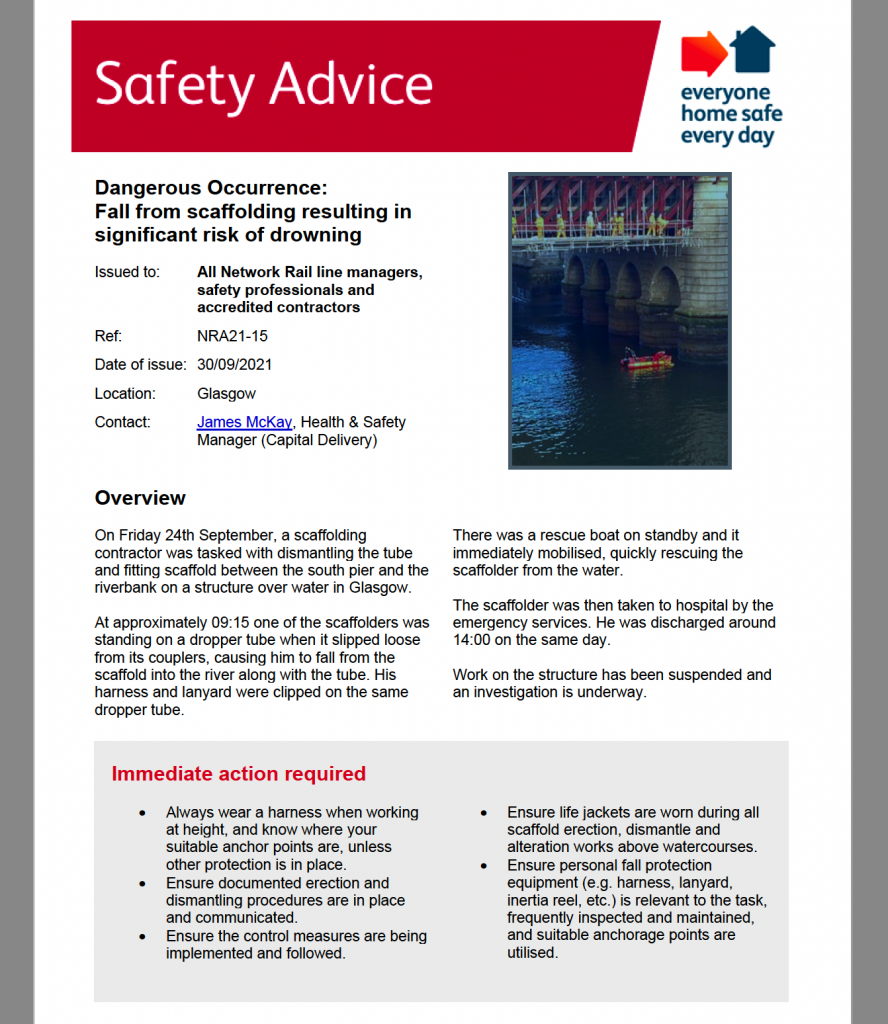 The safety warning issued to Network Rail line managers, safety professionals and its accredited contractors called for immediate safety action after the incident. These included:
Always ensure you are wearing a harness when working at height and know where suitable anchor points are.
Make sure documented erection and dismantling procedures are in place on-site and communicated.
Wearing life jackets during all scaffold erection, dismantling and alteration works above watercourses.
Make sure that personal fall protection equipment (such as your harness, lanyard, inertia reel, etc.) is relevant to the task being carried out, as well as being frequently inspected and maintained, and that suitable anchorage points are used.
Guarantee all control measures are correctly implemented and followed.