Excalibur Screwbolts Ltd today announced its support of the brand-new Safety Alert Protocol from the Temporary Works Forum ('TWf'). 
Released by the TWf on 6 January 2022, this important document aims to establish an industry standard for organisations to issue a safety alert following a temporary works related incident.
The purpose of the guidance is to develop a standard approach to the generation and circulation of safety alerts to optimise their effectiveness.
The document can be accessed here
Temporary works are the parts of a construction project that are needed to enable the permanent works to be built, e.g., access scaffolds, props, shoring, excavation support, falsework and formwork, etc.
It is the remit of the TWf to encourage best-practice and give authoritative guidance and professional leadership to the industry.   An additional benefit of the new protocol is the protection of brand reputations in avoiding unfounded allegations.
Excalibur Screwbolts is a double winner of the Queen's Award for Enterprise and, as such, fully appreciates the value of a reliable and trustworthy brand reputation – all of which has contributed to the company's success with clients on high-profile construction projects such as the Channel Tunnel Rail Link, Crossrail, HS2, Grand Paris Express and London Power Tunnels.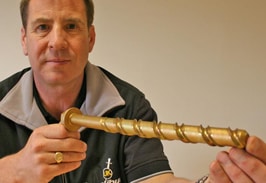 Director, John Stevens commented: "As members of the Temporary Works Forum, we welcome the new Safety Alert Protocol, which we believe provides clear and concise guidance to the industry in terms of keeping the right people up to date should failures occur in equipment, process, procedures and substances used in the workplace. 
At Excalibur Screwbolts, safety is front and centre of our product development strategy.  Our products are patented and incorporate our award-winning vibration resistant twin helix thread design which makes them safe, reliable, easy to install and cost effective.   Our mission is to continue to provide the highest quality, most reliable fixings to be used in any engineering or construction projects, wherever the location, whatever the material, whatever the challenge."                   
Commenting for the Temporary Works Forum, David Thomas (Director and Secretary) noted: "At the Temporary Works Forum, we realise that the circulation of factually incorrect, misleading, or poorly written information contained in a safety alert can, and does, cause unnecessary confusion within the industry and has the potential to damage a brand.  Our remit is to establish and maintain industry best-practice and we hope the new Safety Alert Protocol will be well received by our members".