Aberdeenshire-based Northern Platforms & Stagings has expanded its transport capabilities further with the new Mercedes-Benz Atego.
Supplied by Mercedes-Benz supplier for the north of Scotland, BLS Truck & Van, the 7.5-tonne GVW Atego is the fourth that Peterhead-based Northern Platforms & Stagings has purchased from BLS Truck & Van since the dealer's appointment in 2018.
Like its predecessors, the truck is an 816 variant with ClassicSpace S-cab and a 5.1-litre engine that produces 115 kW (156 hp) and is paired with a smooth and fuel-efficient Mercedes PowerShift 3 automated manual transmission. Its platform body, meanwhile, was built in Mirfield, near Huddersfield, by Advance Commercial Bodies.
Acquired with funding support from Mercedes-Benz Finance, the Atego is now being inspected and maintained under a Mercedes-Benz Complete Service Contract at BLS Truck & Van's workshop on the Altens Industrial Estate, Aberdeen.
Northern Platforms & Stagings was established in 1984 by John Johnston, who remains at the helm as Managing Director.
The company offers a comprehensive range of scaffolding services at competitive prices but without compromising on safety. It has extensive experience of serving customers from the petrochemical and marine engineering sectors in the Grampian region, as well as local builders and construction firms.
The Atego range from 7.5 to 16 tonnes GVW is purpose-designed for light- and medium-duty distribution work, and construction applications.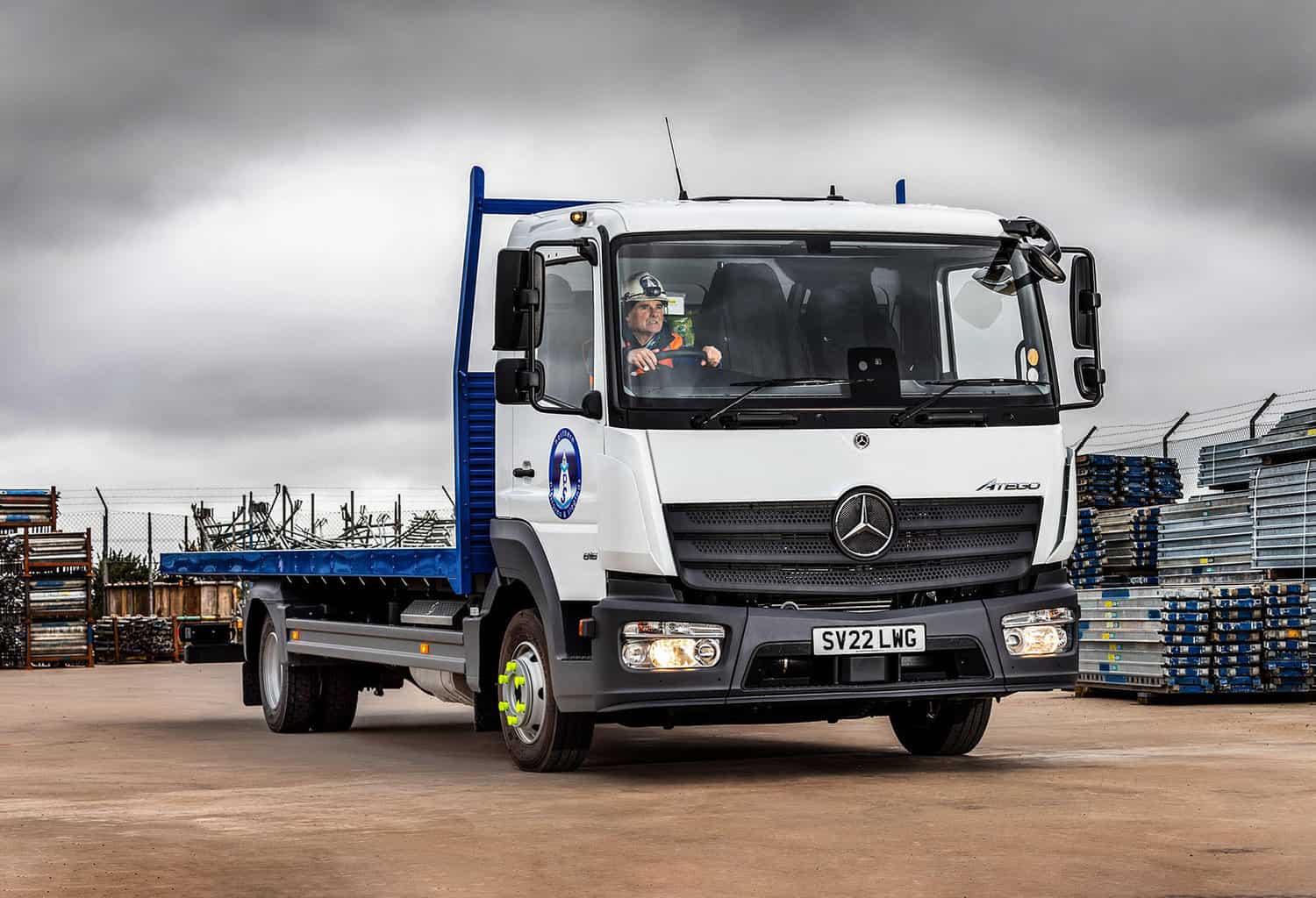 John Johnston said: "We've been running Mercedes-Benz vehicles for well over 10 years and have never had any problems with them. The fact that they don't let us down means they make a valuable contribution to the efficiency of our operation."
"The Atego is entirely fit for purpose. It's the right size and carries the weight well, while the guys like their trucks because they're so comfortable. As a business with an unwavering commitment to health and safety, and compliance, we're also reassured by the knowledge that Mercedes-Benz Trucks leads the field when it comes to the protection not only of those who use its vehicles, but also of other road users."