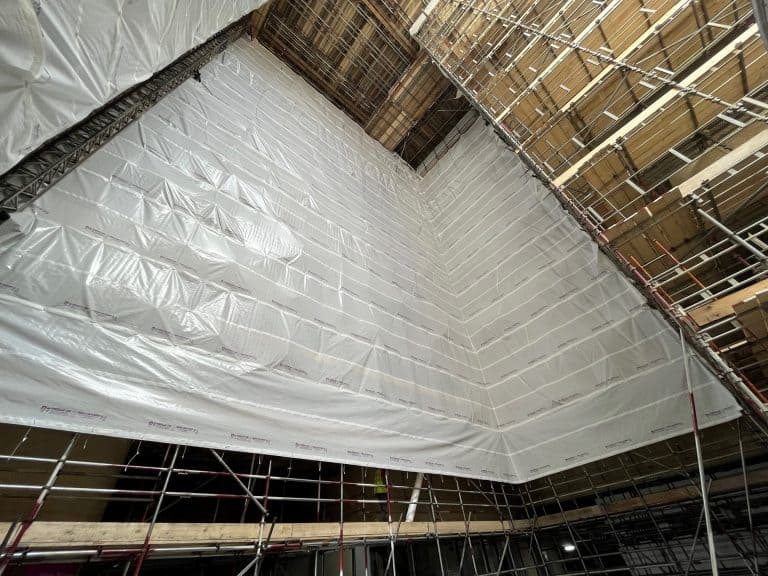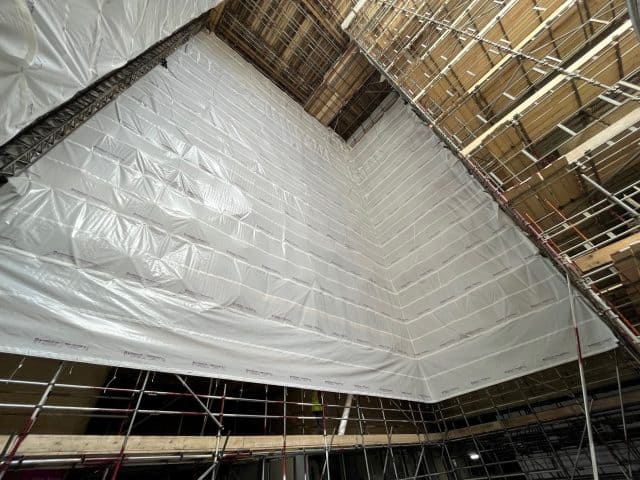 The flame retardancy credentials of ITP's Powerclad FR scaffold sheeting made it the ideal choice for an internal application in the deep retrofit and expansion of BT's former headquarters near St Paul's Cathedral.
The development by Orion Capital Managers and Pella Real Estate Partner will transform the 1980s office block at 81 Newgate Street into a sustainable, mixed-use building providing a new gateway destination into London's 'Culture Mile'. Main contractor, Mace Group, is overseeing the reconfiguration, extension and modernisation of the existing 10-storey BT Centre, including the addition of another four storeys.
Designed by Kohn Pedersen Fox Associates (KPF), the scheme comprises retail units, gym, swimming pool, and large, flexible office floorplates with increased daylight, improved internal experience and ample outside space. A large public roof terrace will include a restaurant, wildflower meadow and feature access stairs, all providing a unique view of St. Paul's Cathedral.
The structural frame will be substantially retained and extended with commercial office space increased to more than 67,500sq m, partially achieved by the insertion of new cores into the existing atrium void and refilling of the remaining space.
The complex internal reconstruction is being supported by Powerclad sheeting on scaffold installed by award-winning scaffolding company, Benchmark Scaffolding, in partnership with Simian Risk, specialist consultants in scaffolding and construction safety.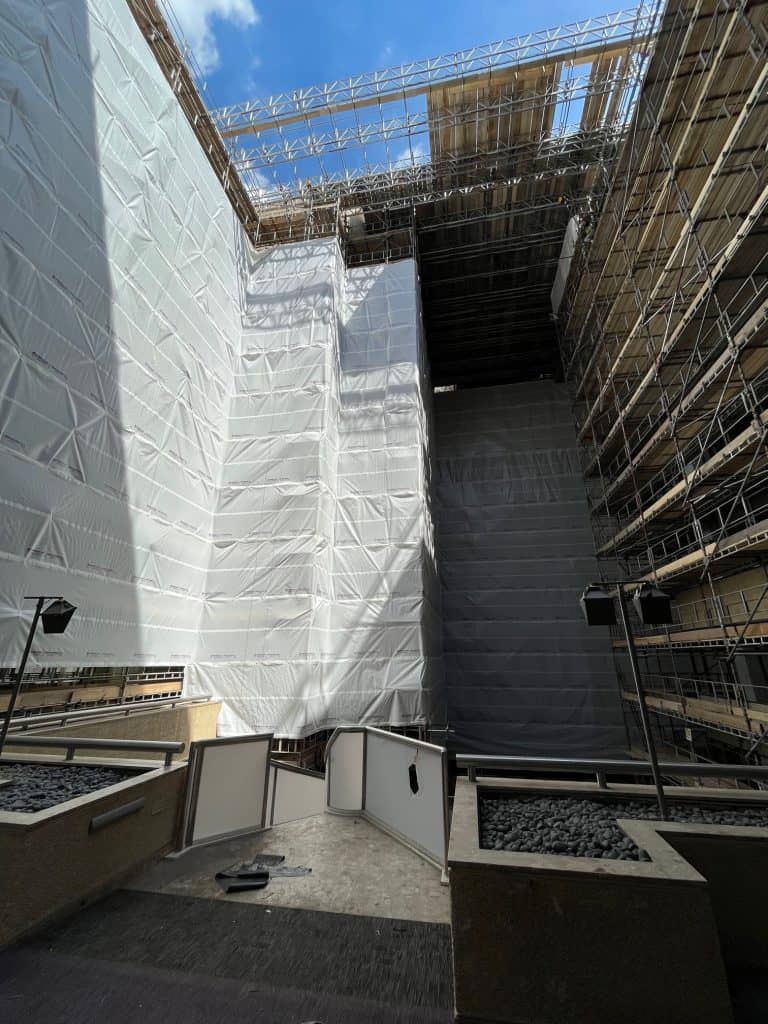 Ojay Roynon, Site Manager at Benchmark Scaffolding, said: "We used Powerclad's flame retardant grade which is third-party certified as fully compliant for interior use. That is a vital attribute in maximising safety throughout the internal reconstruction."
Jamie Lyons, Scaffold Health & Safety Advisor at Simian Risk, said: "The scaffolding has been installed to a high standard and ITP's Powerclad FR sheeting certainly meets the performance and safety demands of this major redevelopment."
ITP Account Manager, Seb Carrick, said: "Our Powerclad FR sheeting has an advantage over many rival products because the system's fire safety attributes make it suitable for both internal and external site application. We manufacture plain, flexographically printed and digitally printed sheeting which is approved under Certifire T62 for external installation and Certifire T63 for internal installation. Having both of those certifications within the same product is currently unique in the UK market. All our Powerclad FR systems are independently tested and have a Euroclass rating of B-s1,d0 EN 13501-1."
The redevelopment of the BT Centre will improve the environmental performance of the building and minimise environmental impact by reusing its original Portland stone, employing modular construction methods, specifying low carbon materials and adopting a zero to landfill policy. The project aims to deliver a building which is air quality neutral, providing one of the highest 'urban greening factors' in London and to be the first net zero carbon enabled office development in London.