I-Scaff Access Solutions Ltd has become the first UK scaffolding contractor to use Layher's brand new TwixBeam on a project in Scotland.
Launched by Layher UK just last week the ground-breaking multifunctional TwixBeam is already playing a major role on an ongoing pipe bridge project at a Whisky Distillery in Central Fife, Scotland.
Working for IFP-Scotland, scaffolders from I-Scaff have started to erect a full-access scaffold and encapsulation to a pipe bridge on the Whisky Distillery site for grit blasting and painting.
"The pipe bridge spans 28 meters and requires full unrestricted vehicle access below 24-7/365 days of the year," says Ross Brown Director of I-Scaff Access Solutions Ltd.
"The TwixBeam is so simple to use, The Layher all-round simply integrates into the central channel of the TwixBeam. We are using the standard Layher rosette within the standard to support the scaffold within the centre of the TwixBeam which means no additional attachments are required," Ross said.
The TwixBeam is the latest innovation to come from the world's largest system scaffolding manufacturer. Made from high-grade aluminium the two-piece multifunctional beam is low-weight, easy to dismantle and incredibly strong.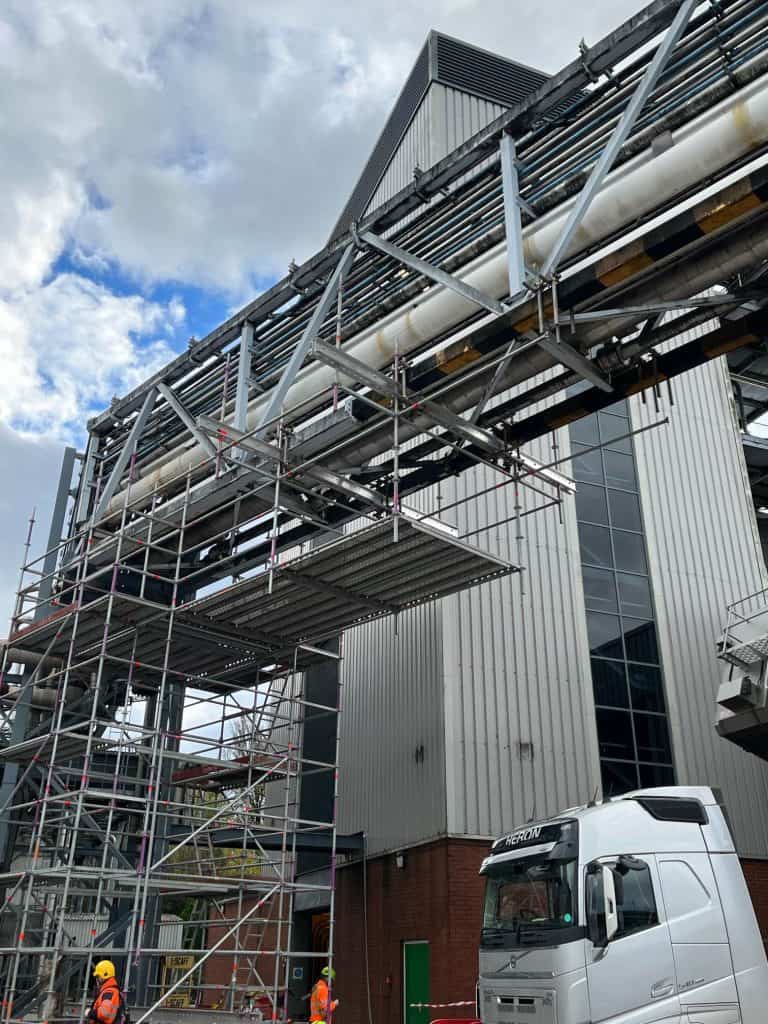 Ross added, "This is the 3rd pipe bridge we have carried out on site and as always we try to utilise Layher where possible – The other 2 have been able to come from the ground with large cantilever bridged sections to ensure roads remain open- This one was different with a large 28m span over a main HGV route so a different approach was required."
"The next phase is 24m over a river which will be a slightly different challenge as we are utilising MEWPS to install the TwixBeams at the moment, But I'm looking forward to that part as it keeps the brain working and shows our clients how experienced we are in this field when we come up with many different approaches to access."