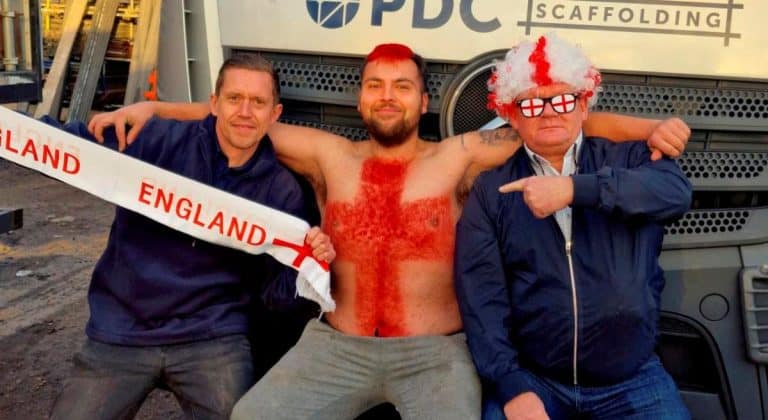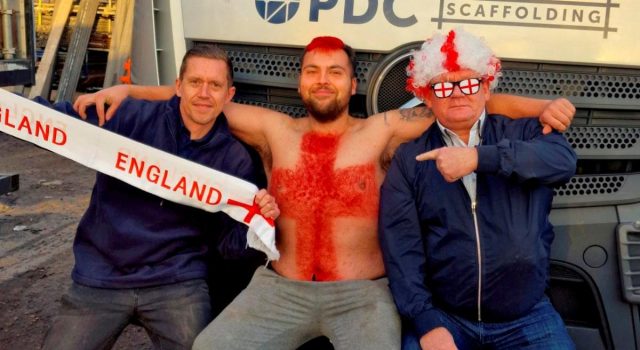 A football-mad scaffolder has shaved his chest and back to show support for England in the World Cup while raising awareness for a mental health charity.
Scaffolder and West Ham fan Alfie Callagher-Roberts, 25, shaved his chest hair into the shape of the St George's cross and dyed it red ahead of England's first game on Monday where the Three Lions thrashed Iran 6 – 2.
The PDC Scaffolding Ltd employee aims to visit pubs during the World Cup with his man-sculpted flag proudly on display. There is however a serious side to his antics.
Alfie is hoping to raise awareness of the charity Construction Sport, which aims to tackle the spiralling suicide rates within the industry by using exercise as a vehicle to get men to open up about their feelings.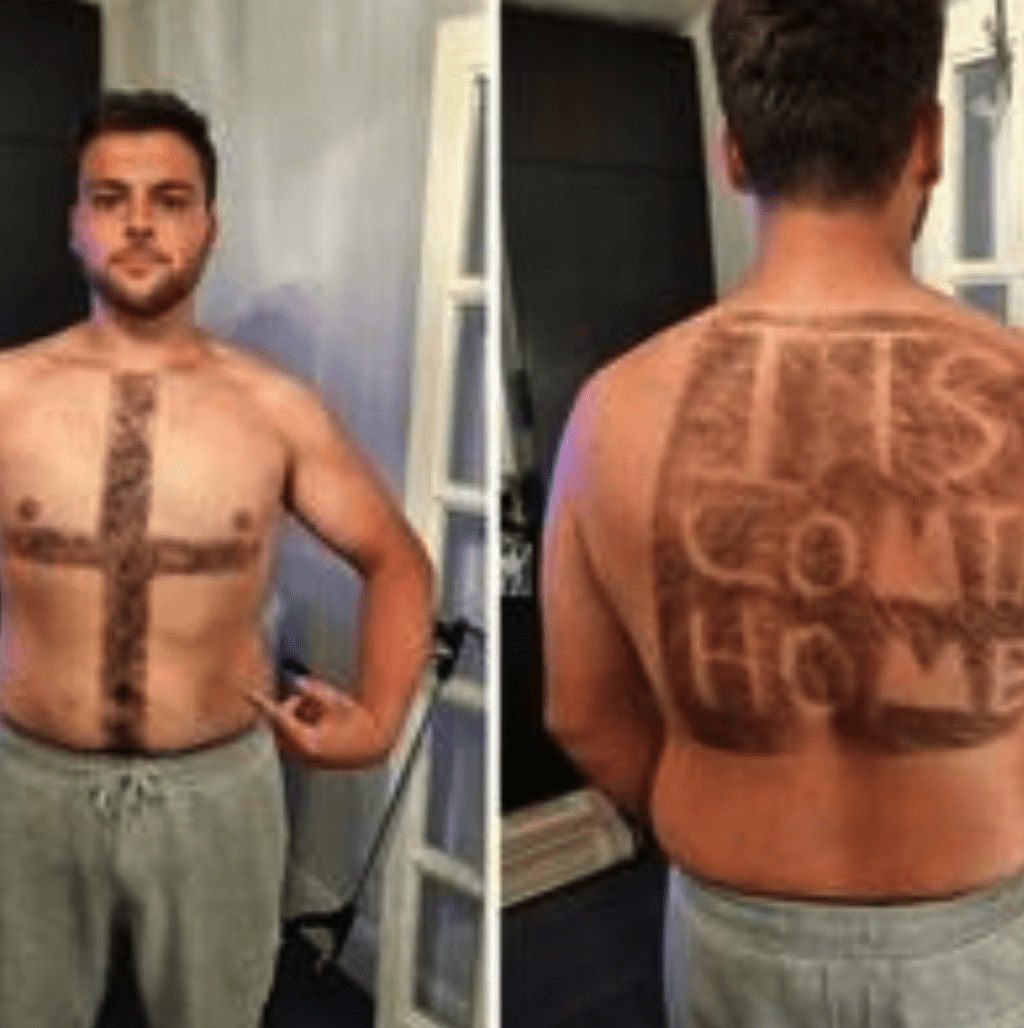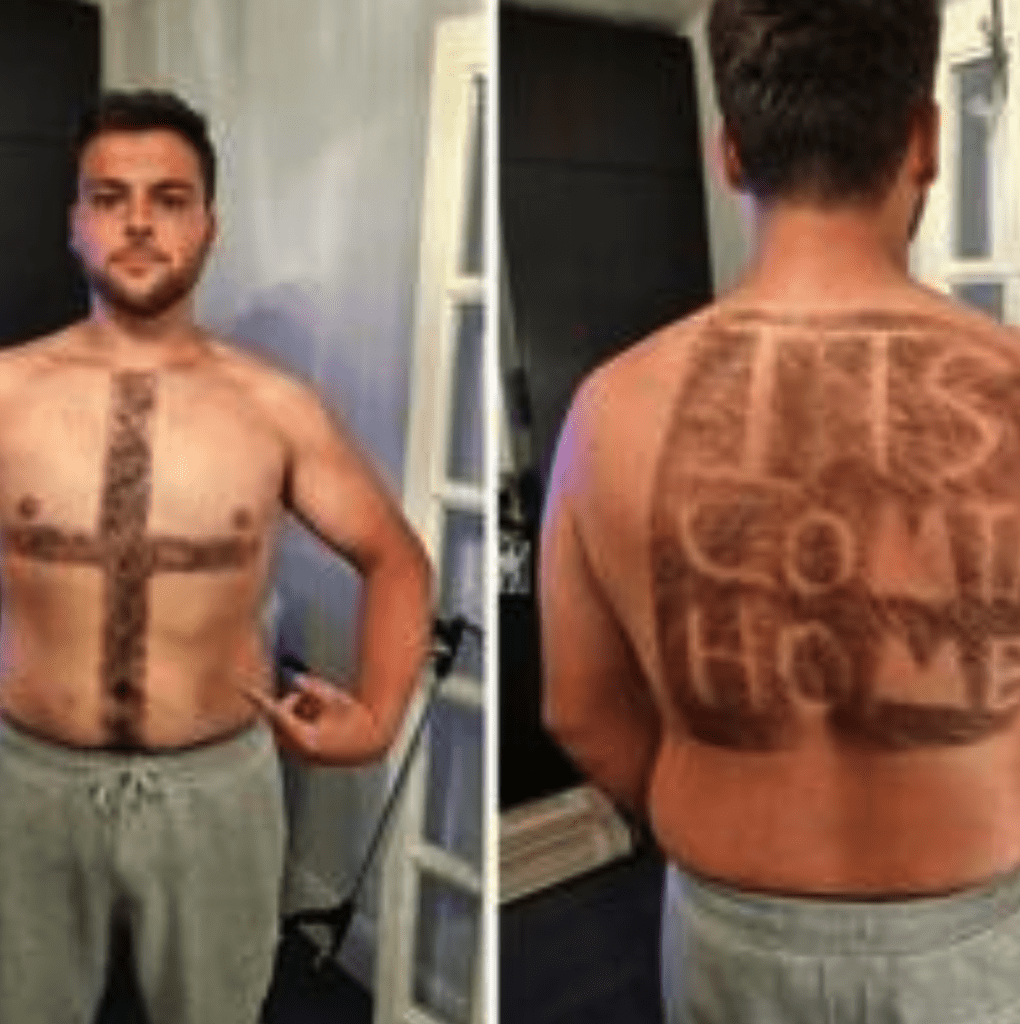 Speaking to the Guardian Alfie said: "Football's definitely coming home. But if it doesn't, we're going to have a good time hoping it does. It started out as a joke before and it is a bit of fun, but I am hoping to raise awareness of mental health issues in construction."
His boss Paul Casey, who owns Essex-based PDC Scaffolding, is a major sponsor of the charity and they often take each other on in five-a-side football matches.
The charity was set up by groundworker Steve Kerslake, who wants to change the way the industry deals with the mental health of its workers.
Government figures show there is a higher rate of suicide among men working in construction than any other industry – at an alarming rate of almost two suicides per working day.
"I want to raise awareness that there are charities out there that people can talk to and encourage people to take up the sport, Alfie said.
Steve found that by introducing a football to a group of construction workers it immediately created a common ground where a conversation could start.
Alfie added: "In scaffolding, we're in the van together for a long time, we're all on first-name terms, we know each other, it's a bit easier to open up.
"On construction sites with 50 other blokes, it's not as easy. Steve's doing a really good thing to try to change that and I'm trying to help spread that message.
"I'll be watching the games with my top off and going around with Three Lions blaring out of my van as world cup fever starts to take grip.
"If someone comes and sees me in the pub with my top off, they might ask what that's all about and I can tell them. It's about creating that conversation, like what Steve is doing."
You can follow Alfie's World Cup antics at www.tiktok.com/@thefurryfootballfan.
Visit https://www.gofundme.com/f/world-cup-antics-fund? to donate to his cause.