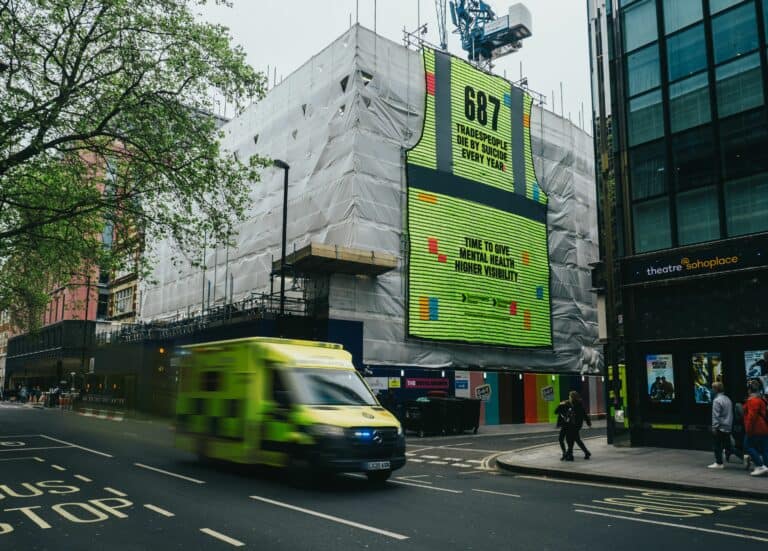 A towering 12-metre-tall mural comprising 687 high-vis vests, representing the yearly average of suicide deaths among UK tradespeople, has been unveiled in London's West End. 
The powerful artwork, constructed by IronmongeryDirect and ElectricalDirect, is part of a campaign to increase mental health visibility within the trade industry.
The mural was revealed to coincide with Mental Health Awareness Week amidst alarming government statistics showing an average of 687 tradespeople, almost twice per day, die by suicide each year. In 2021, tradespeople represented 15% of all industry suicides, the highest of any occupation.
"Our goal with this artwork is to provide a stark visual reminder of the devastating mental health crisis within our industry," said Dominick Sandford, Managing Director at IronmongeryDirect and ElectricalDirect. 
"We hope this can spark more conversations around mental health and prompt people to seek help if they're struggling."
Displayed at the Galliford Try construction site on Goslett Yard, the mural was crafted by J&C Joel, a leading fabric manufacturer. The 687 vests symbolise the skilled workers who tragically lost their lives to suicide.
This unveiling coincides with the release of IronmongeryDirect and ElectricalDirect's annual Mental Health in the Trades report, highlighting that over four in five UK tradespeople suffer mental health issues due to work-related stressors.
Emma Mamo, Head of Workspace Wellbeing at Mind, emphasised the importance of openness in the workplace. "In male-dominated industries like construction, employees are often less willing to open up about their mental health. We urge employers to create cultures where employees can speak openly and honestly about their mental health," she said.
As part of the campaign, the companies have partnered with Basildon Mind and will be donating over £5,000 to support its mental health services.