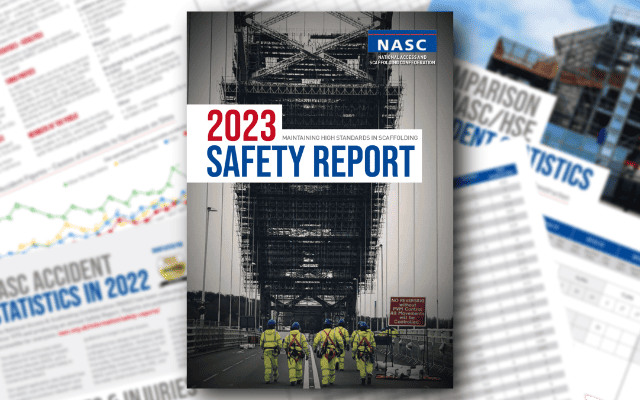 The National Access and Scaffolding Confederation (NASC) has released its 2023 Safety Report, revealing the lowest Accident Incident Rate (AIR) and Accident Frequency Rate (AFR) since the organisation began tracking data in 1975. 
According to the scaffolding trade body, its latest report underscores the effectiveness of regulated NASC membership in ensuring safe scaffolding and access operations.
In 2022, NASC's 240+ contracting member firms saw a 26% reduction in Reporting of Injuries, Diseases and Dangerous Occurrences Regulations (RIDDOR) accident rate, falling from 90 incidents in 2021 to 67 incidents. This reduction was most notable in the 16-20 age bracket, where incidents decreased by 63%. 
These improvements were achieved despite a 10% increase in the scaffolding workforce, which grew to 17,315 operatives.
The 2023 Safety Report shows an AIR of 3.87 and an AFR of 0.20, the lowest figures recorded since 1975. This achievement translates to more NASC member company employees working without incident or harm.
David Brown, the new NASC President from IBN Scaffold Access Ltd, praised the members for their proactive approach to health and safety. "Our figures for 2022 speak for themselves," Brown said. 
"Our members are proactive in their approach to improving health and safety for their employees and also for the wider construction industry who use our scaffolds on a daily basis."
He further emphasised the importance of early training for younger workers, noting the 63% reduction in injuries in the 16-20 age bracket. The president also mentioned the upcoming SG6 Manual handling guidance suite, which should further reduce accidents.
NASC Managing Director, Dave Mosley, pointed to the report as evidence of the commitment to safety by NASC members, who are "strictly audited, highly regulated, well trained and proactive."
Steve Kearney, NASC Health and Safety Manager added: "We can all be very proud of the work that the NASC and its contracting members are doing to make this inherently dangerous industry safer, day by day."
This year's report, which comprehensively analyses accident and injury statistics of its members, is publicly accessible on the NASC website.