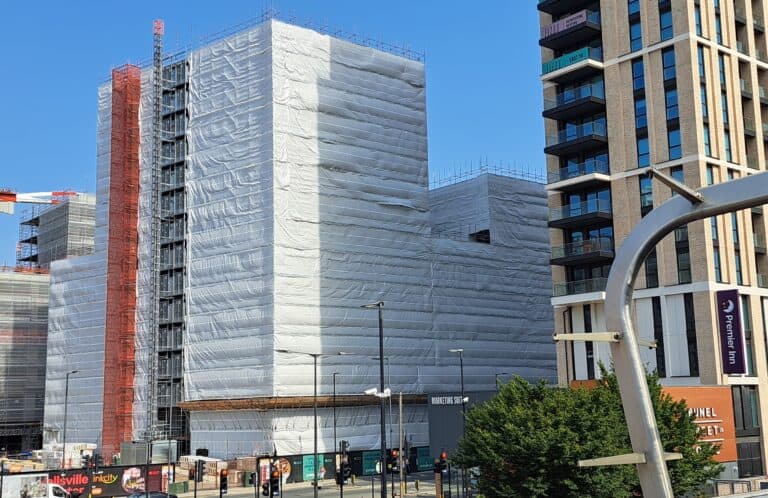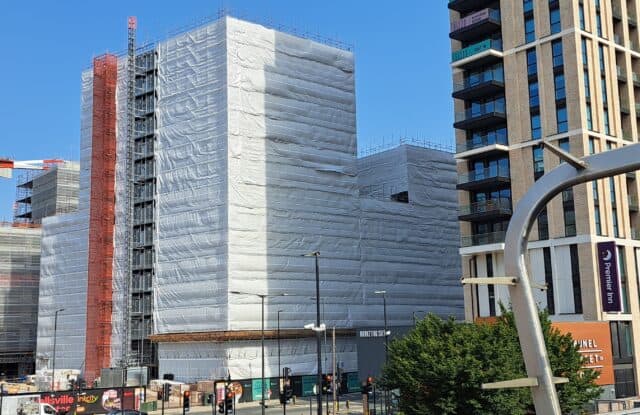 ITP's Powerclad FR scaffold sheeting is being utilised at Hallsville Quarter in Canning Town, one of London's most significant regeneration projects. 
The site, a joint venture between London Borough of Newham and Linkcity, is part of the massive £3.7bn Canning Town and Custom House SPD regeneration framework. 
This ambitious project will deliver 1,100 new homes, over 323,000 sq ft of leisure and retail space, and more than 32,000 sq ft of space for community facilities, as well as new public spaces, pedestrian links, cyclist provisions, and 1,100 secure parking spaces.
"The Hallsville Quarter is a critical part of the transformation of Canning Town, providing contemporary living, leisure, and retail spaces that are essential for creating a thriving community and establishing a lasting legacy," says a representative from the joint venture partnership.
Designed by Hawkins Brown, Phase 3 of Hallsville Quarter features private rental homes, 143 shared ownership units, 199 affordable homes, including 50 extra-care apartments, 88,049 sq ft of retail and leisure space, and an integrated health centre. 
The extensive installation of Powerclad FR at this phase offers protection and containment for high-rise buildings under construction.
Powerclad FR is a third-party tested and certified sheeting that achieves fire retardancy certification to TS 62 for external use and TS 63 for internal use for both plain and printed sheeting. Its fire safety credentials ensure full compliance with requirements for projects valued over £25m, as stated in the Joint Code of Practice on the Protection from Fire of Construction Sites and Buildings Undergoing Renovation.
In recent years, Powerclad FR has been utilised in various other landmark London projects, such as the deep retrofit and expansion of BT's former headquarters near St Paul's Cathedral and Royal Eden Docks, a prestigious mixed-use development east of Canary Wharf by Mount Anvil Homes. It was also employed in the transformation of London's iconic Old War Office site into a world-class luxury hotel and apartment complex.
"Powerclad FR's contribution to these high-profile projects highlights the importance of reliable, certified fire protection in the construction industry, ensuring safety and peace of mind for developers, contractors, and future residents alike," adds the joint venture representative.