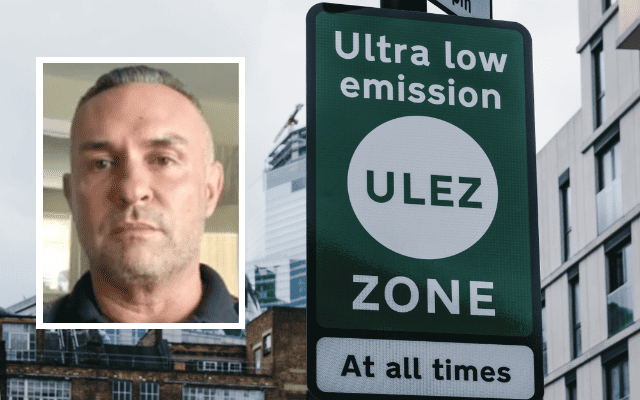 A scaffolder has won a tribunal after he raised questions about the legality of signs for London's Low Emission Zone (Lez).
Noel Willcox, who runs Elevation Access Scaffolding based in Hertfordshire, faced fines totalling £11,500 for operating his company truck in and out of its depot in Harefield, North West London.
As per the Lez regulations, drivers of heavily polluting vehicles, like certain vans and HGVs, are levied charges up to £300 per day.
Willcox, defying the fines, approached a tribunal with his grievance. The tribunal subsequently judged that Transport for London's (TfL) signage for Lez wasn't "authorised and lawful."
In an interview with national media, Willcox recounted the ordeal, expressing concerns about the clarity of the scheme's signage, especially for visitors from outside London.
During the pandemic, Willcox's company unexpectedly accrued £11,500 in fines. "One of my drivers was driving through the Lez and was captured by the cameras, which we were unaware of."
Subsequently, the fines spiralled. "On a HGV, you're required to pay £100 every time you enter the Lez, and failure to comply results in a £1,000 fine", Willcox said.
Compounding this, Royal Mail service disruptions during the pandemic meant the company remained oblivious to the accumulating fines. "If the £1,000 isn't settled within the stipulated time, the fine skyrockets to £15,000", Willcox highlighted.
He voiced his frustration with TfL's response, which implied the driver's responsibility to stay updated about polluting zones, especially given the ever-changing landscape of roadworks and closures.
Upon further investigation, Willcox stumbled upon discrepancies in the signage. He pointed to the Road Traffic Regulations Act, which clearly mandates a red and white 'C' to denote charging zones, a directive seemingly ignored in the Lez zones. 
"In contrast, the Dartford charge is clearly marked. How are drivers, especially those from outside London, expected to discern the charges?" he questioned.
In a statement, TfL emphasised that the Department of Transport had approved these signs over ten years ago. They also promised a probe into why specific evidence wasn't presented during the tribunal.
Drivers operating vehicles below the minimum emissions standards in the zone are mandated to pay a £12.50 daily fee or face a £180 penalty. This fine is halved if settled within 14 days.
Furthermore, TfL has rolled out a £160 million initiative enabling various stakeholders, including residents and small businesses, to avail grants if they scrap non-compliant vehicles.