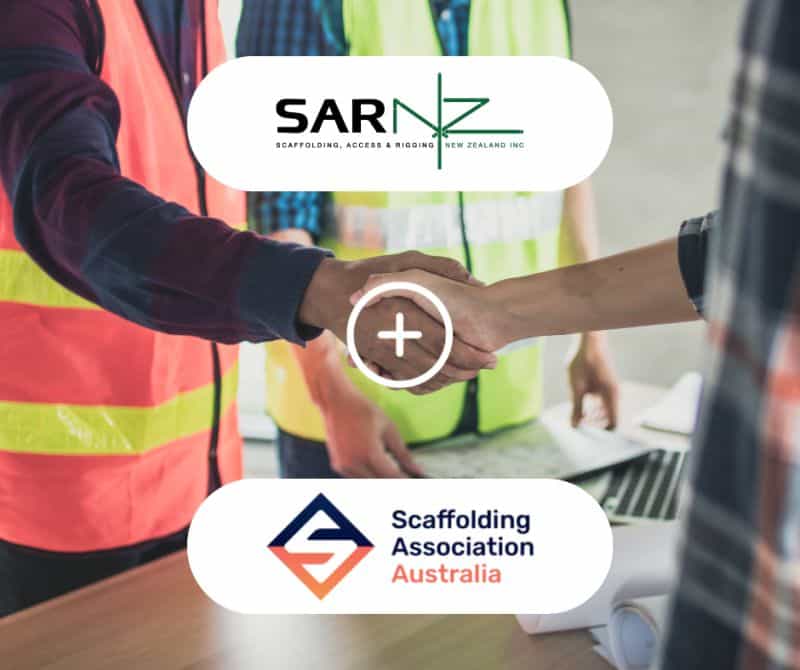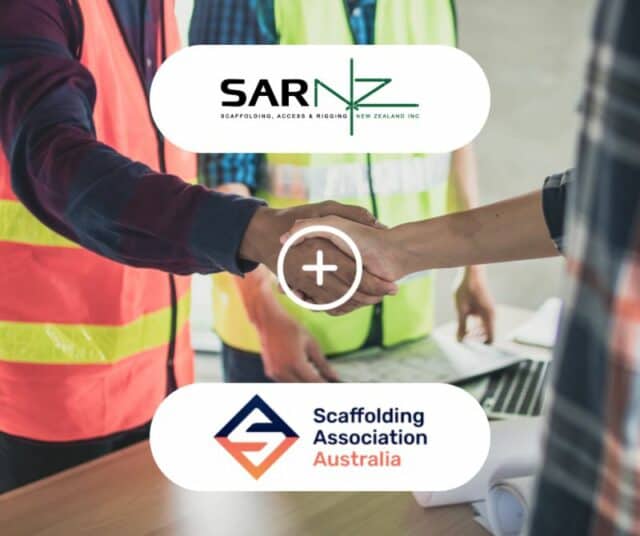 The Scaffolding Association Australia (SAA) and Scaffolding, Access, and Rigging New Zealand (SARNZ) have embarked on an innovative partnership to enhance safety, promote excellence, and advance the scaffolding industry in Australia and New Zealand.
The two scaffolding industry trade bodies have recently signed a Memorandum of Understanding (MoU) to join forces, solidifying their commitment to these shared objectives.
Under the newly formed partnership, the SAA and SARNZ will collaborate on various initiatives, including events, educational campaigns, guidance, and advocacy efforts, all with the goal of elevating safety standards and best practices within the scaffolding, access, and rigging sectors.
One of the key areas of focus for the partnership is aligning scaffolding training systems to ensure a consistent and high level of competence among industry professionals in both countries. By harmonising training and education standards, the organisations aim to improve safety and proficiency within the industry.
Robert Thiess, Managing Director of the SAA, expressed his enthusiasm for the partnership, "The establishment of the Scaffolding Association Australia was born out of a shared vision – a vision to foster a culture of excellence, safety, and innovation in our industry. Collaborating with SARNZ will play an essential role in enabling us to lead and advocate for our industry, as our missions as industry associations align."
Tina Wieczorek, CEO of SARNZ, echoed Thiess's sentiments, emphasising the importance of the partnership in creating a unified and globally competitive scaffolding industry. "Together we hope to raise standards, commit to continual improvement, and improve consistency in best practices to become leaders in the global construction community," said Wieczorek.
The partnership between SAA and SARNZ also aims to engage with key stakeholders within government and industry to raise awareness about scaffolding, access, training, and legislation issues affecting their industries. By presenting a united front, the organisations believe they can influence policy decisions and drive industry-wide initiatives that will contribute to the growth and development of the construction sectors in both countries.
SARNZ and the SAA's collaboration was celebrated at this year's SARNZ Annual Conference and Tradeshow in Auckland, where SAA representatives were hosted. The meeting provided an opportunity for both organisations to align their goals and strategies for the future.
In closing, Thiess noted, "Our partnership with SARNZ will be a unifying force within the scaffolding industry. By actively engaging with each other, we can influence policy decisions, drive industry-wide initiatives, and contribute to the overall growth and development of the construction sectors in both countries."