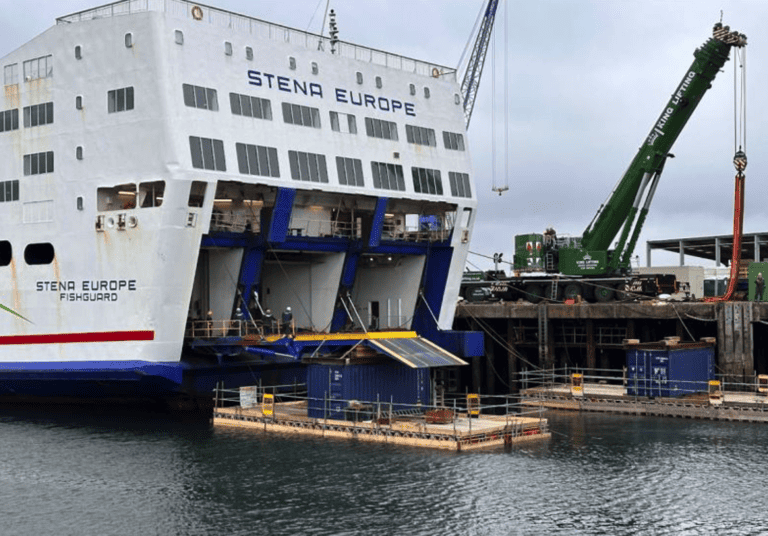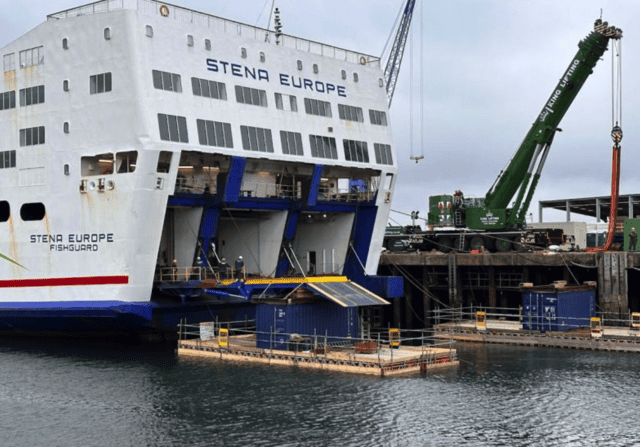 In yet another groundbreaking achievement, ScaffFloat, a leading provider of innovative floating solutions, has successfully demonstrated its ability to handle a remarkable 20-ton single-point load on its pontoons. 
This milestone was achieved during a time-sensitive project for A&P Docks in Falmouth, where ScaffFloat pontoons were enlisted to support the refit of Stena ferry ramps.
The request from A&P Docks came on short notice, as they needed to provide stable support for the stern ramps of a Stena Ferry undergoing a critical refit. The challenge was to support the ferry's horizontal ramps on their hinge pins, allowing for the commissioning and testing of hydraulics while ensuring easy access underneath the vessel.
ScaffFloat quickly mobilised two massive pontoons, each measuring 16 meters by 6.4 meters. These pontoons were equipped with eight 750mm Apollo longitudinal beams and custom-made 450mm transverse beams. To achieve the desired level of support, 20-foot containers were strategically placed on the pontoon decks, accompanied by steel packers to ensure the ramps were positioned at the correct height. This configuration resulted in an impressive 20-ton single-point load, distributed over a 2.5-meter span at the center of the pontoon.
Prior to commencing the challenging task, ScaffFloat conducted a floating test, using a weighted scrap metal bin that weighed precisely 20 tons. The successful execution of this test demonstrated the capability of the ScaffFloat system to handle such a substantial load under real-world conditions.
Toby Budd, the founder and Managing Director of ScaffFloat, expressed his pride in the company's achievement, stating, "When we started ScaffFloat, I remember thinking 1 ton was a big payload. Now, we have a number of jobs in this 20-30 ton category and others in the pipeline over this. It is great to see the system evolving organically like this as it proves itself out in the real world, solving problems and getting stuff done."